Toyota Camry Quickly Returns to Consumer Reports 'Recommended' List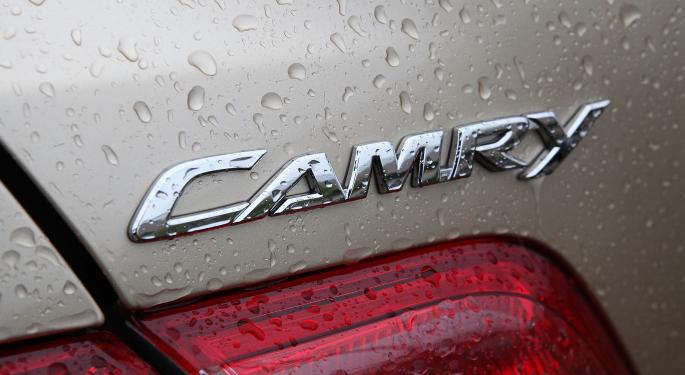 Fans of Toyota (NYSE: TM) vehicles were stunned this past October, when Consumer Reportssaid the latest version of its best-selling Camry had failed a relatively new IIHS (Insurance Institute for Highway Safety) crash test – prompting the magazine to give the Camry a "poor" rating.
Toyota executives quickly shifted into top gear, and said company engineers were busy making modifications to the Camrys. True to their word and less than eight weeks later, the newly-strengthened Camry has been redeemed.
"Based on new crash test results, the Toyota Camry has returned to recommended status," Consumer Reports announced Thursday.
IIHS spokeswoman Kristin Nevels tells Reuters the Camry was rated a top saftey pick "after Toyota made changes to the structure of the front end for 2014 models built after November 1."
See also: Tesla May Unveil Lower-Priced Sedan at 2015 Auto Show
Consumer Reports, meanwhile, says it believes the rapid return of the Camry to the recommended list was unprecedented. "The Consumer Reports recommendation is certainly a big thing for Toyota," Jake Fisher, the magazine's director of automotive testing, said in an interview with Bloomberg.
22 passenger cars, were awarded the IIHS highest rating, or "top safety pick plus." That list included the Ford Fusion and Lincoln MKZ – as well as the Honda Civic sedan and the Accord Coupe/Sedan.
The Chevrolet Spark minicar by General Motors, along with the Camry and 15 other cars, were given "top saftey pick" status.
Industry observers say Toyota's modifications show how influential both Consumer Reports and the IIHS are with American consumers.
"The modifications Toyota made to the Camry were not simple nor inexpensive," Jack Nerad, executive editorial director and analyst at Kelley Blue Book, said in an email to Benzinga, "yet Toyota felt compelled to make the changes so the model could regain its recommended rating."
And KBB senior analyst Karl Brauer says Toyota's willingness to rapidly address the Camry's safety issues underscores the company's goal of maintaining the Camry as an industry benchmark.
Reuters reports that, through the first 11 months of this year, Camry retained its place as America's best-selling passenger car, with sales of over 378,500.
"The new car market has never been more competitive," Brauer notes, "putting constant pressure on Camry's position as a sales leader."
Posted-In: automotive industry Camry carsNews Travel Media Reviews General Best of Benzinga
View Comments and Join the Discussion!