Market Wrap For December 13: Major Indices Finish The Day Flat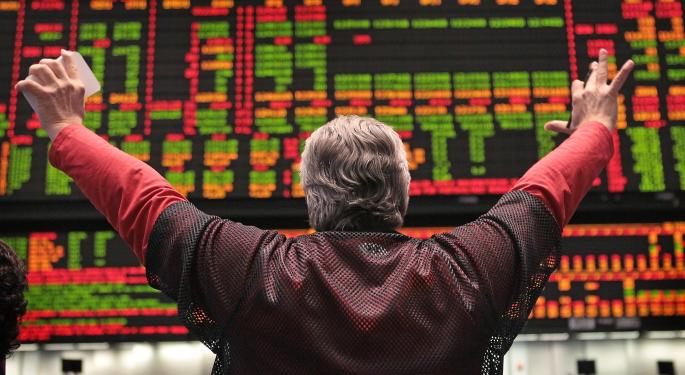 Major indices were looking for a rebound after a four day skid which included multiple triple digit point losses for the Dow.
Futures pointed to a higher opening as investors found reason to be positive in the House's passing of the budget agreement last night. The markets were unable to hold on to gains throughout the day and ended mostly flat.
Investors will certainly have their plates full next week with the U.S. Senate set to vote and finalize the new budget deal. The Federal Reserve will convene on Tuesday and Wednesday as investors will anxiously await the central bank's decision on when it will began to scale back its stimulus measures.
The Dow gained 0.10 percent, closing at 15,755.36.
The S&P 500 lost 0.01 percent, closing at 1,775.32.
The Nasdaq gained 0.06 percent, closing at 4,000.98.
Gold gained 0.99 percent, trading at $1,237.00
Oil gained 0.04 percent, trading at $91.51 a barrel.
Silver gained 1.14 percent, trading at $19.67 an ounce.
News of Note
Last night the U.S House overwhelmingly passed a two year budget deal that removes the threat of a shutdown. The deal is making its way to a Democratic Senate and is expected to sing off as early as next week.
November Producer Price Index declined 0.1 percent, in line with expectations. October's reading was a decline of 0.2 percent. Core PPI rose 0.1 percent, in line with expectations and lower than the previous reading of 0.2 percent.
Goldman Sachs chief currency strategist issued a bold statement on the greenback. "The dollar will weaken through 2014, reaching $1.40 per euro for the first time since October 2011," Thomas Stolper said. "Tapering is in the price already, we find it difficult to see where the dollar strength would come from," the analyst added.
India's CPI rose 11.2 percent in November, above the 10 percent consensus. The country's central bank is set to meet next week to further tackle the country's inflation worries and weak growth.
Japanese industrial production rose one percent in October, slightly lower than the 1.3 percent rise in September.
Equities-Specific News of Note
Amazon.com, Inc. (NASDAQ: AMZN) has been upgraded to Strong Buy from Buy at ISI Group with a $430 price target. The analysts believe that a positive holiday shopping performance and growth of Prime members will yield faster revenue margin growth. Shares gained 0.78 percent, closing at $384.24.
Related: Amazon To Take On Wholesale Retailers With New Pantry Business
Analysts at ISI Group upgraded Bed Bath & Beyond Inc. (NASDAQ: BBBY) to Neutral from Cautious with a revised price target of $75.00, up from a previous $67.00. The analyst noted that sales in the home furnishing category has shown some strength as of late. Shares finished flat for the day at $76.52.
Analysts at Raymond James upgraded FedEx Corporation (NYSE: FDX) to Strong Buy from Outperform with a $190 price target. The analyst noted the company's aggressive cost improvement plan will transform the company's earnings power over several years from now. Shares gained 1.15 percent, closing at $137.91.
Analysts at Stephens initiated coverage on 3D printer Stratasys Ltd. (NASDAQ: SSYS) with an Overweight rating. Shares gained 0.43 percent, closing at $120.02.
3D Systems Corp (NYSE: DDD) acquired Village Plastics, a maker of filaments for a variety of 3D printing materials. Acquisitions have played a key part in 3D Systems Corp growth path according to analysts. Shares gained 0.75 percent, closing at $80.96.
Analysts at MKM Partners began coverage of Hilton Worldwide (NYSE: HLT) with a Hold rating. The analyst noted that the company's PE of 13.8x fiscal 2015 estimates is among the highest in the industry. Shares are therefore fairly priced with a balanced risk/reward. Shares gained 2.95 percent, closing at $22.14.
Analysts at Credit Suisse downgraded Lululemon Athletica (NASDAQ: LULU) to Neutral from Outperform with a revised price target of $59, down from a previous $78. Shares hit new 52 week lows of $58.84 before closing the day at $59.20, down 1.97 percent.
Analysts at Bank of America reiterated a Buy rating on GameStop Corp (NYSE: GME) with a $59 price target. The analyst noted that the company has a "choppy" quarter but will see an improved environment as strength in console sales showing no signs of slowing down. Shares gained 3.66 percent, closing at $47.28.
Analysts at Raymond James upgraded The Home Depot, Inc. (NYSE: HD) to Outperform from Market Perform based on positive comments stemming from the company's recent Investor Day Presentation which included margin upside for 2014 and the company toying with same day delivery. Shares gained 0.60 percent, closing at $79.00.
Analysts at Cowen upgraded United States Steel Corp (NYSE: X) and ArcelorMittal (NYSE: MT) to Outperform from Market Perform. The two largest steelmakers based on an accelerating economy in Europe and the U.S. which should increase demand for steel products. Shares of U.S. Steel gained 3.06 percent, closing at $27.32 while ArcelorMittal gained 0.67 percent, closing at $16.46.
Brixmor Property Group Inc. Com (NYSE: BRX) was initiated with a Buy rating and $23 price target at Deutsche Bank. The analyst noted that the company can deliver above average earnings growth via occupancy gains, improving rents, and select redevelopment opportunities. Shares gained 1.00 percent, closing at $20.10.
According to a Bloomberg report, Google Inc. (NASDAQ: GOOG) is thinking about designing its own server processors using technology from ARM Holdings plc (NASDAQ: ARMH) putting further pressure on Intel Corporation (NASDAQ: INTC) Google lost 0.85 percent, closing at $1,060.82 while ARM Holdings gained 2.64 percent, closing at $48.90.
The Boeing Company (NYSE: BA) noted that "talks are over" with the labour union over future construction of the 777X plane. The company said that it has "no plans" to return to a negotiating table and has received bids from 22 states to construct the 777X. Shares gained 0.67 percent, closing at $133.85.
Las Vegas Sands Corp. (NYSE: LVS) has pulled the plug on its $35 billion casino project in Spain. The company will further explore the Asian market. Shares gained 0.49 percent, closing at $76.55.
Shares of OpenTable, Inc. (NASDAQ: OPEN) traded as low as $74.65 this morning following news reports that Apple (NASDAQ: AAPL) has filed for a patent application for an advanced restaurant reservation system. The service could potentially compete against OpenTable. Shares of OpenTable traded as low as $74.65 before closing the day at $76.33, down 3.40 percent. Apple lost 1.09 percent, closing at $554.43.
Honeywell International Inc. (NYSE: HON) plans to buy back $5 billion of shares. The company bought back $3 billion of shares in 2011. Shares gained 0.37 percent, closing at $86.61.
Shares of SodaStream International Ltd. (NASDAQ: SODA) declined in heavy volume this morning amid rumors that a major institution is selling their shares following a 300 percent appreciation in share price since the company's IPO. Shares traded as low as $48.80 before closing at $51.22, down 1.29 percent.
McDonalds Corp. (NYSE: MCD) is testing a new mobile app in hopes of reversing its previous struggles. The app will include special offers and coupons. Shares gained 0.36 percent, closing at $94.44.
According to several reports, Charter Communications, Inc. (NASDAQ: CHTR) is set to make a $140 per share bid for Time Warner Cable Inc. (NYSE: TWC) Bloomberg reported that Comcast Corporation (NASDAQ: CMCSA) and Cox Communications will not be part of Charter's bid.
QUALCOMM Incorporated (NASDAQ: QCOM) named its COO Steve Mollenkopf as the company's next CEO effective in March. Mollenkopf's name began to surface recently as a candidate to replace Steve Ballmer. Shares lost 0.22 percent, closing at $72.57.
DIRECTV (NASDAQ: DTV) is set to renew its rights deal with the National Football League for its NFL Sunday Ticket package of games. Shares lost 0.58 percent, closing at $66.63.
The Coca-Cola Company (NYSE: KO) announced a major reorganization of its Americas business. The company will split in to Coca-Cola North America and Coca-Cola Refreshments. Shares gained 0.05 percent, closing at $39.23.
Winners of Note
Shares of T-Mobile US, Inc. (NYSE: TMUS) surged in late afternoon after reports surfaced that Sprint Corp (NYSE: S) is mulling a bid for T-Mobile.
Analysts at RBC Capital Markets reiterated a Buy rating on Twitter, Inc. (NYSE: TWTR) while upping the price target to $60 from $33. The analyst noted that 40 gpercent of advertisers reported improving ROI and have increased their marketing spend on the social media platform. 59 percent of respondents plan to increase their ad spend over the next year. Shares reached new all time highs of $59.40 before closing the day at $59.15, up 6.90 percent.
Related: Twitter Quickly Reverses Course on Controversial Privacy Change
Shares of Adobe Systems (NASDAQ: ADBE) hit historical all time highs as its Creative Cloud subscriber growth impressed investors. The company added 402,000 subscribers for Creative Cloud, above its previous forecast issued in September which forecasted subscriber growth of 331,000. Shares traded as high as $61.09 before closing at $60.89, up 12.78 percent.
ARC Group Worldwide, Inc. (NASDAQ: ARCW) announced that the company has formed a 3D Material Technologies division. Analysts at Brean Capital initiated coverage on the company on Wednesday with a Buy rating and $25 price target issued a price target raise in the $45 to $50 range following today's announcement. Shares gained 12.86 percent, closing at $26.86.
Centene Corp (NYSE: CNC) issued forward looking guidance today. The company sees its 2014 EPS in a $3.50 to $3.80 range compared to the consensus of $3.61. The company sees next year's revenue in a $13.5 billion to $14 billion range compared to the consensus of $13.77 billion. Shares gained 6.12 percent, closing at $57.58.
Electronic Arts Inc (NYSE: EA) flagship game Battlefield 4 came in at number two on NPD's bests selling games list despite recent well publicized bugs and issues. Shares gained 5.96 percent, closing at $22.22.
Decliners of Note
Anadarko Petroleum Corporation (NYSE: APC) was downgraded with three separate research firms following yesterday's after market ruling against the company in the Tronox litigation. Damages could range between $5 billion and more than $14 billion. Anadarko and its Kerr-McGee unit are set to appeal the ruling. JPMorgan Chase & Co. downgraded shares to Underweight with a $77 price target, while Credit Suisse views $65 to $70 as a potential floor level valuation. Jefferies took on a bullish stance noting that the company could increase its dividend and share buybacks to restore confidence. The analyst maintained a Buy rating and $111 price target. Shares traded as low as $73.60 before closing at $78.30, down 6.42 percent.
Insys Therapeutics, Inc. (NASDAQ: INSY) received a subpoena from the Department of Health and Human Services related to an investigation of potential violations involving HHS programs. Shares lost 15.63 percent, closing at $38.06.
Quote of the Day
"[I]t marks an important moment of bipartisan cooperation and shows Washington can and should stop governing by crisis and both sides can work together to get things done." - A White House statement following last night's budget deal.
View Comments and Join the Discussion!
Posted-In: 3D Material Technologies Division 3D printers 3D Printers analysts adobe systems Amazon Amazon PrimeNews After-Hours Center Best of Benzinga