The Ford Mustang at 50: Does the Iconic Car Still Have a Market?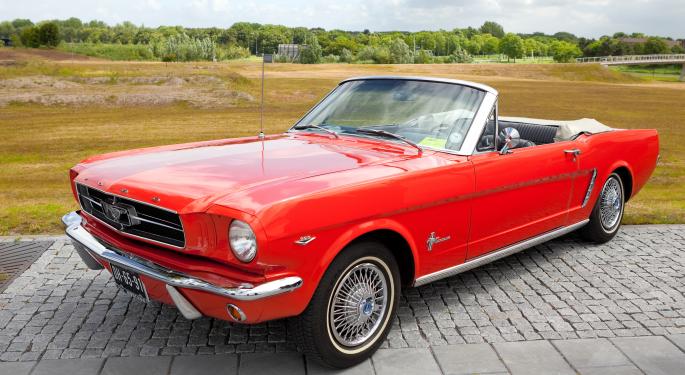 Here's a bit of startling news, especially if you're a Baby Boomer: the Ford (NYSE: F) Mustang turns 50 next year.
Ford is launching a full-court press campaign for its iconic pony car starting on Thursday, when the new, sixth-generation Mustang is unveiled on ABC's (NYSE: DIS) Good Morning America program.
The auto-maker says the debut of its original Mustang was also the "first-ever simultaneous international product reveal," when in April 1964 the car was unveiled in New York and 11 European capitals.
There are currently over 600 Mustang owner clubs around the world – and as part of the anniversary Ford is inviting people to talk about the car on Facebook (NASDAQ: FB) and other social media platforms.
Related: Elon Musk Wants Tesla Electric Truck to Compete with Ford F150
"Everybody has a Mustang story," Jim Farley, executive vice president of Ford global marketing, sales and service and Lincoln, noted in a press statement, "and the emergence of social media has helped the Mustang community share and connect these personal moments in not just words, but photography and video."
In the U.S. the Mustang is especially popular in three warm-weather states - Texas, California and Florida – where, according to Kelley Blue Book, 36 percent of all new Mustangs were sold during the first nine months of 2013.
The car's international appeal is also strong. The U.K. Telegraph reports the Mustang's latest model will be revealed this week in Barcelona. According to one top Ford official, quoted by the newspaper, "The question we receive more than any other is 'when will Ford bring the Mustang to Europe?'"
For decades the Mustang has been one of Ford's "halo" cars – a brand that, as Popular Mechanics defines it, "may sell in smaller volumes but that captures the public imagination."And the Mustang's share of overall sales has been diminishing – well down from the over 600,00 yearly that sold during the glory days of the mid-1960s.
Analysts are also watching to see if the new version of the Mustang will find its audience. Jack Nerad, executive director and analyst at Kelley Blue Book, notes current versions of the Mustang have been losing market share to its "arch rival," the Chevrolet Camaro, built by General Motors (NYSE: GM).
"The 'ponycar' market isn't what it used to be," he says, "but you can bet Ford would still like to assert bragging rights in a segment that it invented and has owned for the better part of 50 years."
At the same time, sports car sales are stronger and, according to KBB senior analyst Alec Gutierrez, above pre-recession volumes; with 2014 expected to be another strong year. And while Mustang's slice of the sales pie may be smaller, the Mustang's 50th anniversary and a stronger overall car market should benefit the car.
In addition, says Gutierrez, "baby boomers will be retiring in droves over the next several years and this presents a fantastic opportunity for Ford with their new Mustang."
Posted-In: News Guidance Travel Economics Media Interview Press Releases General Best of Benzinga
View Comments and Join the Discussion!