How To Save While Shopping on Black Friday and Over the Holidays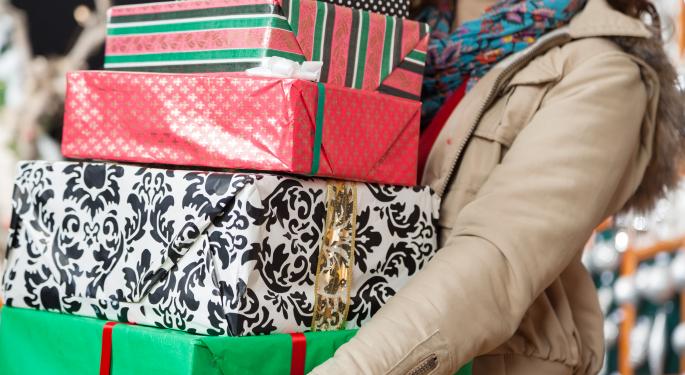 With Black Friday looming (or Black Thursday if you are so inclined), now is as good a time as any to consider a few tactics for avoiding overspending over the holidays.
Despite your good intentions, the cheery music, bright lights, enticing ads and impulse displays in stores often trick consumers into shopping too long and buying too much.
Instead, this year take a deep breath and practice some good old-fashioned defensive shopping. To that end, Forbes suggested the following:
Go Online
One easy way to avoid the temptation of bright lights and seductive in-store come-ons, is to stay home. Amazon's (NASDAQ: AMZN) Amazon.com is one of the most recognizable and popular online shopping sites. In addition, Consumer Reports suggested several less-known sites that feature inexpensive, but unusual gifts. They include HomeRemedyNYC.com and KHallDesigns.com to name a couple.
Hire Shopping Help
One of the great advantages of a personal shopper is that they will follow your list. Period. In addition to services such as Macy's (NYSE: M) Macy's By Appointment, other independent helpmates like Task Rabbit or Postmates courier service could save you money in the long run. Alternatively, consider swapping shopping lists with a friend. That way both of you will be spared the anguish of overspending.
Limit Yourself
The easiest way to rein in spending is to use a pre-paid card or – if it doesn't make you nervous – carry cash. In order for this tactic to work, leave your credit cards and checkbook at home.
Related: Tips for a Safe, Secure Online Shopping Experience
Success Resources also offers some practical tips to help you reign in your spending.
Plan Ahead
As simple as it sounds, many people fail to set a budget and create a shopping list. Instead, they leave the house with no planned spending amount and only a vague idea of what they will buy. A little advance online research, followed by a list of people you plan to buy for and the amount you plan to spend can go a long way toward saving you in the end.
Watch for Bargains
While it almost seems like a contradiction, keep your eye out for sale items that you might substitute for whatever is on your shopping list. In other words, don't be so rigid you pass over a chance to buy a better gift for less money. Some stores, like Wal-Mart (NYSE: WMT) have planned in-store Manager's Specials for Black Friday. If the gift fits, buy it.
Make It Yourself
It takes planning and is rarely something you can pull off at the last moment, but most people would be thrilled to receive something from you that represents more time and effort than a trip to the store. Gift ideas include food you prepare, artwork, or even an invitation to spend time together doing something you both enjoy. Pinterest might be the go-to website for suggestions and ideas on DIY gifts for any occasion.
Family Circle cautions that overspending is often the result of a mistake, such as waiting until the last minute, failing to take advantage of coupons, or missing the fact that you could get free shipping if you spend a couple of dollars more.
Family Circle also suggests you avoid the temptation to "even it up" by spending exactly the same amount of money on each person. This is especially true when buying for children.
Finally, as part of your overall long-term tactic for holiday shopping, set aside a small regular amount of money each month throughout the year in anticipation of the fact you are going to need a "stash" in December.
Banks used to call this a Christmas club, and although banks have all but abandoned the practice, Bankrate.com (NYSE: RATE) said some credit unions still offer them.
At the time of this writing, Jim Probasco had no position in any mentioned securities.
View Comments and Join the Discussion!
Posted-In: Amazon Amazon.com Bankrate.com Black Friday Black ThursdayMedia Personal Finance General Best of Benzinga