Let's Drink to That: U.S. is World's Largest Wine Market, with Sales Expected to Expand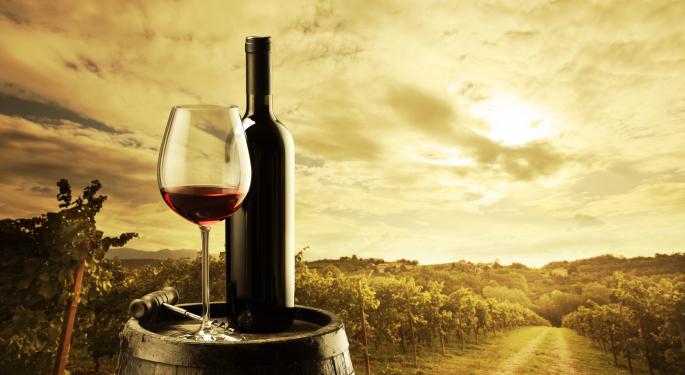 It's been a very good year for wine and wine sales. Sales of domestic and foreign wines in the U.S. last year were reportedly up two percent compared to 2011 – to a record 360.1 million cases with an estimated retail value of $34.6 billion.
California wines make up nearly 60 percent of overall U.S wine sales, with a retail value of around $22 billion.And according to the Wine Institute the U.S. is the largest wine market in the world, with 19 consecutive years of volume growth.
Related:Moving Industry Slowly Regaining Momentum
"Wine shipments to the U.S. market climbed by nearly 50 percent since 2001 and it is likely that American consumption will continue to expand over the next decade as wine continues to gain traction among American adult consumers," wine industry consultant Jon Fredrikson of Gomberg, Fredrikson & Associates said in an Institute press statement.
Fredrikson attributes the growth of wine sales, and the growing number of wine drinkers in the U.S., to several factors – including "favorable" demographics, a bigger consumer base and a rising number of distribution points.
"For example," he says, "Starbucks (NASDAQ: SBUX)is now serving wine in some key markets and Amazon.com (NASDAQ: AMZN) and Facebook (NASDAQ: FB) Gifts both sell wine online."
And a new study by the firm Restaurant Sciences, of wine-by-the-glass sales for the first three quarters of this year, finds American tastes appear to be shifting to higher-end vino – with Pinot Noirs overtaking Merlots in popularity. The study also found Chardonay remains the overall favorite white wine for people dining out, while Cabernet Sauvignon dominates the reds.
Restaurant Sciences analyzed 30 million guest checks from January through October of this year, from full-service restaurants, bars, nightclubs and hotel bars. It also found Americans are paying more for wine – with average prices per glass ranging from around $5.50 at a family dining restaurants to nearly $14 per glass at hotel bars.
U.S. wine exports, meanwhile, are having some vintage times as well. The Wine Institute says those exports created $1.43 billion in winery revenues last year, up 2.5 percent compared to a year earlier.
Posted-In: alcoholic beverages beverage food and beverageNews Guidance Retail Sales Restaurants General Best of Benzinga
View Comments and Join the Discussion!