Benzinga Weekly Preview: Yellen To Take Her Place As New Fed Chief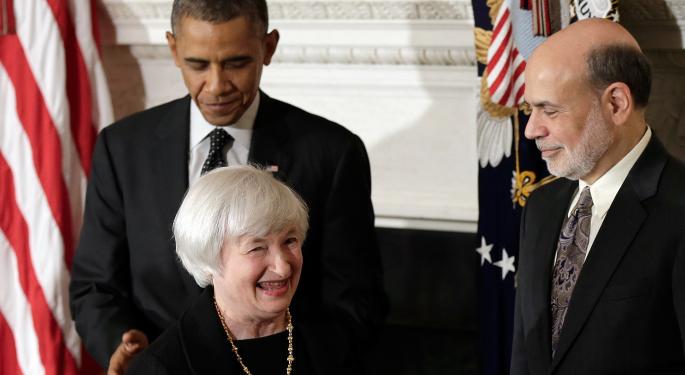 All eyes will be on the Federal Reserve as Janet Yellen appears before congress to get the final nomination to become the next leader of the US central bank. Although there are some critics of Yellen's nomination, she appears to have enough support to take over current Chairman Ben Bernanke's seat.
With Yellen at the helm, most investors expect the bank to maintain its accommodative policies for as long as possible. However, if data continues to show that the US can stand on its own, Yellen may not be as dovish as investors were anticipating.
Key Earnings Reports
Next week investors will be waiting for several key earnings reports includingSotheby's (NYSE: BID), Unilife Corporation (NASDAQ: UNIS), DISH Network Corporation (NASDAQ: DISH), Macy's Inc. (NYSE: M), Wal-Mart Stores, Inc. (NYSE: WMT)
Sotheby's
Sotheby's is expected to report EPS of $0.45, compared to last year's EPS of $0.48.
At the beginning of October, the analyst team at Wedbush gave Sotheby's an outperform rating with a $54.00 price target. Wedbush noted that the company had a strong start in the fall, leading analysts to believe it will surpass the consensus EPS estimate in Q4.
"Hong Kong art week results above high end of expectations and well above last year's level. Sotheby's kicked off its important fall auctions with highly encouraging results from its Hong Kong sales, whose auction total of $538 million was 24% above the pre-sale estimate midpoint and 104% above the year-ago level. Such stronger-than-expected results give us greater comfort in Sotheby's ability to hit our Q4 EPS est. of $1.46, which we note is above the $1.25 consensus estimate."
Unilife Corporation
Unilife is expected to report EPS of $0.1, compared to last year's EPS of $0.14.
Cantor Fitzgerald has a Buy rating on Unilife with a $6.00 price target on October 3 after a day of investor meetings with the company's CEO Alan Shortall. Key takeaways from the meetings included:
"1) UNIS still expects to announce several more supply agreements before the end of CY:2013 across the entire product platform, 2) management believes the Street does not fully appreciate the wearable injector opportunity, which the company thinks is potentially its largest, and 3) upfront cash payments from Sanofi and future deals could preclude the need for the recently considered debt financing. The stock has remained under pressure since the Sanofi announcement, due in part to some negative press, in our view, but we still believe that additional supply contracts can help assuage investor concerns and move UNIS closer to profitability."
However Sadif took a more cautious approach at the end of October and downgraded the stock to risky.
"Unilife Corp is a low quality company with a neutral outlook. Unilife Corp has weak business growth and is run by inefficient management. The trend in Unilife Corp fair value exchange rate against its closest rated-competitor, Derma Sciences Inc, has been appreciating over the past 2 weeks. When compared to its closest competitor, Derma Sciences Inc, Unilife Corp shows greater undervaluation and is equally likely to underperform the market."
DISH Network Corporation
DISH Network is expected to report EPS of $0.42, compared to last year's EPS of $0.65.
Deutsche Bank has a Buy rating on DISH Network with a $58.00 price target on October 22. The firm based much of its optimism on remarks from Charlie Ergen, who said that the company's capital will not be spent on a Greenfield wireless build.
"We expect 3Q results are not the primary focus for investors; rather, the key question remains how far will Mr. Ergen take his wireless ambitions and whether or not his process ultimately ends up in a sale of DISH or a wireless network build."
Merrill Lynchhas an Underperform rating on DISH Network with a $33.00 price target on October 15. The firm cited an uncertain strategic path as one of the driving forces behind their conservative estimate.
"For the first time in at least a year, operations seem to be chief on the list of investor concerns re: the Co.'s strategic path. Given the competitive environment in pay-tv, we believe DISH will once again prove to be a (relative) 'have-not' during 3Q and FY 2013E compared to peers. We are maintaining our 3Q revenue projection of $3.6bn ($14.4bn for CY'13), or 3% and 1% y/y growth, respectively, among the most anemic in the group. We project DISH will add +20k subs during 3Q, slightly higher than our previous+13k estimate, admittedly better than last year's (-19k) – partially helped by DISH's broadband offering. Still uncertain, is the status of the "super-DVR," Hopper which has thus far proven to be a strong sell-in product, though we believe DISH still faces headwinds in the legal sphere (although legal status is still to be determined by the U.S. Federal Court System)."
Macy's Inc.
Macy's is expected to report EPS of $0.39, compared to last year's EPS of $0.36.
At the end of September, Sterne Agee has a Buy rating on Macy's with a $52.00 price target. Analysts noted that although consumer spending has been under pressure, the company's sales are likely to improve by the end of the third quarter.
"While seasonal merchandise categories have been a headwind for M, WTI projects a cooler October vs. LY, and we could see sales pick up by the end of 3Q given a ton of pent-up demand. Looking towards 4Q, the company is facing a very easy November comparison impacted by Hurricane Sandy and election/fiscal uncertainties. We also believe that fears about the six fewer shopping days between Thanksgiving and Christmas are overblown. Net, we believe SSS will ultimately come in at ~1%, but there could be upside."
JP Morgan has an Overweight rating on Macy's with a $52.00 price target on November 4. The team at JP Morgan was confident in Macy's position as market share leader for department stores.
"The pace of Macy's top-line momentum building and strategic and merchandising drivers in early innings (My Macys, Omni-channel, Magic selling), we believe top-line strength is sustainable for the next few years. Additionally, we believe Macy's has among the top lineups of margin drivers over the next several years with Door-to-Store (290 doors today going to 500 by YE) in early innings with remaining legs to the My Macy's localization effort. The clear market share leader in the department store space – we believe Macy's can and will continue to win through focusing on its own strategy (brands, price, quality trio) and through internal initiatives (My Macy's, Omni-Channel, and Magic Selling)."
Wal-Mart Stores
Wal-Mart is expected to report EPS of $1.13, compared to last year's EPS of $1.08.
ISI Group has a Neutral rating on Wal-Mart as of October 17. ISI said Wal-Mart lacks space to continue growing with eCommerce gaining popularity.
"Walmart's 20th Analyst conference reminded us of all the things that make Walmart great and frustrating at the same time. Returns and efficiency are strong (all positive) yet a $120bn+ fixed asset base is very hard to turn in a slow growth world with eCommerce sapping traffic. Management outlined an evolving strategy consistent with Mike Duke's "Growth, Leverage and Returns" objectives while accepting that the Supercenter market size appears to be stable at best."
However, on November 4, Goldman Sachs analyzed Wal-Mart's test launch of a new bargain basic brand called "Price First", saying it could help the company gain additional market share.
"We view the Price First effort as a tool to capture additional market share from price-focused customers without cutting price incrementally on like items. WMT continues to profess a focus on price, but at the same time, has acknowledged the limitations of outright price reductions in driving share. We also view this effort as a response to share gains by dollar stores, and intended to defray the recent reduction in SNAP benefits (see our note, Sizing the impact of lower SNAP payments on low end spending, Oct. 7, 2013). We believe the brand will be priced below WMT's existing Great Value private label brand, which is already priced below national brands."
Economic Releases
After the ECB's surprise rate cut this week, investors will be anxious to see the eurozone's third quarter GDP reading, due out on Thursday. Second quarter figures were positive with 0.3 percent growth, but the third quarter isn't forecast to be quite as strong. Most are expecting to see growth of 0.1 percent, highlighting that although the region has exited its record long recession, its recovery remains fragile.
Daily Schedule
Monday
Earnings Releases Expected: Sotheby's (NYSE: BID), Otelco (NASDAQ: OTEL), Rackspace Hosting, Inc. (NYSE: RAX), Red Lion Hotels Corporation (NYSE: RLH)
Economic Releases Expected: Italian industrial production, Mexican industrial production, Portuguese trade balance
Tuesday
Earnings Expected From: Five Star Quality Care, Inc. (NYSE: FVE), Maximus, Inc. (NYSE: MMS), Nustar Energy (NYSE: NS), D.R. Horton, Inc. (NYSE: DHI), DISH Network Corporation (NASDAQ: DISH)
Economic Releases Expected: German CPI, British CPI, British PPI, US Redbook, Indian manufacturing output, Indian industrial production
Wednesday
Earnings Expected From: Macy's Inc. (NYSE: M), Millennial Media, Inc. (NYSE: MM), NetApp, Inc. (NASDAQ: NTAP)
Economic Releases Expected: Spanish CPI, British unemployment rate, eurozone industrial production, US Federal budget balance, Japanese industrial production
Thursday
Earnings Expected From: Applied Materials, Inc. (NASDAQ: AMAT), CGI Group, Inc. (NYSE: GIB), Kohl's Corporation (NYSE: KSS), Nordstrom, Inc, (NYSE: JWN), Wal-Mart Stores, Inc. (NYSE: WMT)
Economic Releases Expected: French GDP, German GDP, Italian GDP, British retails sales, eurozone GDP, Greek unemployment rate
Friday
Earnings Expected From: No notable earnings to report
Economic Releases Expected:  Hong Kong GDP, Italian trade balance, eurozone CPI, US industrial production
Posted-In: News Eurozone Commodities Previews Global Economics Federal Reserve Pre-Market Outlook Best of Benzinga
View Comments and Join the Discussion!