Have Super Bowl Ads Become Too Costly For Advertisers?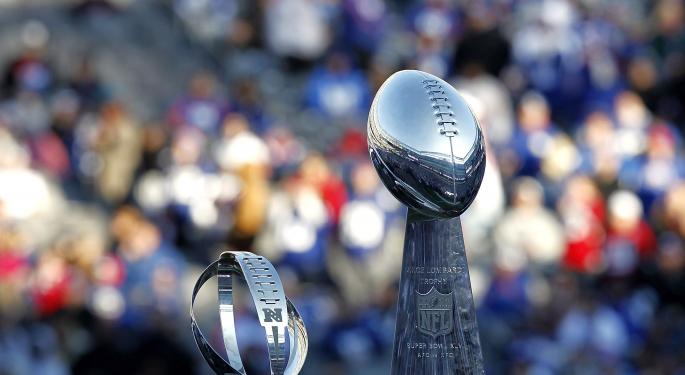 Quick: think of a televised event that nearly everyone you know watches at the same time. Chances are good you probably thought of the Super Bowl.
Outside of critical breaking news, the NFL football championship is one of the few remaining instances where U.S. broadcasters and advertisers can be guaranteed a national audience. The Super Bowl is more than a football game; it's an annual cultural event with massive appeal across a wide range of demographics – that pulls in people of all genders and ages with TV viewing parties and internet buzz about upcoming commercials.
Neilsen reports last February's Super Bowl, broadcast on CBS (NYSE: CBS) drew in an average audience of 108.7 million viewers. That game, according to ESPN, became the fourth Super Bowl with more than 100 million viewers. In fact, the Ravens-49ers game – even with its 30-minute power outage – reportedly drew in 108.5 million viewers – which a CBS press statement says made the event "the most watched night of television" since the advent of People Meter rating technology in 1987.
For broadcasters, getting an add to run during the Super Bowl probably seems like a slam-dunk. But advertising executives note a commercial that backfires or causes too much controversy can become a public relations nightmare.
"The Super Bowl is either the most economical, smart, risk-free thing you can do or the worst mess you can get yourself into," David Lubars, chairman and chief creative officer for BBDO North America, told Ad Age.
And the rising price of Super Bowl ads is apparently giving some companies pause.
Variety reports CBS sold 30-second ads for between $3.7 million and $3.8 million during the last Super Bowl. And Fox (NASDAQ: FOXA) , which is broadcasting the 2014 game, is expected to ask for around $4 million per 30-second spot.
In fact, some companies are giving the upcoming Super Bowl a pass, in favor of putting their ad money elsewhere – specifically during coverage of the 2014 Winter Olympics, which begins just days after the Super Bowl. Executives at Century 21 real estate, a recent Super Bowl advertiser, tell Ad Age they've chosen instead to air ads during the winter games, scheduled to run Feb. 7-23 and to be broadcast on NBC – a division of Comcast (NASDAQ: CMCSA) – instead of putting all their eggs in a one-night Super Bowl basket.
"We are voting with our feet and our dollars," Century 21 Chief Marketing Officer Bev Thorne told the magazine, "and we are making the investment in the Olympics this year because we think it will be a better investment for us."
The Subway restaurant chain, a former Super Bowl advertiser, is also opting out this year and planning ads for the Olympics instead.
"Price value always matters to us," Subway CMO Tony Pace said in an interview with Ad Age."You can make an argument that the total cumulative audience across the Winter Olympics is actually bigger than what you are going to get in the Super Bowl."
Posted-In: advertising BBDO commercialsRumors Topics Events Media General Best of Benzinga
View Comments and Join the Discussion!