Is a Beer Mega-Merger On Tap?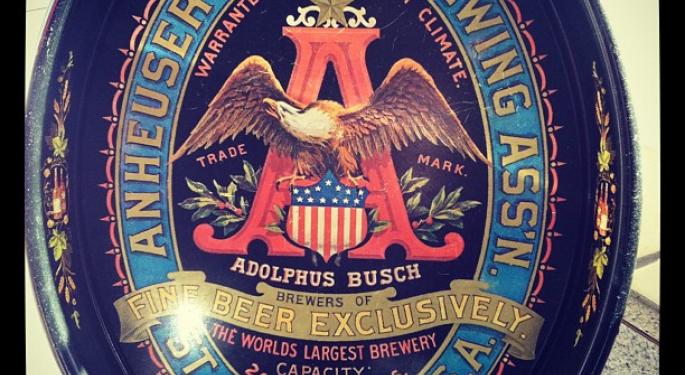 Here's a fact to consider next time you partake in your favorite brewed beverage: about half of the world's beer is produced by just four firms, Anheuser-Busch InBev (NYSE: BUD), SABMiller (OTC: SBMRY), Heineken and Carlsberg.
And since Heineken remains under family control and Carlsberg is run by a foundation, some industry observers believe now is the time for a $100 billion mega-merger between SABMiller and Anheuser-Busch InBev.
"It's more a question of when, not if," an unnamed banker, who has reportedly worked on such deals, told Reuters this week.
Analysts speaking to the wire service describe Anheuser-Busch InBev as a "serial acquirer" – a company that, under the leadership of CEO Carlos Brito, is "renowned for buying assets, aggressively cutting costs and swiftly moving on." The company made global headlines in 2008 with its $52 billion takeover of Anheuser-Busch. It now controls nearly half of the U.S. beer market.
The Belgian-based brewer currently has a portfolio of over 200 beer brands and according to its website brought in $39.8 billion in revenue in 2012. Earlier this year Anheuser-Busch InBev purchased Mexico's Grupo Modelo for $20.1 billion.
SABMiller, on the other hand, has grown from its modest South African roots to become a brewery powerhouse, with its own stable of several hundred beer brands in over 75 countries. In the fiscal year ending this past March, the company reportedly brought in revenues of $34,487 billion.
Analysts tell Reuters any merger between SABMiller and Anheuser-Busch InBev would first have to the run the gauntlet of regulators in the United States, China and elsewhere.
The U.S. Justice Department, for example, initially blocked the Anheuser-Busch InBev-Grupo Modelo deal – saying at the time the transaction "would result in consumers paying more for beer and would limit innovation in the beer market." But the feds relented after Modelo's U.S. businesses were acquired by the New York-based wine, beer and spirits company Constellation Brands (NYSE: STZ), for around $4.75 billion.
There are also soft drink-related issues to consider. Reuters reports Anheuser-Busch InBev is the largest Pepsi (NYSE: PEP) bottler in Latin America, while SABMiller is a major Coca-Cola (NYSE: KO) bottler and distributor outside of the U.S. As Reuters notes, any merger would force the new company to "pick sides" between the soft drink giants.
Posted-In: BeerM&A News Guidance Rumors Restaurants Press Releases General Best of Benzinga
View Comments and Join the Discussion!