Benzinga's Weekend M&A Chatter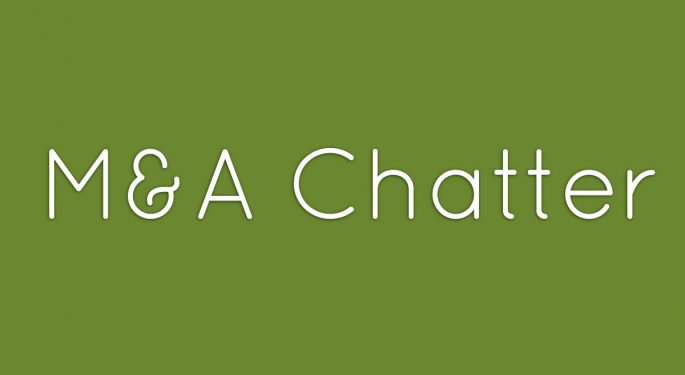 The following are the M&A deals, rumors and chatter circulating on Wall Street for Friday October 25, through Sunday October 27, 2013:
Report Dendreon Hires JP Morgan Assist in Finding Buyer
The Rumor:
Shares of Dendreon (NASDAQ: DNDN) moved higher Friday on a report from Bloomberg the maker of prostate cancer treatement Provenge is seeking a buyer. Sources say Dendreon has hired J.P. Morgan to assist in finding a buyer. A Dendreon spokesperson was not available for comment.
Shares of Dendreon have fallen from a high around $54 in April 2010, following FDA approval to $2.50 recently. Provenge sales have not come close to company estimates.
Dendreon closed Friday at $2.53, a gain of 5%.
Cooper Tire Shares Rally Late Friday, Perhaps on Anticipation of Revised Deal with Apollo Tyres
The Rally:
Shares of Cooper Tire (NYSE: CTB) rose more than a point in late trading Friday, perhaps in anticipation of a revised merger deal with Apollo Tyres. No news was announced by the company on Friday.
Apollo announced on June 12 it was acquiring Cooper Tire for $35.00 per share in cash. The deal was approved by Cooper shareholders on September 30. Since then, the deal has run into problems. On October 4, Cooper filed a complaint in Delaware Chancery Court to require Apollo to expeditiously close the merger. Apollo responded saying it was working to close the merger, but felt the purchase price should be adjusted.
Cooper Tire is scheduled to report earnings before the open on Friday November 1.
Cooper Tire closed Friday at $25.66, a gain of 4.5%.
View Comments and Join the Discussion!