ECB Banking Tests To Be Harder Than Anticipated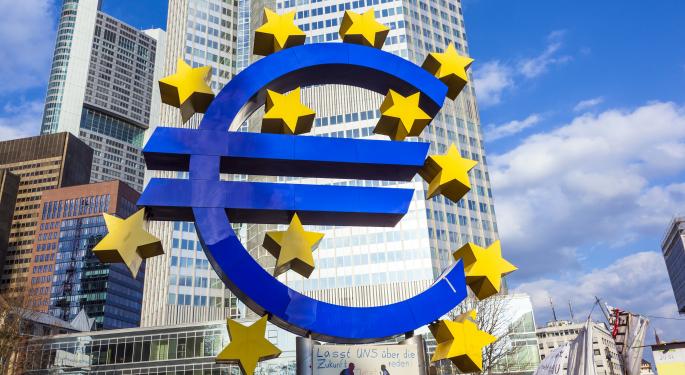 The euro traded steadily above $1.37 as markets settled after being shaken up by news that China's largest banks had tripled their amount of bad debt write offs for the first half of 2013 in preparation for potential defaults.
The country's decision to allow banks to use their large reserves to erase bad loans indicated that China is shifting toward a more modern approach toward credit management.
Related: Market Primer: Thursday, October 24: Investors Switch Focus To Earnings
In the eurozone, policy makers were put in the hot seat after European Central Bank President Mario Draghi announced that the ECB's upcoming health checks will be more difficult than those performed in the past. According to Financial Times, Draghi said that some of the eurozone's banks will need to fail the stress tests in order to prove the assessment's credibility.
Draghi also warned that EU leaders will need to settle their disagreements over setting up public backstops, as they will likely be needed when the assessments are carried out. However, Germany has been firm on its opinion against allowing failing banks to access eurozone rescue funds. German leaders have pushed for losses to be taken by bondholders before EU taxpayers shoulder the burden.
Investors were concerned after Draghi's speech and Europe's share markets reflected the sense of uneasiness. Italian bank stocks plummeted as many worried that the historically cash strapped nation's banks would fail the ECB assessments. Banks in Spain, Germany and France also suffered losses and fell around 2 percent.
The ECB's review is intended to strengthen investor confidence and help sure up eurozone banks' balance sheets. The tests will include an asset quality review, which could force some banks to build up their capital reserves.
Posted-In: European Central BankNews Eurozone Forex Global Federal Reserve Pre-Market Outlook Markets Best of Benzinga
View Comments and Join the Discussion!