Government Shutdown Takes A Bite Out of U.S. Food Production, Safety and Pricing Data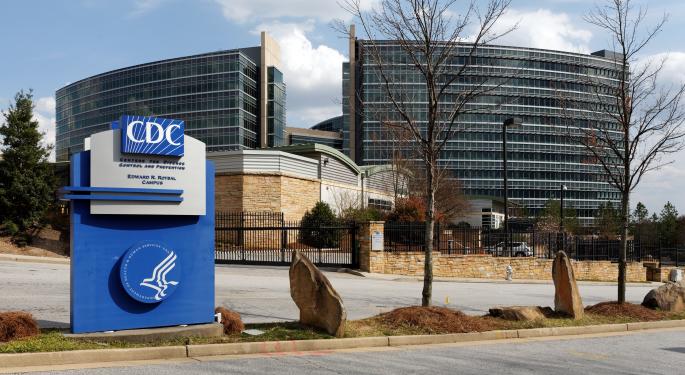 Is the nation's food supply chain facing a "perfect storm" of damaging events when it comes to food production and safety?
The U.S. government shutdown has disrupted livestock pricing across the nation. It has also meant darkened offices and laboratories at the Centers for Disease Control and Prevention, as well as at other essential federal food inspection services, just in time for a major food-borne bacterial outbreak.
Earlier this week, the USDA's Food Safety and Inspection Service issued a public health alert over salmonella-tainted raw chicken products produced by Foster Farms at three of the company's facilities in California. The alert comes after nearly 300 people in 18 states were sickened by the disease.
The CDC is reportedly working with state health departments to monitor the outbreak – but there's a problem with that. As CDC Director Dr. Tom Frieden tweeted last week, the government shutdown forced the CDC to furlough 8,754 people. "They protected you yesterday, can't tomorrow," he wrote. "Microbes/other threats didn't shut down. We are less safe."
But does that mean what we end up eating isn't being screened? Not necessarily. As the National Chicken Council points out in a press statement, USDA inspectors are continuing their meat and poultry inspections despite the government shutdown – and, as a result, "in-plant oversight of food safety, application of proper product labels and humane slaughter are continuing normally."
And on Tuesday, dozens of federal experts on food-borne illnesses, previously furloughed by the shutdown, were called back to help deal with the salmonella outbreak investigation. Border inspections for imported food are reportedly continuing.
But the shutdown is affecting some essential services that also impact meat prices. It's created a backlog of labeling submissions that's expected to affect the introduction of some new food products to the consumer market.
And the absence of USDA market reports is affecting daily livestock producer transactions, as well as meat product pricing.
"Products are commonly priced based upon these reports," the American Meat Institute noted in an email to Benzinga. "Likewise, settlement of futures contracts from the Chicago Mercantile Exchange are based on the reports, as well. The absence of these reports is complicating business transactions."
According to Reuters, meat processing giant Smithfield Foods (NYSE: SFD) plans to use data from the Chicago Mercantile Exhange's owners, the CME Group Inc. (NASDAQ: CME), to price hogs – while privately-held Cargill and Tyson Foods (NYSE: TSN) will reportedly use price data from the private firm Urner Barry.
Observers say producers are unlikely to pass along any additional, shutdown-related costs to shoppers at the supermarket – at least, for now.
"The longer this goes on the greater the likelihood of commodity volatility," said David Corsun, director of the Knoebel School of Hospitality Management at the University of Denver's Daniels College of Business, "which would probably be the only way consumers would see an impact."
Posted-In: cargillNews Commodities Retail Sales Restaurants Markets Interview General Best of Benzinga
View Comments and Join the Discussion!