Taking A Cruise At Budget Motel Rates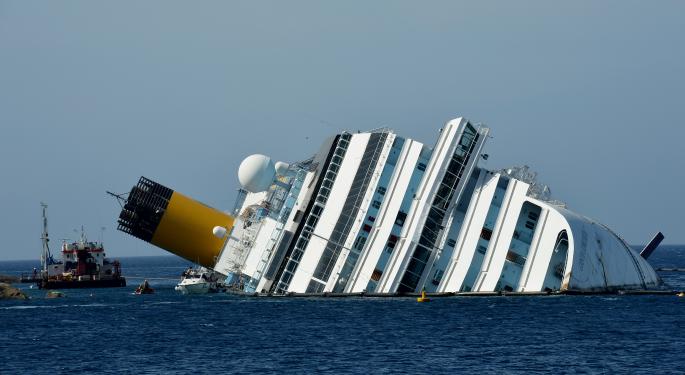 What a choice - stay in a Motel 6 or take a Caribbean cruise?
Better yet, it's the same price! According to Rich Tucker of CruiseDeals.com, who spoke to The Wall Street Journal, cruising can actually be cheaper than staying in a budget motel, especially when you consider the fact that meals and entertainment are included.
Louis Ramirez, Senior editor at DealNews said the least expensive cruise prices in 2013 were 43 percent less than the cheapest ones listed in 2009 and less costly than any cruise in the years 2010 to 2012.
With cruise prices down $1000 or more, Carnival (NYSE: CCL) cruises could be had for as low as $35 per person per night. Royal Caribbean (NYSE: RCL) had sailings going for $39 per person per night according to Tucker.
Ryan Rose of online site, Travelzoo (NASDAQ: TZOO) told The Wall Street Journal the prices were "some of the lowest rates we've ever seen." The deals come at a time of year when prices normally begin to drop anyway.
Cruise lines move their ships from summer cruise areas like Alaska and Europe to the Caribbean, creating a glut of ships in that area. Demand decreases as the summer travel season winds down. In addition, many cruise lines have added larger vessels, adding more cabins to the marketplace.
Finally, there's that "raw sewage" thing. Not to mention that "boat tilted on its side" thing. In other words, the public relations fiascos suffered by cruise lines, especially Carnival, have made travelers skittish enough that demand has been lower than normal and that bodes well for bargain hunters.
Related: Pack A Plunger: Memories of Backed Up Toilets Continue to Plague Carnival
Experts caution travelers to use care when booking a cruise. First, it's not safe to assume all cruises on all cruise lines are going at bargain-basement prices. Carnival, for example, said in September that it planned to give away (or heavily discounted) some of its otherwise empty cabins to travel agents in Q4 as a way to avoid steep discounts to the public.
In addition, a cruise that advertises at $35 per person per night likely doesn't include taxes, fees, shore excursions, most alcohol, and a whole host of other services and activities that can add hundreds to the cost.
Chuck Flagg, who owns The Flagg Agency, said travelers are often better off paying a higher price for the basic cruise if it includes more of the extras they would probably want anyway.
As always, experts advise that travelers should do basic research. Check out prices online, call travel agents, and don't forget to ask for additional discounts such as for seniors, military, or other bonus offers that might be available.
At the time of this writing, Jim Probasco had no position in any mentioned securities.
Posted-In: Alaska Caribbean cruise carnival Chuck FlaggWall Street Journal Travel Media General Best of Benzinga
View Comments and Join the Discussion!