Benzinga's Weekend M&A Chatter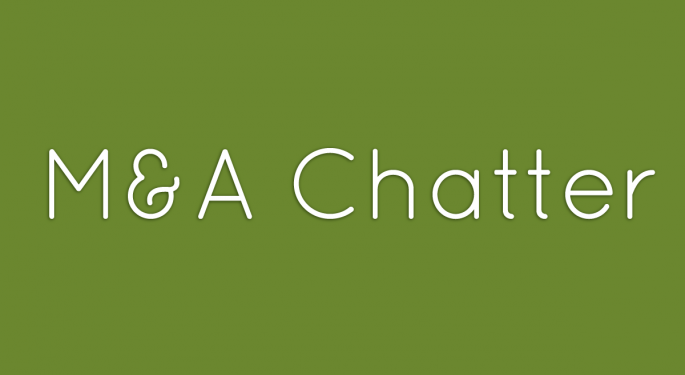 The following are the M&A deals, rumors and chatter circulating on Wall Street for Friday October 4 to Sunday October 6, 2013:
Cooper Tire Files Complaint to Require Apollo to Expedite Merger Closing
The Litigation:
Shares of Cooper Tire (NYSE: CTB) sold off throughout the day Friday and spiked sharply lower after-hours, as the company filed a complaint in Delaware Chancery Court requesting that subsidiaries of India's Apollo Tyres be required to expeditiously close the pending $2.5B merger between the two tire companies in accordance with the terms of the agreement.
On Sunday, Apollo Tyre responded to the litigation saying they have been "working diligently to address significant post-announcement impediments." Apollo says Cooper has acknowledged that some price reduction is warranted. The issue now is by how much."
The sale of Cooper Tire to the Apollo subsidiary at $35 per share was announced on June 12 and approved by Cooper shareholders on September 30.
Cooper Tire closed at $29.65 Friday, and lost almost 7% after-hours.
Charm Communications forms Independent Committee to Evaluate $4.70/ADS 'Going Private' Proposal
The Special Committee:
Charm Communications (NASDAQ: CHRM) announced Friday that it has established a Special Committee of its board of directors to consider the preliminary non-binding proposal letter dated September 30, 2013 from Board Chairman He Dang, Merry Circle Trading Limited, Honour Idea Limited and CMC Capital Partners HK Limited to acquire all of the outstanding shares of the Company not currently owned by the founder shareholders in a "going private" transaction for $4.70 per ADS.
No decisions have been made by the Special Committee regarding the Proposal.
Charm Communications closed at $4.36 Friday, a gain of $0.04
View Comments and Join the Discussion!