Benzinga's M&A Chatter for Tuesday September 24, 2013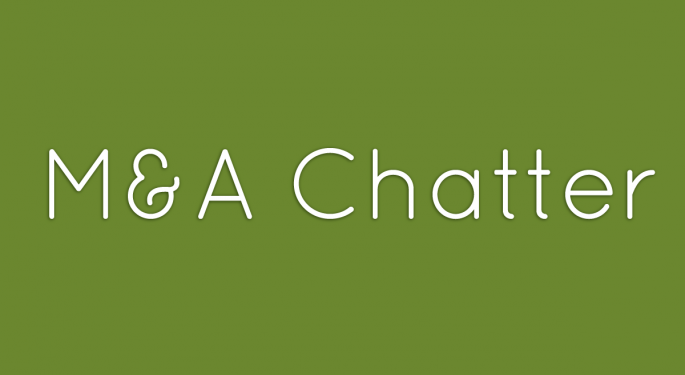 The following are the M&A deals, rumors and chatter circulating on Wall Street for Tuesday September 24, 2013
Applied Materials and Tokyo Electron to Combine, Creating $29B Company
The Deal:
Applied Materials (NASDAQ: AMAT) and Tokyo Electron Limited (OTC: TOELF) announced Tuesday they have agreed to combine in an all-stock transaction, valuing the combined company at $29 billion.
The deal is expected to close by H2 2014, at which time Applied Materials shareholders will own approximately 68% of the new company and Tokyo Electron shareholders approximately 32%. Tokyo Electron shareholders will receive 3.25 shares of the new company for every Tokyo Electron share held, while Applied Materials shareholders will receive 1 share of the new company for every Applied Materials share held.
Applied Materials closed at $17.44 Tuesday, a gain of 9%.
Clovis Oncology Shares Selloff on Report of No Interested Buyers
The Rumor:
Shares of Clovis Oncology (NASDAQ: CLVS) plummeted after-hours on a report from Bloomberg that the company has received no interest from buyers. Bloomberg reported on September 17 that Clovis was considering a sale.
A spokesperson for Clovis Oncology declined comment on the rumor.
Clovis Oncology closed at $73.52 Tuesday, but fell 13% after the close.
Active Network Shares Surge on Report of Multiple Bidders
The Rumor:
Shares of Active Network (NASDAQ: ACTV) spiked higher Tuesday on market chatter that the company has received bids from multiple potential suitors. Active Network reportedly hired Citigroup as an advisor to handle a potential transaction, according to sources.
An Active Network spokesperson was not available for comment.
Active Network closed at $10.73 Tuesday, a gain of almost 3% on twice average volume.
View Comments and Join the Discussion!