Benzinga's Weekend M&A Chatter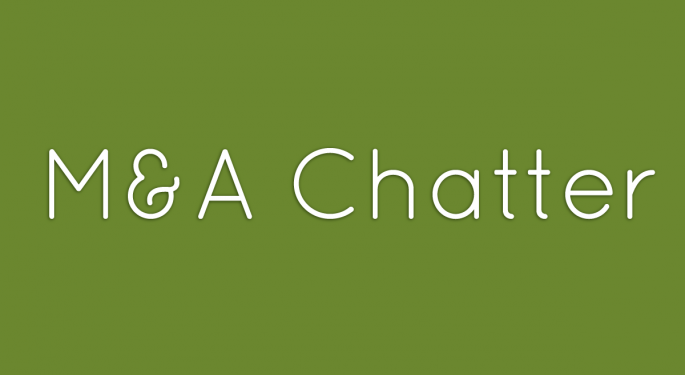 The following are the M&A deals, rumors and chatter circulating on Wall Street for Friday August 16 to Sunday August 18, 2013:
Retrophin Reportedly Rejects $100M Offer from Alexion
The Rumor:
Biopharmaceutical company Retrophin (OTC: RTRX) reportedly turned down a $100 million offer from Alexion Pharmaceuticals (NASDAQ: ALXN), according to a source close to the situation, talking exclusively to Benzinga. The company decided to go with a 5.6 million share, $25 million private placement. Retrophin intends to use the aggregate net proceeds of the transaction primarily to pursue its recently announced exclusivity agreement with a major pharmaceutical company for the right to negotiate a royalty-bearing U.S. license for a product to be developed for the treatment of Autism and Schizophrenia, along with advancement of its product pipeline.
Alexion spokesperson Kim Diamond responded to Benzinga in an email saying the company had not spoken to Retrophin in over a year and that they have never considered any type of relationship with them, let alone made them an offer." Retrophin CFO Marc Panoff declined comment.
Alexion's interest in Retrophin was reportedly fueled by strong pre-clinical data announced on March 11, 2013 concerning RE-024, an experimental treatment for Pantothenate Kinase Associated Neurodegeneration (PKAN), a rare and almost-always fatal disease. Retrophin reported additional positive data on Friday.
Retrophin closed at $5.84 Friday, a gain of 27% on 7 times average volume.
Delaware Judge Denies Icahn Bid to Fast-Track Dell Lawsuit
The Court Ruling:
Delaware Court Judge Leo Strine denied investor Carl Icahn's request Friday to fast-track his lawsuit against Dell (NASDAQ: DELL). Icahn's suit contends that Dell and its board wronged shareholders by accepting a low offer from the company's founder and CEO Michael Dell. Judge Strine agreed that Icahn had ample time to evaluate the Michael Dell offer and submit a higher bid.
Dell's special shareholder meeting was confirmed for September 12.
Dell closed at $13.82 Friday, a gain of $0.11 on average volume.
Shire Shares Spike Higher Late Friday on Market Chatter
The Rumor:
Shares of Shire (NASDAQ: SHPG) spiked higher late Friday on market chatter of interest in the company as a tax haven for a potential suitor, due to its Irish domicile. On March 1, it was reported that Bristol Meyers Squibb (NYSE: BMY) had considered an acquisition of Shire.
On Thursday's Mad Money, Perrigo CEO Joe Papa told Jim Cramer that the tax benefits created by its acquisition by Irish drugmaker Elan (NYSE: ELN) were a major consideration.
A spokesperson for Shire told Benzinga there was no company-issued news to account for the spike.
Shire closed at $112.85 Friday, a gain of 2% on 2.5 times average volume.
Alibaba Reportedly Acquires $75M Stake in ShopRunner
The Rumor:
Alibaba reportedly is paying $75 million for a minority stake in retail shipping service ShopRunner, run by former Yahoo (NASDAQ: YHOO) CEO Scott Thompson, according to sources.
ShopRunner provides a two-day shipping service, similar to that offered by Amazon's Prime service.
View Comments and Join the Discussion!
Posted-In: M&A News Rumors Hedge Funds Movers & Shakers Legal Management Insider Trades