Benzinga's M&A Chatter for Thursday August 15, 2013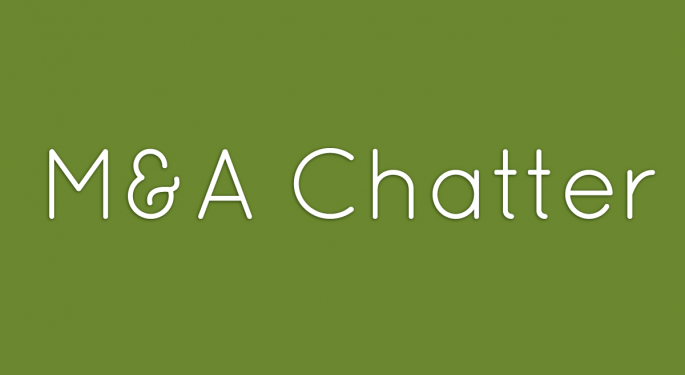 The following are the M&A deals, rumors and chatter circulating on Wall Street for Thursday August 15, 2013:

Amgen Talks with Onyx Reportedly Stall over Drug Trial Data Dispute
The Rumor:
Shares of Onyx Pharmaceuticals (NASDAQ: ONXX) fell sharply on a report from Bloomberg that merger talks with Amgen (NASDAQ: AMGN) had stalled over a dispute regarding access to drug trial data. Reportedly, Onyx has agreed to accept an offer of $130 per share in cash from Amgen, according to sources.
A spokesperson from Amgen declined comment on the report. An Onyx spokesperson did not respond to a request for a comment.
Onyx Pharmaceuticals closed at $115.34 Thursday, a loss of 7% on 5 times average volume. Amgen fell $0.88 to $105.76.
IBM to Acquire Trusteer for $800M
The Deal:
IBM (NYSE: IBM) announced Thursday it has agreed to acquire Trusteer, a leading provider of advanced security and threat intelligence solutions that help protect organizations against financial fraud, malware and data breaches. This deal is expected to close in Q3 2013.
The purchase price is reportedly $800 million.
IBM closed at $185.79 Thursday, a loss of 1%.
AllianceBernstein to Acquire WP Stewart for$12/Share Plus CVR
The Deal:
AllianceBernstein (NYSE: AB) and W.P. Stewart & Co. (OTC: WPSL), announced Thursday that they have agreed that AllianceBernstein will acquire W.P. Stewart for $12 per share in cash and plus contingent value rights entitling the holders to an additional cash payment of $4 per share if the assets under management in the acquired W.P. Stewart investment services reach $5 billion on or before the third anniversary of the closing.
The deal is expected to close in approximately four to six months.
AllianceBernstein closed at $20.55 Thursday, a loss of 2%.
View Comments and Join the Discussion!