DOJ Sues To Block US Airways American Merger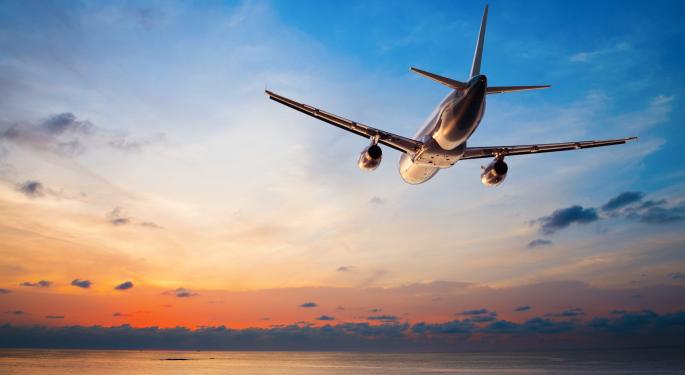 Shares of US Airways (NYSE: LCC) fell nearly 10 percent to $17.11 by noon, Tuesday on news of a government lawsuit seeking to block its merger with American Airlines' parent, AMR Corp. (OTC: AAMRQ) The Department of Justice along with six state attorneys general and the District of Columbia filed the suit challenging the proposed $11 billion merger between the two airlines.
Related: Short Sellers Return to United Continental
According to the suit, the merger of number three carrier US Airways and number five, American would result in the creation of the world's largest airline and would "substantially lessen competition for commercial air travel in local markets throughout the United States and result in passengers paying higher airfares and receiving less service."
In a statement on the DOJ website, Attorney General Eric Holder said, "Airline travel is vital to millions of American consumers who fly regularly for either business or pleasure. By challenging this merger, the Department of Justice is saying that the American people deserve better. This transaction would result in consumers paying the price – in higher airfares, higher fees, and fewer choices. Today's action proves our determination to fight for the best interests of consumers by ensuring robust competition in the marketplace."
A report in The Wall Street Journal, however, said reduced competition does not always result in higher fares. After years of consolidation, the newspaper said, a critical factor affecting fares is whether the newly consolidated company cuts routes, something both US Airways and American have said they would not do.
Conversely, the newspaper added, steady or expanded service often results in stable ticket prices. Both American and US Airways have said that the merger is designed to result in expanded service; something the airlines said would actually increase competition.
Jonathan Kletzel, head of the transportation practice at PricewaterhouseCoopers LLP told The Wall Street Journal that, "Airline pricing is incredibly complex. It is driven by a combination of factors, including competition, capacity, demand."
The DOJ lawsuit comes after repeated questioning of US Airways and AMR Corp. CEOs by members of Congress Tuesday about the possibility of higher fares and reduced service for consumers according to Reuters.
Sen. Amy Klobuchar, chair of the Senate Judiciary Committee's antitrust subcommittee, in addition to noting that the merger would result in the top four U.S. airlines controlling more than 80 percent of the U.S. market, asked whether it wasn't likely that small cities would lose much of the convenient, inexpensive service they now enjoy.
In the online statement Bill Baer, Assistant Attorney General in charge of the Department of Justice's Antitrust Division indicated that a merger wasn't necessary in the first place saying, "Both airlines have stated they can succeed on a standalone basis and consumers deserve the benefit of that continuing competitive dynamic."
At the time of this writing, Jim Probasco had no position in any mentioned securities.
Posted-In: American Airlines AMR Corp.News Wall Street Journal Legal M&A Events Media Best of Benzinga
View Comments and Join the Discussion!