Benzinga's M&A Chatter for Monday August 12, 2013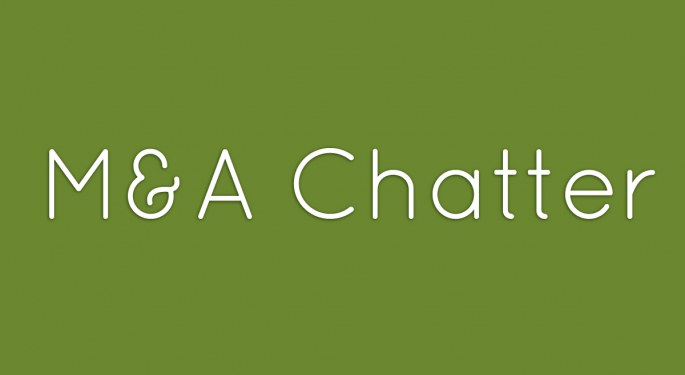 The following are the M&A deals, rumors and chatter circulating on Wall Street for Monday August 12, 2013:
Blackberry Considers Strategic Alternatives
The Special Committee:
Shares of Blackberry (NASDAQ: BBRY) surged higher in the pre-market Monday as the company's Board of Directors announced the formation of a Special Committee, which will include CEO Thorsten Heins, to explore strategic options, including a possible sale of the company. JP Morgan is serving as financial advisor to BlackBerry for this process.
Investor, Prem Watsa, Chairman and CEO of Fairfax Financial, resigned from the Blackberry Board due to a potential conflict of interest.
Blackberry closed at $10.78 Monday, a gain of 10.50% on 4 times average volume.
Dole CEO to Acquire Company for $13.50/Share in Cash
The Deal:
Dole Food (NYSE: DOLE) and Chairman and CEO David H. Murdock announced Monday that they have agreed that Mr. Murdock will acquire all of the outstanding shares of Dole common stock not currently owned by him for $13.50 per share in cash. Mr. Murdock offered $12.00 per share for Dole on June 10, 2013.
The deal is expected to close during Q4 2013.
Dole Food closed at $13.49 Monday, a gain of 5% on 10 times average volume.
Steinway Receives Bid of $38.00/Share from Unnamed Buyer
The Offer:
Steinway Musical Instruments (NYSE: LVB) announced Monday that it received a definitive offer to acquire all of the outstanding shares of the Company's common stock for $38.00 per share in cash. The offer is from an affiliate of an unnamed investment firm with over $15 billion under management.
Steinway's board of directors has determined that the offer constitutes a superior proposal to the one by submitted by Kohlberg & Company on June 30 of $35 per share in cash.
Steinway closed at $39.59 Monday, a gain of 9% on 8 times average volume.
Hearing Renewed Market Chatter of ArcelorMittal Bid for US Steel
The Rumor:
Shares of US Steel (NYSE: X) rose Monday morning on renewed market chatter of a possible bid from Arcelor Mittal (NYSE: MT). The offer being mentioned was $27.00 per share, according to sources. This rumor has surfaced several times over the past 18 months.
Spokespersons for US Steel and ArcelorMittal were not available for comment.
US Steel closed at $19.20 Monday, a gain of 2% on average volume.
Swiss Newspaper Reports Roche May Walk Away form Alexion Deal
The Rumor:
Shares of Alexion (NASDAQ: ALXN) sold off Monday on reports from Swiss publication NZZ am Sonntag that Roche (OTC: RHHBY) may walk away from a potential deal with Alexion, just as they did with Illumina (NASDAQ: ILMN).
A spokesperson for Roche declined comment on the report. Alexion did not respond to a request for a comment.
Alexion closed at $109.26 Monday, a loss of 4% on lower than average volume.
View Comments and Join the Discussion!
Posted-In: M&A News Rumors Management Insider Trades Movers