Benzinga's M&A Chatter for Wednesday July 31, 2013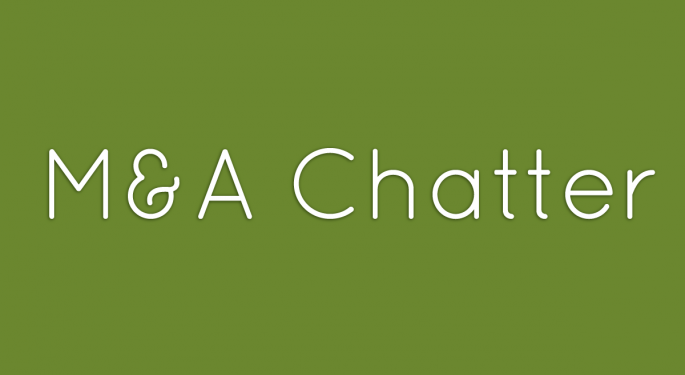 The following are the M&A deals, rumors and chatter circulating on Wall Street for Wednesday July 31, 2013:
Dell Special Committee Not Prepared to Accept Michael Dell/Silver Lake $13.75/Share Proposal
The Letter:
The Dell (NASDAQ: DELL) Special Committee sent the following letter to founder Michael Dell and Silver Lake Partners in response to their revised proposal of July 23, 2013 in which the offer was raised from $13.65 to $13.75 per share. The Committee has decided not to accept the proposal, however it will allow a vote on the existing $13.65 per share offer to take place as scheduled on August 2 at 10:00 AM ET.
Dell closed at $12.66 Wednesday, a loss of 1.5% on 2.5 times average volume.
Hearing Unconfirmed Chatter Walter Energy has Hired Goldman Sachs to Handle Possible Sale
The Rumor:
Shares of Walter Energy (NYSE: WLT) moved higher Wednesday on market chatter that the company has hired Goldman Sachs to handle a potential sale. Walter Energy is the subject of frequent takeover chatter.
A spokesperson for Walter Energy was not available for comment.
Walter Energy closed at $11.19 Wednesday, a gain of 1.5% on 1.5 times average volume.
Yahoo Acquires Lexity
The Deal:
Lexity announced on their website Wednesday that they have been acquired by Yahoo (NASDAQ: YHOO). The company makes apps for online businesses.
Yahoo closed at $28.09 Wednesday, a gain of $0.04 on average volume.
View Comments and Join the Discussion!