Benzinga's M&A Chatter for Friday July 12, 2013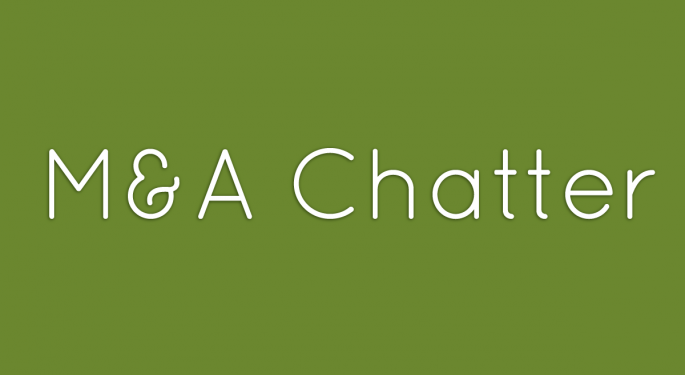 The following are the M&A deals, rumors and chatter circulating on Wall Street for Friday July 12, 2013:
AT&T to Acquire Leap Wireless for $15/Share in Cash
The Deal:
AT&T (NYSE: T) and Leap Wireless (NASDAQ: LEAP) have agreed that AT&T will acquire Leap for $15 per share in cash, including all of Leap's stock and wireless properties, including licenses, network assets, retail stores and approximately 5 million subscribers. In addition to the cash payment, Leap shareholders will receive a contingent right entitling them to the net proceeds received on the sale of Leap's 700 Mhz "A Block" spectrum in Chicago. AT&T plans to retain Leap's "Cricket" brand name.
There was heavy buying in the July 9 LEAP call prior to the close, about one hour before the official announcement.
The transaction is subject to review by the FCC, DOJ and is expected to close in six to nine months.
Leap Wireless closed at $7.98 Friday and traded over $17.00 after-hours, gaining more than 100%.
Dell Special Committee Responds to Icahn's Latest Proposal
The Response:
The Dell (NASDAQ: DELL) Special Committee responded Friday to a letter to shareholders from Carl Icahn. The Committee continues to recommend that shareholders vote for the $13.65 all cash merger. Dell's Special Meeting will be held on Thursday, July 18, 2013 at 9:00 AM ET.
Dell closed at $13.32 Friday, a loss of $0.03 on average volume.
Elan Reportedly Seeking First-Round Bids Next Week
The Bid Process:
Shares of Irish drug maker Elan (NYSE: ELN) spiked higher late Friday on a report the company is seeking first-round bids from Allergan (NYSE: AGN) and Forest Labs (NYSE: FRX), according to sources. Elan has rejected an offer of $13.00 per share, plus up to a $2.50 per share CVR from Royalty Pharma. Reports from various sources suggest a deal could be done for between $15.00 and $20.00 per share.
There was buying in the July 16 ELN call just before the close on Friday.
Elan closed at $14.60 Friday, a gain of 1% on lower than average volume.
View Comments and Join the Discussion!