Auto and Tech Companies Battle Over Your Dashboard (F, GM)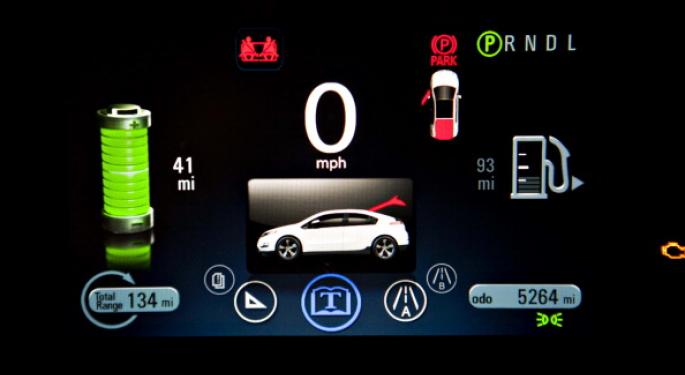 Your children can tell you if you don't already know yourself, but that fancy, space-age navigation system in the console of your car is a dinosaur, regardless of the age of your car.
Auto manufacturers understand that as well, and that's why they, along with a host of other companies, are battling to keep control of your car's dash.
Dashboard navigation systems, as a technology are going the way of the compact disk—killed off by the mobile device craze. "There's an app for that" has to be a phrase that has companies like General Motors (NYSE: GM), Ford (NYSE: F), and the many other auto manufacturers, frustrated.
All of those extras that end up on a car are high profit margin add-ons. According to Bloomberg, dashboard navigation systems may cost $1,500 or more and often, they're bundled with other add-ons making for a handsome profit for dealers and manufacturers that sometimes struggle to post margins high enough to cover all costs.
But, those days are quickly coming to an end. Although Apple (NASDAQ: AAPL) initially released a maps app that was an embarrassing flop for the company, it's quietly improved. Google (NASDAQ: GOOG)'s latest update to its map app was a giant leap forward for an app that was already a consumer-favorite, and its $1.1 billion acquisition of social mapping app WAZE last month arguably makes Google the company to chase in all things mapping.
Related: The Most Likely Reasons Google Purchased Waze
And navigation isn't the only problem. In the company's recent iOS7 announcement, Apple revealed, "iOS in the car." A relative small amount of information is known about it but what is clear is that Apple wants its ecosystem on the console of your new car. You can use its map app, text, receive calls, and the newest beta version of iOS7 hints at airplay capabilities.
It's no secret that Apple doesn't play well with others. Your iPhone can already integrate with most newer car systems but it's a pretty safe assumption that Apple wants complete control of your dash.
How are auto manufacturers and GPS providers responding to the threats? "Curiously" might be the best word. GM developed a $50 map app to compete with Google and Apple's free (and better) apps. GPS providers Garmin (NASDAQ: GRMN) and TomTom responded to the threat with apps that cost $39.99 and $49.99 respectively—both receiving less than stellar reviews from users. Why pay when you can get a better app for free?
But if you can't beat them, join them. Auto manufacturers are now looking at ways to better integrate mobile apps into their own systems. What the auto manufacturers have going for them is the bigger screen placed in a strategic location as opposed to a small mobile phone screen suctioned cupped to your windshield.
Most of the auto manufacturers have signed on to the new iOS in the car. On the surface, that move seems suspect but let's not pass judgment just yet.
Disclosure: At the time of this writing Tim Parker was long Apple.
View Comments and Join the Discussion!
Posted-In: Apple Bloomberg Ford GarminNews Econ #s Tech General Best of Benzinga