Benzinga's M&A Chatter for Monday July 8, 2013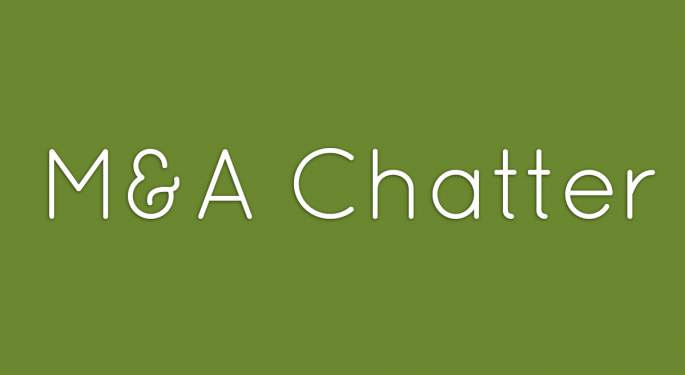 The following are the M&A deals, rumors and chatter circulating on Wall Street for Monday July 8, 2013:
Report Jones Group Considering Sale of All or Part of Company
The Rumor:
Shares of Jones Group (NYSE: JNY) spiked as high as $17 per share Monday on a report by Bloomberg that the Jones New York/Nine West owner is considering to sell all or part of the company. Jones shares rose about $1.00 Friday on a Deal Reporter story mentioning chatter of a possible deal.
Jones Group closed at $15.75 Monday, a gain of 7.5% on 6 times average volume.
Avnet to Acquire European Distributor MSC Investoren GmbH
The Deal:
Avnet (NYSE: AVT) announced Monday that it has entered into an agreement to acquire electronic component distributor MSC Investoren GmbH. Avnet will acquire a majority interest in MSC Group after regulatory approval and the remainder of the company within a short time frame.
Avnet closed at $34.51 Monday, a loss of $0.48 on lower than average volume.
ISS Recommends Dell Shareholders Vote "FOR" Proposed Sale at $13.65/Share in Cash
The Recommendation:
The Special Committee of the Board of Directors of Dell (NASDAQ: DELL) announced Monday that Institutional Shareholder Services has recommended that Dell shareholders vote FOR the proposed sale transaction for $13.65 per share in cash.
Shareholders Southeastern and Carl Icahn issued a statement responding to the ISS recommendation saying it "did not appear to address fair value for Dell's stockholders." Dell shareholders will vote on the $13.65 per share buyout proposal on July 18.
Dell closed at $13.44 Monday, a gain of 3% on 2.5 times average volume.
Hasbro Acquires 70% Interest in Backflip Studios for $112M in Cash
The Deal:
Hasbro (NASDAQ: HAS) announced Monday the acquisition of a 70% stake in Backflip Studios, the developer of the mobile games DragonVale, NinJump and Paper Toss. Hasbro paid $112 million in an all cash transaction.
Hasbro closed at $46.71 Monday, a gain of $0.10 on average volume.
View Comments and Join the Discussion!
Posted-In: M&A News Rumors Hedge Funds Movers & Shakers Insider Trades General