Benzinga's M&A Chatter for Wednesday June 19, 2013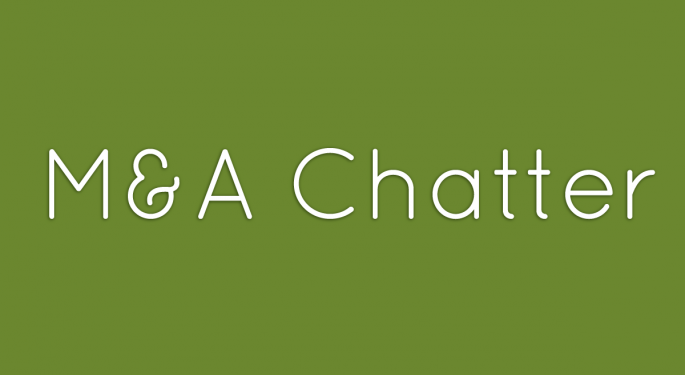 The following are the M&A deals, rumors and chatter circulating on Wall Street for Wednesday June 19, 2013:
Report Forest Labs May Bid for Elan
The Rumor:
Shares of both Elan (NYSE: ELN) and Forest Labs surged higher Wednesday on a report from Reuters that Forest may bid for the Irish drugmaker. Elan rejected an offer of $13 per share, plus CVR worth up to $2.50 per share from Royalty Pharma. Royalty withdrew its bid on Wednesday.
Both Elan and Forest Labs declined comment on the report.
Elan closed at $14.15 Wednesday, a gain of 4.5% on 4 times average volume.
Dish Declines to Submit Revised Offer for Sprint
The Decision:
Dish Network (NASDAQ: DISH) announced late Tuesday in a press release that it would be unable to submit a revised offer for Sprint (NYSE: S), in part due to "the decisions made by Sprint to prematurely terminate our due diligence process and accept extreme deal protections in its revised agreement with SoftBank (OTC: SFTBY).
Dish now intend to focus its efforts on "completing the Clearwire (NASDAQ: CLWR) tender offer."
Dish closed at $39.27 Wednesday, gaining $0.18, while Sprint fell 4% to close at $7.00.
TripAdvisor Acquires GateGuru
The Deal:
TripAdvisor (NASDAQ: TRIP) announced Wednesday it has acquired GateGuru, the leading mobile resource for flight and airport information around the world. Terms were not disclosed.
TripAdvisor closed at $63.77 Wednesday, a loss of $0.08 on lower than average volume.
Tyco to Acquire Exacq Technologies for $150M in Cash
The Deal:
Tyco (NYSE: TYC) announced Wednesday that the company has reached an agreement to acquire Exacq Technologies for $150 million in cash. The deal is expected to close later this year.
Tyco closed at $33.39 Wednesday, a loss of 1% on average volume.
Stratasys to Acquire MakerBot for $403M in All-Stock Transaction
The Deal:
Stratasys (NASDAQ: SSYS) announced Wednesday the signing of a definitive merger agreement whereby privately held MakerBot has agreed to merge with a subsidiary of Stratasys in a stock-for-stock transaction valued at approximately $403 million.The merger is expected to be completed during Q3 2013.
Stratasys closed at $84.60 Wednesday, and traded over $87.00 after-hours.
View Comments and Join the Discussion!