Benzinga's M&A Chatter for Monday May 20, 2013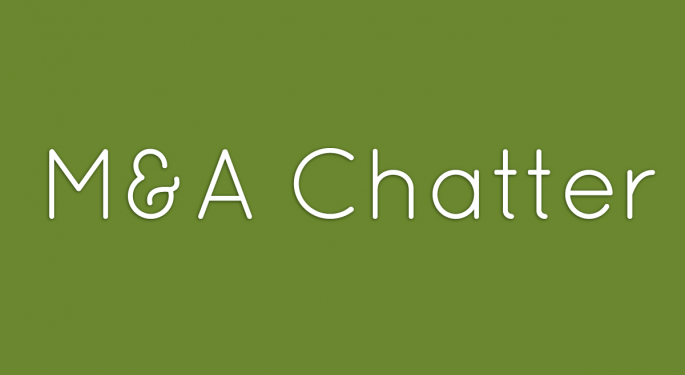 The following are the M&A deals, rumors and chatter circulating on Wall Street for Monday May 20, 2013:
Actavis to Acquire Warner Chilcott for $8.5B or $20.08/Share in Stock Deal
The Deal:
Actavis (NYSE: ACT) and Warner Chilcott (NASDAQ: WCRX) announced Monday an agreement under which Actavis will acquire Warner Chilcott. Under the terms of agreement, Warner Chilcott shareholders will receive 0.160 shares of New Actavis for each Warner Chilcott share they own, which equals $20.08 per Warner Chilcott share based on Actavis' closing share price of $125.50 on May 17, 2013.
Actavis closed at $127.15 Monday, a gain of 1%, while Warner Chilcott gained 2%, closing at $19.60.
Dell Special Committee Seeks Additional Information from Carl Icahn and Southeastern Asset Management
The Letter:
The Special Committee of the Board of Directors of Dell Inc. (NASDAQ: DELL) sent a letter to Carl Icahn and Southeastern Asset Management on Monday, asking for additional information regarding the proposed leveraged recapitalization transaction submitted to the Board on May 9, 2013.
The letter stated: "Unless the Board of Directors of Dell determines that your proposal could reasonably be expected to result in a "Superior Proposal" as defined in the Company's existing merger agreement with affiliates of Silver Lake and Michael Dell, we are not permitted to provide you with information or engage in discussions concerning your proposal."
Dell closed at $13.41 Monday, a gain of $0.01 on lower than average volume.
Yahoo to Acquire Tumblr for $1.1B
The Deal:
Yahoo! (NASDAQ: YHOO) and Tumblr announced Monday that they have reached a definitive agreement for Yahoo! to acquire Tumblr, which allows users to post text, photos, quotes, links, music, and videos, for $1.1 billion in cash.
The transaction is expected to close in the second half of the year.
Yahoo closed at $26.58 Monday, a gain of $0.06 on 1.5 times average volume.
Royalty Increases bid for Elan to $12.50/Share in Cash
The Offer:
Royalty Pharma announced Monday its intention to increase its offer for Elan Corporation (NYSE: ELN) to $12.50 per share in cash. Elan's Board said it will assess the Royalty Pharma announcement and will advise its shareholders accordingly. Elan shareholders are advised by the Board to take no action at this time.
Elan closed at $12.04 Monday, a gain of 3% on 5.5 times average volume.
Vista Equity Partners to Acquire Websense for $24.75/Share in Cash
The Deal:
Websense (NASDAQ: WBSN) announced Monday that it has entered into a definitive agreement to be acquired by Vista Equity Partners for $24.75 per share in cash.
Websense expects the transaction to close before the end of the third quarter of 2013. Websense will become a privately held company upon closing.
Websense closed at $24.76 Monday, a gain of 28% on 54 times average volume.
Pactera Receives 'Going Private Proposal of $7.50/ADS
The Offer:
Pactera Technology International (NASDAQ: PACT) announced Monday that its board of directors has received a non-binding proposal letter dated May 20, 2013 from an affiliate of funds managed or advised by Blackstone (NYSE: BX), the Company's non-executive Chairman, Chris Chen, its Chief Executive Officer, Tiak Koon Loh, and its Executive Committee members, David Chen, Sidney Huang and Jun Su to acquire all of the outstanding shares of Pactera not currently owned by the Buyer Consortium in a going private transaction for US$7.50 per American Depositary Share in cash.
The Company expects that its board of directors will form a special committee consisting of independent directors to consider this proposal.
Pactera Technology International closed at $6.87 Monday, a gain of 30% on 6.5 times average volume.
Posted-In: News Rumors Management Insider Trades M&A After-Hours Center Movers
View Comments and Join the Discussion!