Benzinga's M&A Chatter for Friday May 10, 2013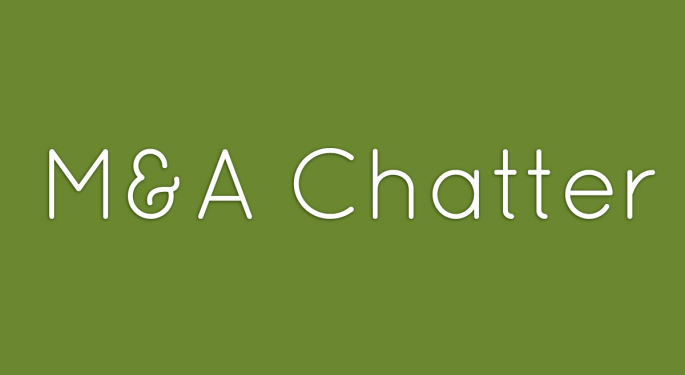 The following are the M&A deals, rumors and chatter circulating on Wall Street for Friday May 10, 2013:
Illumina Shares Soar on Rumor of Roche $88/Share Bid
The Rumor:
Shares of Illumina (NASDAQ: ILMN) surged higher Friday, after Swiss publication L'Agefi reported Swiss pharma giant Roche (OTC: RHHBY) had offered $88 per share to acquire the San Diego, CA-based genetic technology company. Illumina shares rose as high as $77.11 during the session.
After initially declining comment on the rumor, Roche said a deal for Illumina was "off the table". Roche had previously made offers of $44.50 and $51 per share for Illumina, both of which were rejected by Illumina's board. A rumored $60 offer never materialized.
Illumina closed at $69.98 Friday, a gain of 4% on 5.5 times average volume.
Actavis Confirms Merger Talks with Warner Chilcott
The Talks:
Shares of generic drug maker Actavis (NYSE: ACT) and Irish specialty pharmaceutical company Warner Chilcott (NASDAQ: WCRX) moved sharply higher Friday on a Bloomberg report that Actavis was in talks to acquire Warner Chilcott. Acatvis had reportedly been in merger talks with Valeant Pharmaceuticals (NYSE: VRX).
Both companies later confirmed that they were in early stage discussions regarding a potential merger, though no agreement had been reached.
Actavis shares gained 12% Friday, closing at $119.86 Friday. Warner Chilcott gained 20%, closing at $18.01.
True Religion to be Acquired by TowerBrook Capital Partners for $32/Share in Cash
The Deal:
After months of speculation, True Religion Apparel (NASDAQ: TRLG) announced Friday that it had entered into an agreement to be acquired by TowerBrook Capital Partners for $32.00 per share in cash, for a total of $835 million. The transaction is expected to close in Q3 2013.
True Religion Apparel closed at $31.82 Friday, a gain of 8% on 27 times average volume.
Hearing Unconfirmed Chatter of Icahn $25/Share Bid for Nuance
The Rumor:
There was vague market chatter Friday that investor Carl Icahn might bid as much as $25 per share for Nuance Communications. The chatter resulted most likely from a report that Icahn would be appearing mid-day on CNBC. Icahn currently has approximately a 10% stake in the provider of voice and language solutions.
A spokesperson for Nuance declined comment on the rumor and Icahn did not discuss the company in his CNBC interview.
Nuance Communications closed at $19.01 Friday, a gain of $0.13 on 1.5 times average volume.
Icahn, Southeastern Submit Alternate Proposal to Dell Board
The Offer:
Dell (NASDAQ: DELL) investors Carl Icahn and Southeastern Asset Management submitted a new offer to the slumping PC maker's board Friday, challenging the $13.65 per share bid from founder Michael Dell and Silver Lake. Under Icahn's proposal, Dell shareholders would keep their existing shares and have a choice of a cash distribution of $12 per share or additional shares.
Dell's Board responded: "Mr. Icahn and Southeastern have outlined a potential leveraged recapitalization transaction that they want the Dell Board either to recommend at this time or to consider if the existing going-private transaction is rejected by Dell shareholders. They have also proposed replacing the Board with a slate of new directors who they say would approve such a transaction. Consistent with the Special Committee's goal of achieving the best possible outcome for all shareholders, we and our advisors are carefully reviewing the potential transaction to assess the potential risks and rewards to the public shareholders."
Dell closed at $13.45 Friday, a gain of $0.13 on 4 times average volume.
View Comments and Join the Discussion!
Posted-In: M&A News Rumors Hedge Funds Movers & Shakers Insider Trades After-Hours Center Movers