Boeing Batteries Are Back on Board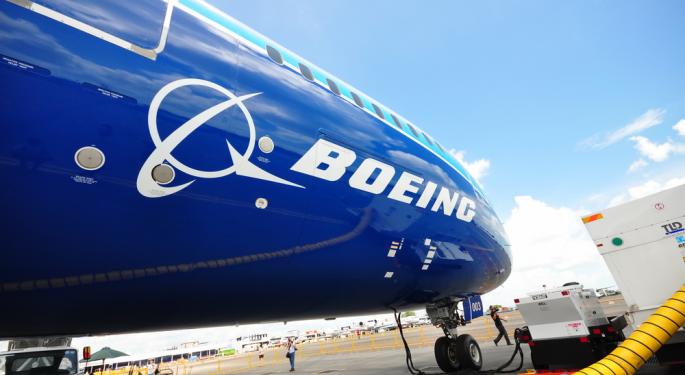 "We're back in business, baby!" tweeted the Washington Aerospace Partnership, a group of business, labor and local government leaders supportive of The Boeing Company (NYSE: BA), according to Reuters.
The exuberance was inspired by a Federal Aviation Administration announcement Friday that it had approved Boeing's revamped battery system on its 787 Dreamliner. The planes should return to service within weeks
The FAA said it would tell airlines next week what changes are required. The agency said it would publish a directive that "will allow the 787 to return to service with the battery system modifications."
According to the FAA, before the planes can fly, they must be fitted with a "containment and venting" system for both lithium-ion batteries on the 787. This includes a stainless-steel enclosure to prevent heat, fumes or fire from spreading in the event a battery overheats during flight.
Under FAA guidance, Boeing will issue a service bulletin and make repairs to the fleet of 50 planes currently in service around the world. Other global regulators will need to approve Boeing's new design, but the company expects most to act quickly now that the FAA has given its blessing.
One exception to the "all on board" movement might be Japan, a critical market for Boeing, according to The New York Times. About half of all 787s in service are operated by two Japanese airlines — all Nippon Airways (ANA) and Japan Airlines.
Japanese transportation minister, Akihiro Ota, said Friday that Japan's assessment of the safety of Boeing's battery changes was "in its final stages."
The concern is that Japanese regulators could ask for additional safeguards, including devices to transmit vital data to controllers on the ground so the batteries could be routinely monitored.
Japan could also require test flights of each plane after it is fitted with the altered battery, along with more frequent battery checks and even replacement of batteries after a set period, regardless of condition.
Both ANA and United Airlines (NYSE: UAL) included the 787 on domestic and international routes in flight schedules that start May 31, conditioned on whether or not aviation authorities lifted the plane's grounding.
Another operator, Qatar Airlines, suggested it would seek an even more aggressive schedule. Qatar wants to get its planes back in the air before the end of April.
The FAA approval comes before National Transportation Safety Board hearings next week on why a battery caught fire in a plane parked in Boston on January 7. The board is also examining how Boeing and the FAA underestimated any risks in approving the original battery design in 2007.
By approving the fixes ahead of the safety board's hearings, the FAA likely hopes to deflect any criticism about how it originally certified the plane.
Boeing shares closed Friday at $87.96, up $1.84 or just over two percent on the day, and bumped up an additional 13 cents to $88.09 in after-hours trading.
As of this writing, Jim Probasco had no position in any of the mentioned securities.
Posted-In: The Boeing Company United AirlinesNews Politics Legal Events Global General Best of Benzinga
View Comments and Join the Discussion!