The FCC May Not Be Planning Nationwide Free Wi-Fi, but Google Might Be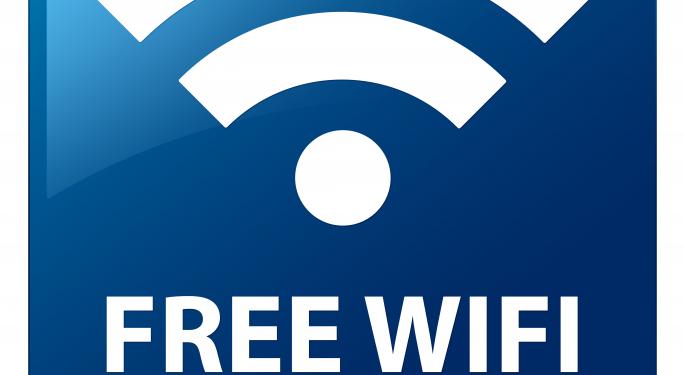 Rumor had it that back in February, that the Federal Communications Commission (FCC) planned to make Wi-Fi free for most of the country.
The Washington Post first detailed the plan, saying it would extend free Wi-Fi to nearly every metropolitan area in the United States, along with "many rural areas."
Without providing a great deal of detail, in theory the FCC would force local TV stations to sell chunks of airwave spectrum rights to the U.S. government, which would then use them for public Wi-Fi networks.
Clearly, such a move would be a game changer – altering the communication landscape forever. Traditional cellular networks would be drastically affected in a negative way. Conversely, Internet companies would flourish with increasing numbers of citizens using their services.
According to The Washington Post report, cellular carriers such as AT&T (NYSE: T), Intel (NASDAQ: INTC), and Verizon (NYSE: VZ) object to what they see as the crippling effect nationwide free wireless would have on their business.
This is something they are already seeing with regard to SMS revenues with the advent of mobile messaging services like WhatsApp, Pinger, and GroupMe, which use the Internet to send free text messages.
As for the advocates, Google (NASDAQ: GOOG) and Microsoft (NASDAQ: MSFT) see things quite differently. From their perspective, a free nationwide Wi-Fi network means more business and more customers for them.
There's just one problem. There is no FCC plan to provide free nationwide Wi-Fi.
Jon Brodkin at Ars Technica put the kibosh on the whole "free Wi-Fi" story, saying it was "basically nonsense."
Brodkin faulted The Washington Post's reporter Cecilia Kang for taking a minor development in the FCC's rules concerning "incentive auctions that might free up some additional unlicensed spectrum for so-called 'White Space Devices,'" and essentially, jumping to conclusions that were not there.
So that's it, then? End of story? Not quite. Remember Google? The company apparently still has ambitions to wire the world, one community at a time, if necessary.
So far, Google has provided free Wi-Fi to its hometown of Mountainview, parts of New York City, Kansas City and most recently, Douglasville, GA, as reported by the Douglas County Sentinal on Friday.
That's not all. Digital Trends also reported Friday a rumor that Google has been in negotiations for four to five weeks to acquire cross-platform messaging app, Whatsapp.
The deal, reportedly worth almost $1 billion, would fill Google's cross-platform messaging needs nicely and, more importantly, quickly, an important aspect of non-cellular Wi-Fi service for users.
At the time of this writing, Jim Probasco has no position in any of the mentioned equities
Posted-In: News Rumors Politics Legal M&A Events Tech General Best of Benzinga
View Comments and Join the Discussion!