Benzinga's M&A Chatter for Friday March 22, 2013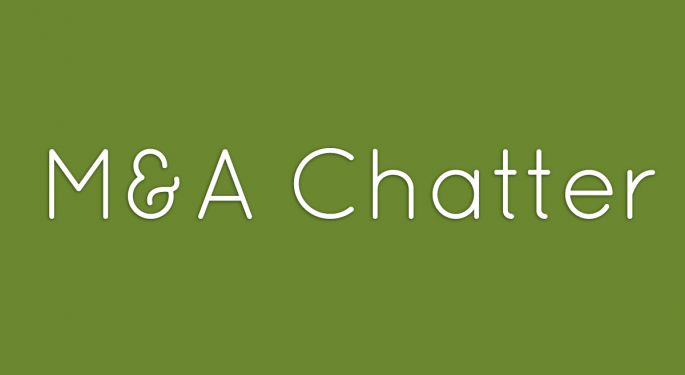 The following are the M&A deals, rumors and chatter circulating on Wall Street for Friday March 22, 2013:
LJ International Enters Into Going Private Agreement
The Merger:
LJ International (NASDAQ: JADE) announced Friday that it has entered into an agreement and plan of merger with Flora Bloom Holdings and Flora Fragrance Holdings Limited, pursuant to which Parent will acquire the Company for $2.00 per ordinary share of the Company. The Transaction is subject to the approval at a meeting of the Company's shareholders.
LJ International closed at $1.89 Friday, a loss of $0.04 on 3 times average volume.
Report CBS to Buy 50% Stake in TV Guide Network from JP Morgan Unit for $100M
The Rumor:
CBS (NYSE: CBS) is reportedly paying $100 million to acquire the 50% stake in TV Guide owned by JP Morgan's One Equity Partners, according to Deadline. If the deal is completed, CBS will become a 50-50 partner with Lionsgate Entertainment (NYSE: LGF) who acquired TV Guide in February 2009 for $241.6 million.
CBS closed at $45.98 Friday, a gain of $0.09 on average volume.
Report Harris Teeter Deal Prospects Diminishing
The Rumor:
Private equity firms are losing interest in a deal for supermarket chain Harris Teeter (NYSE: HTSI), according to Deal Reporter. Kroger (NYSE: KR), privately-held Publix Supermarkets and Netherlands-based Koninklijke Ahold have been reported as possible buyers
Harris Teeter closed at $42.60 Friday, a loss of 3% on average volume.
View Comments and Join the Discussion!