Was There a Reason for the Zynga Sell Off on Tuesday?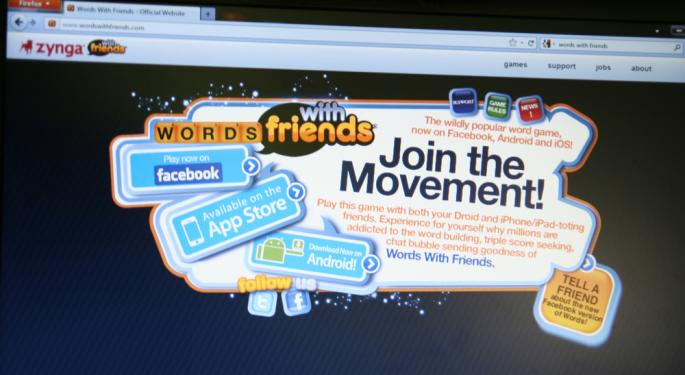 On Tuesday, Zynga (NASDAQ: ZNGA) fell and fell hard. Not only did the stock drop nearly 12 percent but volume was over three times higher than normal. A move on big volume indicates that Wall Street has strong sell convictions and if that's the case, big news likely scared them away.
But there was no big news. In an event as rare as Washington politicians agreeing on something, Wall Street collectively said, "we don't know." AllThingsD said, "we don't know." Reading through all of the usual in-the-know financial media sources reveals a collective, "we don't know."
Let's put a few possible ideas on the table.
It's no secret that Zynga and Facebook (NASDAQ: FB) are joined at the hip. As much as Zynga likes to tout how it's made big strides in becoming a standalone company, it isn't there yet.
The company's new venture into online, real money gambling has investors watching closely but the venture is still in its infancy. Business Insider reported that it would open its virtual doors this year but until then, it's more farm animals and Words with Friends.
Until that business starts to grow, a story like Facebook receiving two analyst downgrades Tuesday is enough to send Zynga down with conviction. History shows that when Facebook is under pressure, Zynga feels it even more.
Or maybe it's the Goldman Sachs (NYSE: GS) Tech Conference. The chart shows a strong uptrend since the beginning of the month—a sign that investors were waiting for a big announcement. Was Tuesday's conference presentation the event that should have revealed something big?
All reports point to Zynga finishing a close second to Apple (NASDAQ: AAPL) in the "we talked a lot but said nothing" category. Did Zynga sell off because investors "sold the news"? (Although there was none)
Finally, were a few small catalysts enough to signal to traders that it was time to take profits or in the conspiracy theory or "we hate algos" column, maybe Zynga reached a certain price target?
Whatever the reason, if there was one, Zynga was down double digits on Tuesday and the remaining longs will watch on Wednesday to see if the carnage continues. If it does, we can say with some confidence that it's profit taking but for now, Wall Street is saying something rarely heard by investors: "We don't know"
Zynga is up nearly four percent in early premarket trading on light volume.
Posted-In: Apple Facebook Goldman Sachs ZyngaNews Downgrades Events Analyst Ratings Best of Benzinga
View Comments and Join the Discussion!