The Cost of Commuting is Going Up – Here's How to Bring it Down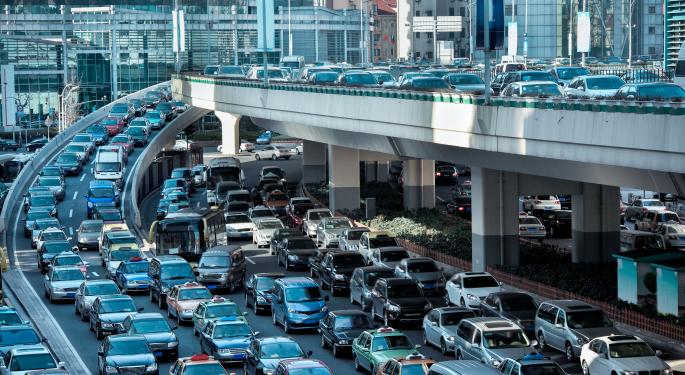 The cost of commuting to work isn't a simple matter of how much gas costs and what kind of mileage you get in your car. Commuting often involves sitting in traffic, engine running, going nowhere.
In terms of cost, commuting is more like riding in a taxi than driving a car. The taxi meter keeps running up the tab, even when the taxi is sitting still. Your commuting costs follow the same principle.
So say researchers at the Texas A&M Transportation Institute, who just released the results of their 2012 Urban Mobility Report and found that the average American commuter wasted $818 in time and gas sitting in traffic in 2011.
The total financial cost of congestion in 2011 was $121 billion, up one billion dollars from the year before. Of that total, about $27 billion was wasted time and diesel fuel from trucks moving freight.
As part of institute's report, researchers, for the first time, have discovered a way to measure the unpredictable nature of traffic congestion. They call it the Planning Time Index (PTI) and it illustrates the amount of extra time needed to arrive on time.
If you want to make sure you're on time for the more important events, such as an airline departure, medical appointments, or a first date, apply the PTI. According to Texas A&M, if the PTI (multiplier) for a particular trip were 3.00, a traveler would allow three times the amount of time it would take to arrive.
For example, a 3.00 would mean you would leave 60 minutes early for a trip that typically takes 20 minutes when few cars are on the road. Allowing for a PTI of 3.00 would ensure on-time arrival 19 out of 20 times.
Another indicator, the Travel Time Index (the difference in time required for a rush hour commute compared to the same trip in non-congested conditions) remained steady at 1.18, still short of the 1.23 level in 2005.
Researchers say that the most effective way to address traffic congestion varies from one urban area to another, but that in all cases; a multifaceted approach should be used, relying on more efficient traffic management and public transportation in addition to new construction.
The question of how to cut the cost of commuting can include some radical solutions:
Move closer to where you work or get a new job closer to where you live.
Work from home and cut commuting time and costs to zero.
Work longer days – utilizing flex time – and don't drive to work every day.
Ride a bicycle to work.
Take mass transit or carpool.
There are other, not quite so drastic, strategies like these from Monster.com:
Get a tire gauge and use it to keep tires fully inflated to improve gas mileage.
Avoid left turns. They waste gas while you wait for oncoming traffic.
Reduce weight in your car—not you – the stuff in your trunk.
Leave a little earlier or later to avoid rush hour if you have that flexibility.
Find a different route – one that doesn't have as many starts and stops.
Finally, no matter how you get to work, be it by car, train, subway, or vanpool, the National Center for Transit Research reports that the 157-page fiscal cliff deal contains an extension of pre-tax benefits for transit commuters. This means that just like a flexible spending account, you can pay for some transportation costs with pre-tax dollars.
If your employer offers a plan (lobby them if they don't), you can put away up to $245 a month pretax salary to use for parking and various forms of transit. Depending on your bracket, the tax savings can be significant - $550 and up per year per commuter, retroactive to 2012.
Posted-In: Commuting pre-taxNews Commodities Events Markets General Best of Benzinga
View Comments and Join the Discussion!