One Biotech Stock Investors are Unfairly Ignoring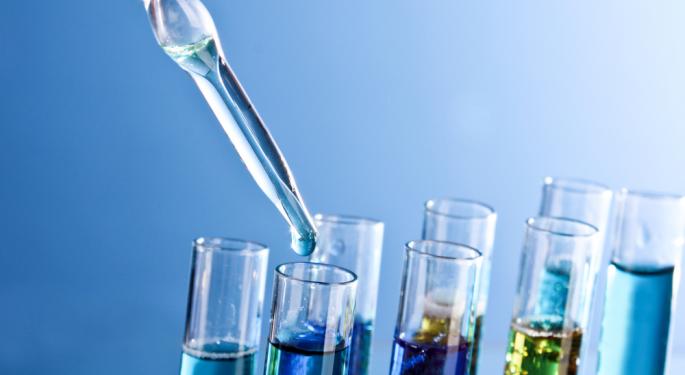 Shares of biotech company Halozyme Therapeutics (NASDAQ: HALO) were unchanged in pre-market trading on Tuesday following Monday's gain of more than 15 percent. Investors bid up the stock after BMO Capital Markets analyst Jim Birchenough upgraded it from "Market Perform" to "Outperform" and raised his price target from $4 to $12.
Halozyme might not carry the notoriety of other hot biotechs like Dendrion (NASDAQ: DNDN) or Gilead Sciences (NASDAQ: GILD) among traders, but perhaps it should.
According to Halozyme, the company's ENHANZE technology uses an enzyme that breaks down hyaluronan -- a chemical that sits just below the top layer of skin. By temporarily breaking down hyaluronan, drugs that could only be administered by IV can now be injected just like a flu shot.
Injecting a drug cuts down on the cost to administer, increases customer convenience, and increases efficacy.
It is no wonder big pharma has its collective eyes on Halozyme. Both Roche (OTC: RHHBY) and Pfizer (NYSE: PFE) have shown interest. Roche and Halozyme are currently waiting for European approval for a Herceptin that uses the ENHANZE technology.
Herceptin is already a blockbuster breast cancer drug for Roche, with 2011 sales coming in at $5.7 billion. Roche recently paid Halozyme $4 million after the company filed for European approval of MabThera, a drug to treat non-Hodgkin's lymphoma.
This is part of a 2006 deal that includes up to $111 million in payments to Halozyme. Roche has agreed to pay $47 million upfront per targeted drug in addition to royalties, according to a Roche investor update.
Pfizer is testing six of its compounds for possible use with the ENHANZE technology. This could be worth more than $500 million, according to The Associated Press. That's half of the company's total market cap.
Other interested pharmaceutical companies include ViroPharma (NASDAQ: VPHM) and Baxter (NYSE: BAX). Halozyme has royalty terms in place with companies interested in using ENHANZE, making the technology a major revenue driver going forward.
Halozyme's stock lost half its value when the FDA voiced concerns about the safety of the technology in August. It halted some studies because of possible side effects on fetal development and fertility.
Pfizer has helped to mute those concerns by conducting further studies on a new generation of the enzyme used in ENHANZE.
Looking at the numbers, Halozyme has more than doubled from its $3.86 low but traders should be careful. Although the stock broke its 200-day moving average, resistance is only 30 cents away at its September top of $8.55. Technically, if it can break that level, at least short term, upside could follow.
Posted-In: News Upgrades FDA Pre-Market Outlook Analyst Ratings Movers Trading Ideas Best of Benzinga
View Comments and Join the Discussion!