JC Penney is Giving Away Free Merchandise, Will it Pay Off?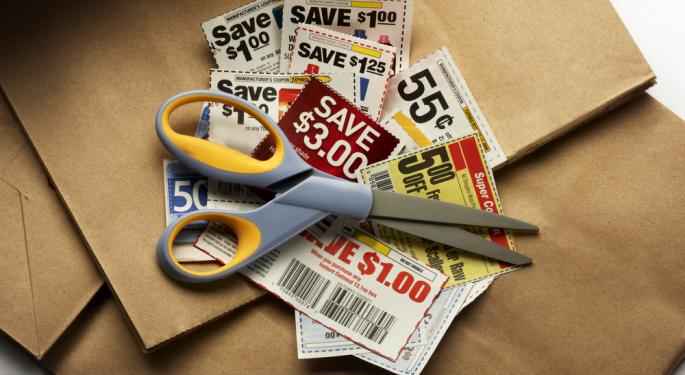 When B. Isa walked into a J.C. Penney (NYSE: JCP) store last week, she did not expect to get a code for free merchandise. She had heard about a promo involving free holiday buttons, which contained codes that could be entered online for $5 coupons and other prizes.
"I didn't believe I'd win anything," she said, adding that she did not expect to save much money beyond the store's current sale.
After collecting a few buttons, Isa discovered that she had won two coupons -- one worth $5 and another worth $10. She printed them out and returned to the store.
During her search for a good deal, Isa found a pair of gloves that were discounted to $10. She grabbed a pair, walked up to the nearest register and handed over her coupon. She then reached into her purse, looking for some change.
"I handed the cashier a few quarters, but he said there was no charge!" said Isa. "The discount was taken before taxes were added, so I was not charged a thing."
Excited by this promotion, Isa immediately checked the buttons she received from the clerk (new buttons are passed out with every purchase). Isa heeded J.C. Penney's advice to swing by the store for additional buttons, which are passed out at every register -- with or without a purchase.
Not every button was a winner, but the retailer is giving out 20 million of them before Christmas. She knew she would have plenty of opportunities to save.
"I bought another pair of gloves, a hat and a flashlight and did not spend a dime!" said Isa.
The catch -- if you can call it that -- is that customers are only allowed to use one coupon per transaction. Isa knew she could get back in line and buy another item. To be safe, she occasionally walked to other registers to avoid a potential conflict with a cranky employee.
If every customer came to J.C. Penney with the intent of obtaining free merchandise, the company would surely go bankrupt. However, if the retailer had more customers like Isa, it might actually survive.
"I'm a lifelong J.C. Penney customer," Isa concluded. "While I enjoyed the free items, I will continue to shop there after the promo ends."
Shares of J.C. Penney rose more than 16 percent over the last month, and traded up an additional four percent Monday.
Few other retailers have given away "free" items to lure customers, but Best Buy (NYSE: BBY) has employed a similar strategy. The company encourages its Rewards members to shop in store by sending them mystery coupons that have a base value of $10 but could be worth several hundred or more.
As intriguing as the coupons may be, they have not helped Best Buy, which is down more than 49 percent year-to-date.
Macy's (NYSE: M), which is up 16 percent this year, has yet to give away free merchandise or offer mystery coupons. Instead, the retailer continually promotes its frequent "One Day" sales, which typically discounts items by 30 to 50 percent.
Follow me @LouisBedigianBZ
View Comments and Join the Discussion!
Posted-In: best buy Bill Ackman HerbalifeNews Success Stories Intraday Update Movers General Best of Benzinga