Japan Runs Trade Deficit as Exports to China Collapse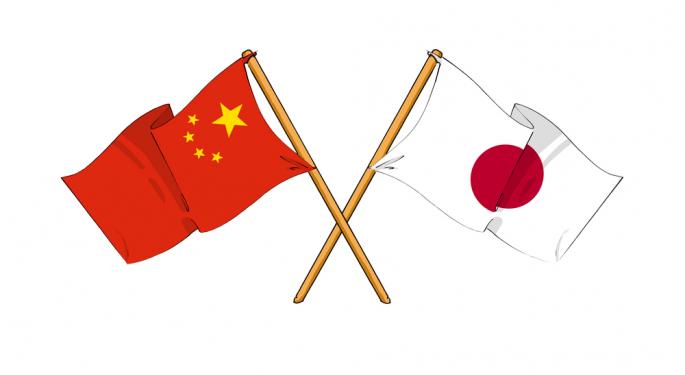 Japan's Ministry of Finance reported Wednesday that Japan's trade deficit for October was 549 billion yen ($6.7 billion), the fourth consecutive monthly trade deficit. The October trade deficit was much bigger than the 360 billion yen ($4.4 billion) forecast by economists.
Japan's exports to China were down 11.6 percent year-over-year, paced by an 82 percent decline in automobile exports and a 28.1 percent decline in the export of car parts as Japanese car companies cut back on their operations in China following heightened tensions between the two countries over a territorial dispute.
The dispute over the Senkaku/Diayou Islands has resulted in an informal boycott of Japanese goods following sometimes violent demonstrations in which Chinese drivers of Japanese cars were threatened and some Japanese property in China was destroyed. Anti-Japanese activity peaked in September and some Japanese car companies have reported that sales in China are beginning to recover but not quickly enough to salvage the October trade figures.
"The figures are the clearest indication yet that the spat over a chain of islands in the East China Sea is deepening Japan's export-led downturn, potentially dragging the world's third-largest economy into a technical recession," CNBC reported. "Third-quarter economic data, reported last week, showed that a slump in net exports led by China and the EU was the main contributor to an overall 0.9 percent contraction in gross domestic product between July and September."
Over the past ten years, China has displaced the U.S. as Japan's most important trading partner. However, the territorial dispute with China has resulted in increased exports from Japan to the United States, indicating that this trend might be reversing, according to some analysts.
The Japanese numbers were echoed in statistics released Tuesday by China's Ministry of Commerce. According to the Chinese figures, imports from Japan fell by 32 percent in October to $460 million. Asahi Shinbun, a major daily newspaper, quoted a Japanese government source saying, "We can't decide based on a single month's data. But there are an increasing number of companies that are taking their time [about investing in China] due to heightened political risk as the result of worsening relations between Japan and China."
Still, direct investment from Japan to China in October was just about unchanged at $8,310 million, according to China's Ministry of Commerce.
It should be noted that Japan's participation in the Trans-Pacific Partnership (TPP) being promoted by President Obama during his trip to Southeast Asia is entirely dependent upon the outcome of Japan's Lower House election on December 16. Prime minister Yoshihiko Noda has made the election a referendum on TPP while the opposition is running against participating in TPP.
In the meantime, Japan, China and South Korea have been discussing a trilateral free trade agreement this week.
With the yen trading against the U.S. dollar at an 82 handle for the first time since April, chances are good that more competitively priced Japanese goods and an easing of tensions between Japan and Chinawill lead to improved Japanese trade figures in November and December.
View Comments and Join the Discussion!
Posted-In: Asahi ShinbunNews Politics Global Econ #s General Best of Benzinga