Three Things to Buy Before the Next Storm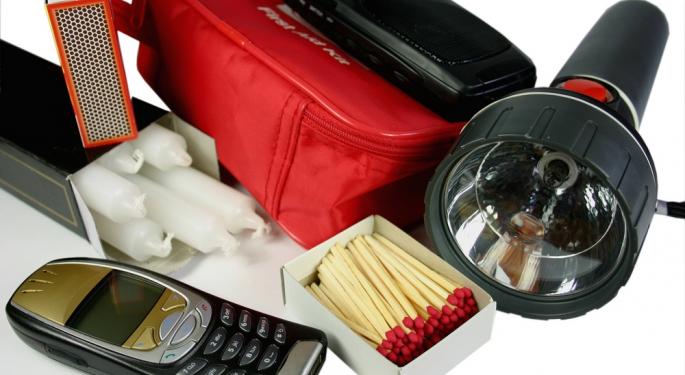 Though the impact will be felt for weeks, Hurricane Sandy has finally ended and there are lessons to be learned from the massive storm. As we move away from imminent danger, it is now time to consider how to be better prepared for the major weather event. While we don't know when, where or in what part of the country the next natural disaster will occur, it is certain that disaster will strike again. Be it a snowstorm, hurricane, earthquake or something worse, everyone lives in danger of something bad happening.
To be prepared, Benzinga recommends you purchase the following items:
Do you have disaster/first aid kits?
As a storm approaches, don't be the person that has to go to the supermarket to suddenly stock up on water and batteries. We're not talking about being prepared for the apocalypse, but there are some basics everyone should keep stored at home.
FEMA recommends having three days of food and water for everyone in the house. Since bottled water currently costs under $6 a case, it is suggested to buy several cases and keep them on hand. As for food, look for non-perishable foods that don't need to be cooked. Energy and meal bars (like Kashi and parent company Kellogg (NYSE: K)) make sense as they can serve as meal replacements and they have a long shelf life. See the five best energy bars as recommended by Fox News.
You will also want to have a selection of flashlight and batteries (like Duracell from Procter & Gamble (NYSE: PG) and Energizer (NYSE: ENR)) to power them on hand. Remember to rotate your battery stock a couple of times a year and buy both handheld and tabletop models. In addition, consider buying a basic first aid kit (and maybe a deck of cards).
Do you have a properly installed generator?
Generators start around $500 for a basic, portable model that can power a few devices and range up to $10,000 for higher-end models wired into your home's electric system with juice for the whole house. The key with a generator is getting it installed safely. Generators run on gas, and if they are not vented properly, your family will have power as it slowly dies of carbon monoxide poisoning.
Deciding what type of generator to buy depends a lot on budget. The lower-end models may power a space heater and let you charge your laptop or phone, while the higher end version can literally provide power for the whole house.
Unfortunately, now is not the best time to be buying a generator or to get one installed -- in hindsight, the summer, spring or fall would have been -- but, buying one now is better than trying to buy one during a weather event. Once the demand caused by Hurricane Sandy dies down, it should be more feasible to buy a generator and find a licensed electrician to install it for you.
Though you won't find a deal, you can at least price check various online sites against physical hardware stores like Lowe's (NYSE: LOW) and Home Depot (NYSE: HD), Some electricians may be able to sell you a package that includes the generator and installation, but do ample research in order to pay a fair price.
Do you have the right insurance?
The worst time to check your insurance policy is after something bad has happened. Many people have no idea what their homeowner's policy covers and are shocked to learn that water damage or weather-related problems are not covered.
Schedule an appointment with your insurance agent (or, get an insurance agent) and make sure you have a policy that covers you in the event of any likely, or at least plausible, disaster. There are a variety of plans to cover you in the event of a disaster, but be smart. If you live in Denver, don't get flood insurance.
While you're meeting with your insurance agent, take the time to check your other policies. Is your life insurance up to date and adequate? Is your automobile fully protected? For these purposes, look to companies like Allstate (NYSE: ALL), Progressive (NYSE: PGR), Travelers (NYSE: TRV) and American International Group (NYSE: AIG).
Posted-In: News Psychology Retail Sales Topics Events Success Stories Pre-Market Outlook General Best of Benzinga
View Comments and Join the Discussion!