Dozens of Activists Arrested on Occupy Wall Street's One-Year Anniversary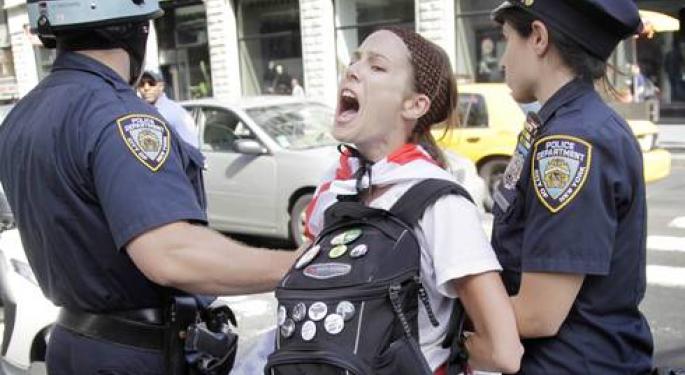 Dozens of Occupy Wall Street protesters were arrested in New York City on Monday morning, as activists gathered in the financial district to mark the one-year anniversary of the movement. Reuters reported that the number of protesters was dramatically smaller than what was seen at Occupy's height in fall 2011, with only around 1,000 people demonstrating. Nevertheless, the NYPD was out in full-force, posted at major banks and government buildings, according to Reuters.
The police also guarded the famous Wall Street bronze bull. According to a tweet from attorney Gideon Orion Oliver, who represents some of the demonstrators, as many as 90 people may have been arrested this morning. The protesters gathered at the former encampment at Zuccotti Park, but were barred access by the police. Monday's morning events show just how far off the radar the Occupy movement has fallen after staging massive protests across the country last fall which grabbed the world's attention.
Many sympathizers of Occupy Wall Street undoubtedly are disappointed that a movement which was initially so powerful has dwindled so quickly. Unfortunately, the vast majority of issues which sparked the protests are still at the forefront of the United States' problems. The initial impetus for the demonstrations was to voice anger and dissent at the influence that corporate money has on the country's political system. Widespread and deep-seated resentment about the Wall Street bailouts which, in many ways, served to solidify the power and influence of the Too Big to Fail banking cartel was also a flashpoint.
Subsequently, the movement coalesced around the idea that 99 percent of Americans are being disadvantaged politically and economically at the hands of the so-called one percent. While a myriad of views and political ideologies could be found within Occupy Wall Street, the demonstration largely was representative of fears that the country is becoming an oligarchy, controlled entirely by corporate interests, the monied elite and self-serving politicians.
Posted-In: News Politics Psychology Events Global General Best of Benzinga
View Comments and Join the Discussion!