Apple iPhone 5 "Too Cool" for Near Field Communication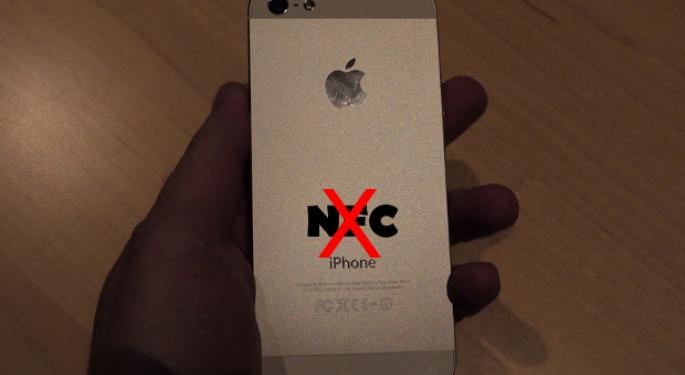 Sticking with the tradition of disappointing the masses with the new iPhone, Apple (NASDAQ: AAPL) has reportedly skipped the option of adhering to modern mobile payment standards, according to Reuters.
NFC (Near Field Communication technology) is the chip that has been left out of the new iPhone's setup. eBay's (NASDAQ: EBAY) Chief Executive Officer John Donahoe has jokingly referred to NFC as standing for "Not For Commerce", and does not support the technology (along with many retailers and business owners that refuse to pay to upgrade their systems to support the mobile app).
In response to the decision to not include NFC, Apple is developing an application called Passbook, which will serve as a loyalty program for consumers that hold the new iPhone, much like the digital wallet programs already developed by eBay, PayPal, Visa (NYSE: V) and Google (NASDAQ: GOOG). All of these programs aim to combine bank accounts, rewards programs and credit/debit cards together in both the online and physical storefront realm.
NFC supporters did hope that Apple would include the chip in the new product, but the digital wallet war is a battle that will not be easily won, and those that hoped for the option will likely feel let down.
Despite the NFC absence, Piper Jaffray notes that consumer sentiment on the new iPhone has increased exponentially compared to the iPhone 4S, and analysis of blog posts and Twitter activity is up an estimated 100 percent and 460 percent year-over-year, respectively.
In a Friday report, Piper Jaffray wrote, "we believe that 73% of tweets about the iPhone 5 during launch day were positive compared to 51% for the iPhone 4S launch. We believe this is to be expected given the phone is redesigned while the iPhone 4S was not. More importantly the positive reception of the phone gives us greater confidence that Apple can not only meet our 6-10 million iPhone 5 unit estimate for the rest of September, but also hit our 49 million unit estimate for the December quarter, which assumes 32% y/y growth."
Catalysts for this decision by Apple? If Passbook proves successful, then the iPhone shouldn't face any failures in the regard, despite the fact that NFC is supported by Isis, Verizon (NYSE: VZ), AT&T (NYSE: T), T-Mobile, American Express (NYSE: AXP), JPMorgan Chase (NYSE: JPM) and Capital One Financial (NYSE: COF). On the other hand, since mobile makers have shown reluctance to engineer the NFC chip placement in their products due some merchants being unable to accept the technology, NFC may have a rough road ahead of it as well, possibly resulting in obsolescence.
Posted-In: iPhone 5 John Donahoe ReutersNews Offerings Management Analyst Ratings Tech Best of Benzinga
View Comments and Join the Discussion!