Thompson Creek CEO: Difficult Times Ahead, But Positioned for Growth
Benzinga spoke with Thompson Creek's CEO Kevin Loughrey in an exclusive interview yesterday evening to get his take about recent pressure on the share price, industry outlook, development at Mt. Milligan, and molybdenum prices. But first let's start by introducing the company's operations and its core business, molybdenum.
Thompson Creek Metals (NYSE: TC) is a diversified mining company. It is a producer of molybdenum and has copper and gold reserves. TCM operates in three segments: US Operations Molybdenum, Canadian Operations Molybdenum, and Copper-Gold, which is currently in development at its Mt. Milligan mine.
Molybdenum
Molybdenum is an important industrial metal with unique properties. Molybdenum is increasingly being used in automobiles and various industrial products. Adding molybdenum to steel gives added strength and improves the strength-to-weight ratio -- meaning less metal is needed.
Its first use is as alloys in construction steels, as well as in stainless steels and other alloys.

End use of Molybdenum is significant and growing in the Chemical, Oil & Gas, and Automovie industries. For example, project managers are favoring molybdenum-bearing duplex stainless steel grades for their strength and lower cost in the construction of large storage tanks.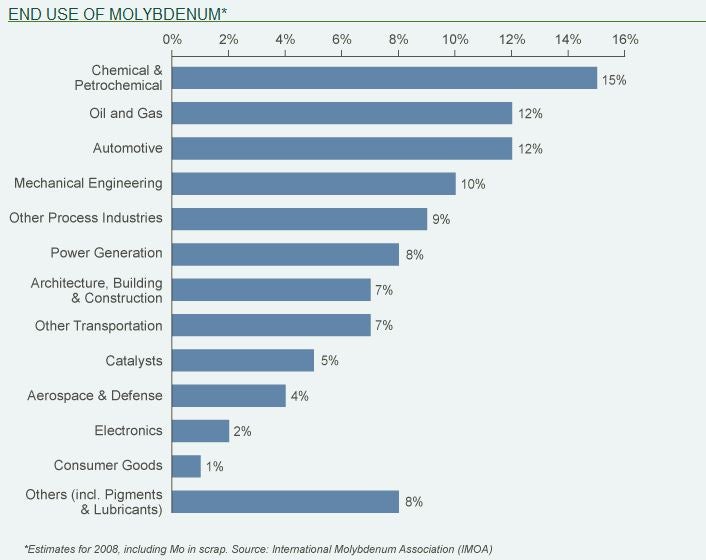 The need for stronger steel alloys to handle higher pressures, as well as to resist corrosion, explains why molybdenum is being used more frequently and more intensely in oil and gas pipelines.
Molybdenum is priced per pound and has fallen from grace since the economic slowdown over the past handful of years; prices fell from the mid-twenties to the mid-teens, currently priced around $14 per pound.
"Prices (of molybdenum) are really set on the spot market activity, and that has been so thin as of late because of the cautious nature buyers are taking, which has taken the pressure off the price, and that's why we've seen a slow decline in the price," Loughrey said.
"Our belief is that longer term, the supply/demand balance is pretty favorable for producers... we need something to generate more demand. There is just a lot of either negative or neutral signs in the market right now, and we need those to be resolved principally of course Western Europe is creating a lot of uncertainty."
Share Decline
Shares of Thompson Creek Metals have been under pressure over that last few months after the company announced capital raises of over $400 million, even though the company continues to roll out its low-cost copper and gold mine at Mount Milligan on schedule and within budget.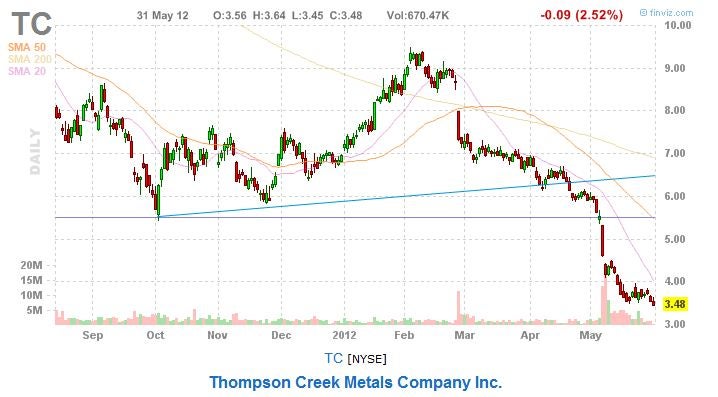 Back in early May, Thompson Creek announced its intention to offer, subject to market and other conditions, $200 million of its Senior Notes due 2019, and 8,000,000 Tangible Equity Units each with a stated amount of $25. The Company intends to grant the underwriters a 13-day option to purchase an additional 1,200,000 tMEDS.
Investors are likely concerned on multiple factors, including lower molybdenum prices with weak demand, and the potential of further capital raises or operational issues at Mt. Milligan.
"We have two very good moly mines and we think that the longer term fundamentals are quite good, and on top of that, we have this project (Mt. Milligan) that is very potentially profitable for us," Loughrey said.
"I think the market is rewarding companies who are cautious and retain big balance sheets, and really for the first time in our company's history we got a balance sheet which is much more heavily in debt than we would like in order to get this project done. But we think it will be quite cash-generative for us and we are very happy with the schedule we are on."
Mount Milligan
The Mt. Milligan copper-gold project is located 155 km northwest of Prince George, and mid-way between the communities of Fort St. James and Mackenzie in central British Columbia, Canada.
Construction is now in its second year and the mine is expected to be operating in the latter part of 2013 with full commercial production scheduled for 2014.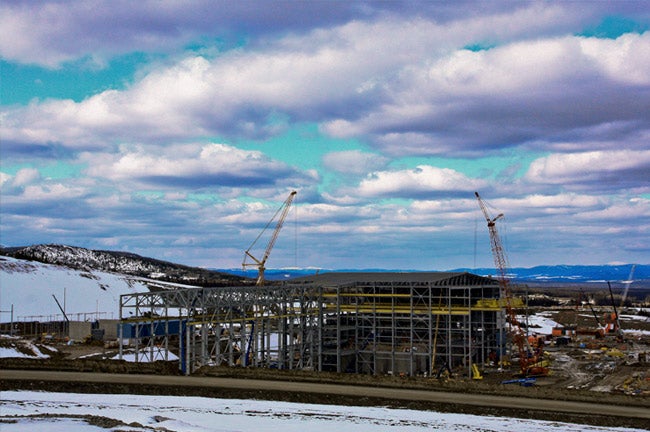 "I think we've positioned the company for growth, but we admit it looks like we have 6 to 18 months of difficult time ahead of us, but we will get through it. We are well funded now to complete Mt. Milligan with a fair margin of cushion for us," Loughrey said.
Continuing on, Kevin Loughrey seemed very excited to talk about the potential of the Mt. Milligan, saying that it will be cash-generative, schedule was on time and within budget, and that he believes that by the third-quarter of 2013 the mill will be turn-on and by the fourth-quarter Thompson Creek will start to see production and should be in production for all of 2014.
With shares very depressed, and the future solid potential of the Mt. Milligan mine, Thompson Creek may be undervalued at current prices. The stock is trading less than 6-times forward price-to-earnings, and many analysts are very bullish on the shares since the company's future potential is very strong if all goes well at Mt. Milligan.
Currently, shares of Thompson Creek Metals are down over 2.5% at $3.48 per share. The stock is also down over 50% year-to-date.
Posted-In: News Commodities Movers & Shakers Management Events Global Economics Markets Best of Benzinga
View Comments and Join the Discussion!