FREE Trial with Benzinga Pro happening right now!
Risk management permeates every aspect of contemporary businesses. From project management in various fields to finance, this discipline can be key to ensure the success of a company.
But what does risk management actually entail?
First, you must identify and define risk for your area of expertise. Risk concepts may vary from one field to another. Nevertheless, it is generally understood as a trigger or a series of events that may prevent you from reaching company goals.
With risk comes responsibility, so each person in the business needs to have a clearly defined role and accountability. However, these are just some of the aspects of risk management.
We've made a selection of the best risk management courses to help you hone all the necessary skills for risk management.
Quick Look: The Best Risk Management Courses To Take Online Right Now
Featured Courses:
What Makes a Good Risk Management Class?
Features like price, instructor's credentials and course curriculum most important to consider when you make a selection. A wide array of courses are available, so you need to have a good understanding of each feature to make an educated choice.
Price
There are risk management courses for every budget. You might even get a big discount on platforms like Udemy. On the other hand, Coursera offers financial aid options for some of its students. Ultimately, it shouldn't be hard to find a course even if you operate on a tight budget.
It's worth noting that risk management courses offered by universities usually come at much higher prices. These courses are designed to teach you how to handle risk and prevent your company from losing money. As a result, it's best to focus on the course curriculum and instructors. Don't forget to check the duration as well, since some of them might span a few months.
Skills
The curriculum and skills offered may vary for each course.
For example, financial risk management courses usually cover different sources of risk like currency and liquidity and they teach you how to use various tools to mitigate risk. It's not uncommon for these courses to touch on statistics, financial engineering and other related fields. There are courses that offer training for specific certification like PMI-RMP or they might focus on a specific industry like IT, trucking and even medicine.
Instructors
Risk management is a hands-on industry, which means the course instructor needs to have the same approach. This comes from work experience in the field that allows the instructor to show you how to put theories into practice.
Teaching talent shouldn't be overlooked, either. The instructor should be able to run fun and engaging classes that can spark your passion. Communication skills are crucial to both teaching and risk management. This means the instructor needs to be accessible via email, Skype or some other messaging app. Otherwise, it's easy to get stuck on something that can affect your motivation to complete the course.
Best Risk Management Courses for Beginners
Check out our top picks for risk management courses to start off your education.
DOT Compliance and Risk Management Control Systems
Beginner • 36 videos • 2.1 hours
1. DOT Compliance and Risk Management Control Systems by Udemy
DOT compliance and risk management is a specialized course that focuses on the trucking industry. It covers all the odds and ends that are important to running a successful trucking business.
The course offers 36 lectures which amount to a little over two hours of on-demand videos. There are also two articles and one downloadable resource. This course goes over all the potential risk factors that you need to look out for. Plus, you learn how to use management control systems and perform efficient human resource management.
Planning Risk Management (PMBOK6 Aligned)
Beginner • 25 videos • 1.4 hours
2. Planning Risk Management by Udemy
Planning Risk Management is designed according to PMBOK6 guidelines to bring you a step closer to the PMI-RMP certification program. It offers 1.5 hours of on-demand video, 30 downloadable resources and two articles.
You get a better understanding of how to define risk and identify factors that can help you minimize uncertainty. You'll also learn how to target the areas that need to be included in a risk management plan. The course also teaches you to match risk management elements to real-world examples.
Enterprise Risk Management (ERM) 101
Beginner • 15 videos • 1.5 hours
3. Enterprise Risk Management (EMR) 101 by Udemy
Enterprise Risk Management or ERM 101 is a well-rounded course if you don't have any experience in risk management. It covers the basic concepts that help you establish the ERM framework.
You will learn about the key ERM roles and accountability. The course teaches you how to properly size ERM to fit company goals. There are two articles and downloadable resources. This course is taught in 14 video lectures that run for about 1.5 hours.
Lynn Fountain, the course instructor, has more than 30 years of experience in the industry. Like many classes on Udemy, this one is offered at a big discount at the time of this writing.
Best Intermediate Risk Management Courses
If you have an understanding of risk management basics, these courses can help you build on that.
Advanced Risk Management
Intermediate • 8 videos • 0.7 hours
1. Advanced Risk Management by Udemy
Despite the advanced label in the name, this course is actually intended for intermediate-level students. It's a good option for project managers and stakeholders who are responsible for risk mitigation.
With just 35 minutes of video and seven lectures, this course is quick and to the point. Plus, you get one downloadable resource. The first part of the course covers the fundamental principles of risk management. Then it moves to a case study analysis to help you apply what you learned.
2. Portfolio and Risk Management by Coursera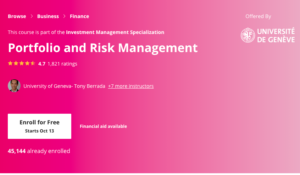 Who's it for? Intermediate studnets
Price: $39/month after a one-week free trial
Portfolio and Risk Management is offered by the University of Geneva. The comprehensive curriculum focuses on finance.
This four-week course takes you through the basic principles of building a solid portfolio with a particular focus on limiting risk. It provides in-depth knowledge of risk-adjusted returns and asset pricing models. The final week is dedicated to risk management alone and you'll learn to use all the tools for financial risk mitigation.
The course is delivered by a team of University of Geneva experts with years of experience in the field. All you need is to be Coursera member to take advantage of the course.
RISK MANAGEMENT for Supply Chain and Procurement specialists
Intermediate • 15 videos • 1.2 hours
3. Risk Management for Supply Chain and Procurement Specialists by Udemy
This course contains 15 fast-paced lectures that help you grasp all the risks associated with supply chain and procurement decision-making. You learn how to compare and quantify risk. It also shows you how to determine risk complexity and develop action plans accordingly.
In addition, you'll be provided with the methods and tools used by international companies and this is further enforced by a lot of examples that illustrate the best practices of managing risk in this area.
Best Advanced Risk Management Courses
If you have a career in risk management and want to continually pursue a higher understanding, these courses are great for you.
1. Financial Engineering and Risk Management Part II by Coursera

Who's it for? Advanced students
Price: On sale
The course takes a multidisciplinary approach to help professionals take their financial management skills to the next level. It covers financial engineering, which includes computational methods, statistics and mathematics.
Financial engineering is intertwined with risk management. In this respect, the course offers lessons about statistical pitfalls like performance evaluation and survivorship bias. You'll also learn how to use the volatility surface to price derivatives.
It should take you about 25 hours to complete this course, which consists of 13 hours of videos and quizzes. You also need a Coursera membership to take this course.
2. Corporate Finance II: Financing Investments and Managing Risk by Coursera

Who's it for? Advanced students
Price: On sale
Corporate Finance II teaches you how companies evaluate debt and raise capital. It also provides a comprehensive guide on credit risk management. Plus, you'll learn how to counteract financial risk via liquidity and derivatives management.
The duration is four weeks and it is estimated to take you about 16 hours to complete. Professor Heitor Almeida of the University of Illinois is the instructor and is a top expert in the field. Almeida has numerous publications and research studies under his belt.
Final Thoughts
Understanding the concepts of risk management can improve overall business operations and save money. If you work in the finance industry, this discipline can help you build a solid portfolio and make informed predictions.
The above online courses are some of the best in the realm of risk management. Now, it's up to you to choose the one that best fits your needs.

Southern New Hampshire University Online
SNHU Online Offers:
Flexible schedules
Affordable tuition
Online tutoring
Access to electronic research materials
Specialized academic advising
Supportive online community