FREE Trial with Benzinga Pro happening right now!
A strong understanding of Excel opens up a new world of organizing, planning, and executing at work and at home. However, with your schedule already full, how do you find time to develop a new skill?
You could pick up a book to supplement your education, such as one of the best finance books or stock market books.
But with the intricacies of Microsoft Excel, you may fear that written guides and textbooks will leave you more confused. Excel is one of the world's most popular spreadsheet platforms and is widely used in almost all aspects of business. Yet, it remains a mystery to many computer users.
If you're looking to cultivate your skills, online Excel courses might be the best choice for you. Among the many benefits of online learning, you can find Excel courses for beginners, start at your level of understanding, encounter interactive materials and, best of all, learn at your own pace.
Quick Look: Best Excel Courses
Featured Courses:
What Makes a Great Excel Course?
With the expanse of the internet comes a plethora of course options. However, just because a course exists does not mean it is worth your time. When deciding which class to take, there are a few considerations to keep in mind. We've taken a look at the most critical components of Excel classes.
Price
Adding a new skill rarely comes for free. Whether it's an expense of money, time, or both, you're often sacrificing something for personal development.
Budget constraints may narrow your choices, but assessing your needs compared to what the class offers will help you make a smart choice. This, and you can audit some courses for free. You might find a list of free excel courses, but you should consider paying for a proper education. If you end up paying, plan out your finances with one of the best budget apps to help finance the course.
If you are looking for a certificate or credit towards a degree, you may have to pay a fee for an accredited Microsoft Excel certification. Fees vary depending on the school you choose, but you may receive price breaks when you happen upon discounts or sales. Also, the best way to learn Excel you may not come from a university, which can significantly lower the price of a quality resource.
Your Instructor
The instructor of the course is another important consideration when selecting. What are their credentials? Are they affiliated with a well-known institution or industry leader? Do they have life and work experience in this topic? Online Excel courses with a certificate still require a quality instructor.
Your instructor's knowledge base and reputation can make an Excel course worthwhile as they share their expertise with you. Many courses are led by industry leaders, so look at who your potential instructors are and what other students have said about them.
Skills Taught
Excel is a diverse program with lots to offer an individual. Take into account the skills taught in the course you're considering. Are those skills exactly what you're looking for? And will they be applicable in your academic or professional life? The Excel spreadsheet is a cornerstone of most business operations, nonprofits and more.
Often times, Excel classes online are broken into smaller specializations to make them manageable. Make sure to keep an eye out for the specific class that fits your needs.
Our Top Picks
Based on the criteria above, these are some of the best Excel courses available online. Remember, this is a feature-rich program that allows you to do many, many things with a few clicks of the mouse or via a formula. At the same time, Excel courses should start slowly, help you learn the basics and use the software effectively. Take a look below and see which one is best for you.
Best Excel Courses for Complete Beginners
New to Microsoft Excel and searching for some foundational knowledge? This list of Excel online courses is an excellent place to start. Remember, you can go beyond the Excel tutorial, obtaining an Excel certification, continue your Excel training or learn Excel basics so you can get to work right away.
1. Excel Essential Training from LinkedIn Learning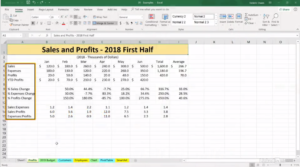 Who's it for? Beginners
Price: On sale
Dennis Taylor, who has over 25 years of experience training and leading Excel webinars, teaches the introductory course Excel Essential Training from Lynda. Throughout a series of short videos, he covers topics like entering data, creating formulas and functions, and formatting spreadsheets.
This is a short course for beginners and it may be completed in under three hours. It's included with your Lynda subscription, however, you may save money if you don't already have a Lynda account.
Dennis' Excel online courses also accessible by signing up for their one-month free trial.
Microsoft Excel – Excel from Beginner to Advanced
All Levels • 231 videos • 17.4 hours
2. Microsoft Excel – Excel from Beginner to Advanced from Udemy
This course by Udemy is designed to take you from beginner to pro in one easy package, which makes it perfect for anyone who is just starting out to those who have an intermediary experience with Excel.
Instructor Kyle Pew is a Certified Microsoft Trainer with over 15 years of experience. Work through each level and build upon skills of the previous level with 14.5 hours of on-demand video instruction, five articles, downloadable resources, and more.
You also receive lifetime access and a certificate of completion when you sign up for this course. If you feel you've been adequately trained, stop here and review the information as a reference in the future.
Best for Intermediate Users Looking to Sharpen Their Skills
If you have Excel experience, you may find the following intermediate and advanced Excel courses courses useful.
1. Analyzing and Visualizing Data with Excel by edX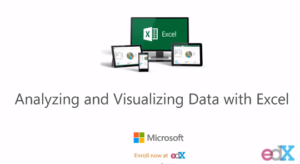 Brought to you by Microsoft, this course teaches you how to transform and analyze data into sophisticated visualizations. You can go from "what is Excel" and the history of the platform to the manipulation of a Microsoft spreadsheet in any setting.
This self-paced course does require you to already understand Excel analytic tools like pivot tables and charts as well as basic tables. Prior experience working with databases may also be helpful.
Instructors Dany Hoter from DataRails and Jonathan Sanito from Microsoft guide you through the process of importing data, creating data mashups, and preparing the data for analysis. Consider this Microsoft Office training course the first step in Microsoft Excel certification.
Tables and Formulas with Excel [2020 Edition]
All Levels • 54 videos • 3.2 hours
2. Tables and Formulas with Excel by Udemy
If you need to learn how to manage tables in Excel, this "Tables and Formulas with Excel" course from Udemy may be a good fit. Learn how to analyze your data by creating, managing, and filtering Excel tables. Create formulas and manipulate formatting with a few button clicks.
This is an intermediate class, so you need to know the basics of using Excel and how to enter data. Ian Littlejohn is the instructor for this course. A popular Udemy instructor with over 23,000 students, he has seven years of teaching experience and is ready to further your understanding of using Excel.
Udemy courses include a 100% money-back guarantee and lifetime access to all material. The fee includes two and a half hours of video instruction, three downloadable resources and 14 articles for the course. You also receive a certificate of completion for this online class.
3.Learning VBA in Excel by LinkedIn Learning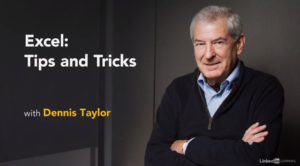 Who's it for? Beginner-Advanced
Price: On sale
Sure, you can use basic functions in Excel. But why not take your knowledge to the next level? The Excel Tips and Tricks course from Lynda teaches intermediate users time-saving shortcuts for creating charts, navigating, and editing spreadsheets. Instructor Dennis Taylor is a veteran instructor who has taught Excel for over 25 years.
Through a series of videos, Taylor shows you how to take your spreadsheet creations to the next level. The duration for the complete set of videos is a little over four hours.
Additionally, the videos were recorded using Excel for Office 365. However, most of the recorded content is applicable to Office 2019 and 2016.
Best for Advanced Users
Are you an experienced Excel user? These courses will enhance your Excel skills, learn advanced Excel functions, prepare yourself to conduct advanced Excel training, etc.
1. Microsoft Excel Advanced Training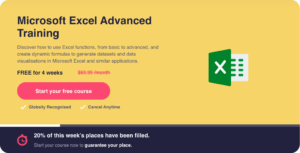 Using basic to advanced Excel functions is an important skill, and Microsoft Excel Advanced Training will teach you to create dynamic formulas to generate datasets and data visualizations in Microsoft Excel and similar applications. The different lessons include:
Setting the Stage
Sheets, Tables, and Things
How to Keep Organized
Lights, Camera, Action!
Getting into Shape
Using Accurate Data
Support Available to Excel Users
Get this advanced training free for the first 28 days if you want the best training for Microsoft Excel around. This Excel certification course puts your over the top, empowering you to say you learned from the source. You can take this certification and teach in other online training programs if you like.
Excel 2016 Advanced
Expert • 64 videos • 2.4 hours
2. Excel 2016 Advanced by Udemy
Are you ready for the next level of Excel? The Excel 2016 Advanced offered through Udemy advanced your Excel knowledge to include the use functions like AVERAGEIF, SUMIF, and COUNTIF.
Find out how to utilize advanced lookup functions such as MATCH, HLOOKUP, and INDEX. Use What-If Analysis tools and experiment with auditing formulas and protection for worksheets and workbooks. Computer training specialists, Intellezy Trainers, provide easy-to-follow short instructional videos and reference cards in the course.
With two and a half hours of lecture videos, one practice test, and one downloadable resource, this deal from Udemy comes with full lifetime access in case you want to refresh any material in the future. Advanced Excel skills take practice and references, something this course offers in droves.
3. Learning VBA in Excel (2010) by LinkedIn Learning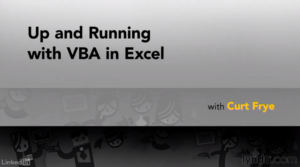 Did you know that Microsoft Office, including Excel, is based on a powerful but accessible object-oriented programming language?
Instructor, author and president of Technology and Society, Incorporated Curt Frye shows you how in this course from Lynda. Learn visual basic for applications (VBA), adding, creating, exporting and deleting code, automating routine tasks, and custom functionality.
This three-hour course uses real-world examples to demonstrate programming techniques. It includes exercise files to practice as you learn with a premium membership.
4. Excel 2016: Advanced Formulas and Functions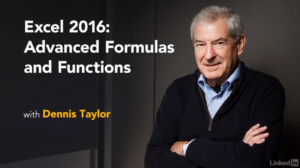 Excel expert and veteran instructor, Dennis Taylor, is ready to expand your knowledge of Microsoft Excel. Lynda's Excel 2016: Advanced Formulas and Functions course helps you take your knowledge of Excel to another level.
Learn how to analyze data with statistical functions and array formulas. Extract data with text function and find data with the VLOOKUP and INDEX functions. Using examples that can be applied to the real world, this course runs a little over six hours long. It also includes exercise files for practice use.
However, like most Lynda courses, access to exercise files requires a premium membership.
Final Thoughts
It's easy to overlook basic skills, but it's these skills that provide a foundation you perform better and more efficiently at work and school. Not only that, but efficiency in Excel provides a great resume boost that helps you stand out among other applicants. What is Microsoft Excel? It could be the key to getting your next job or that promotion.
Microsoft Excel training can give you immediate and applicable benefits in different areas of your life. Whether it's keeping track of your budget at home or sales figures at work, Excel can help you keep all the data in your life organized.
Southern New Hampshire University Online
SNHU Online Offers:
Flexible schedules
Affordable tuition
Online tutoring
Access to electronic research materials
Specialized academic advising
Supportive online community