FREE Trial with Benzinga Pro happening right now!
Salespeople who take a sales training program have 10% higher success rates, according to CSO Insights. B2B sales courses teach students how to improve their skills, processes and selling techniques to enhance the company's bottom line.
Find an Online University
Quick Look: Best B2B Sales Courses
Listed below are Benzinga's favorite B2B sales courses. Depending on your skill level and the level of coaching you want, there's a class for everyone.
The courses are split up into 3 different categories: beginner, intermediate and advanced. Each group is also split by price point and the most inexpensive courses are listed first. Some of the most advanced courses do not have a listed price because those are tailored to fit the company. Those types of courses must be booked well in advance because of the insight and prior consultation that goes into making sure that the coaching session helps you and your company succeed.
What Makes a Good B2B Sales Course?
As you research online for a good B2B sales course, you'll realize that there are so many options available. The best B2B sales courses will use relevant examples to your industry and career and help you apply the techniques to your professional life. Here's what makes an excellent B2B sales course.
Focus
The theme of the course should address one (or more!) of the challenges you're facing. If you are a newer salesperson, your course needs are likely very different from someone who has 5 years of experience. Before diving into a course, make sure it addresses your concerns and helps you improve your B2B sales.
Reinforces Training
Have you done sales training before and felt it didn't work? It could because you didn't change anything after the course was over. The best kind of B2B course or coaching session has a solid post-training reinforcement program. Consider accessing a community forum or continue to view the videos after the course has ended. A course that changes your habits is the best kind.
Coaching vs. Lecture
As your B2B sales skills begin to grow, you might realize that you don't need a catch-all course that teaches you about the sales industry in general. Once you've reached a certain level of understanding and experience, a lecture course probably won't help. Instead, a coach might be a more effective way to learn so you can get tailored, actionable strategies that fit your industry and business.
B2B Sales for Beginners
People who are just trying to dive into the B2B sales world give these courses a great starting point. They'll teach you the basics of a good sales pitch and the psychology behind sales.
Sales Mastery: Proven B2B Sales Strategies & Techniques
Beginner • 16 videos • 0.6 hours
Sales Mastery: Proven B2B Sales Strategies and Techniques by Udemy
Who it's for: Beginners who are entrepreneurs, sales managers, business owners and freelancers
Brought to you by Udemy, this course equips its learners with the proper techniques to handle difficult B2B customers at the start of your career. As you go through the modules, you'll learn 3 important selling techniques that will help you grow your sales revenue. By the end of the course, you'll be able to identify and target your customers and create a compelling sales pitch.
Sales Fired: B2B Sales and Business Development by Skillshare
Who it's for: Startups, entrepreneurs, freelancers and creatives
Price: Free
Skillshare's class teaches the basics when it comes to mastering the art of sales and business development. This course teaches you how to build your own scalable sales process and will help you close new clients more consistently. You'll also learn the psychology of why people buy, how to make your products more desirable and how to generate more revenue.
By the end of the course, you'll write your own pitch and sales script that will break objections and turn "maybe" into "yes."
Business-to-Business Sales by LinkedIn Learning
Who it's for: Beginners
Price: $24.99
Business-to-Business Sales helps its learners master a typical day in sales, as well as meeting with prospects, handling potential objections and closing the deal. For those who are still trying to break into the B2B sales industry or build a sales team, this course can teach the necessary skills to make this possible. Once you complete the course, a certificate of completion is automatically added to your LinkedIn profile.
Intermediate B2B Sales Courses
The intermediate B2B sales courses are meant for people who have a couple of years of sales experience and want to improve their pitch and closing techniques.
Selling into Companies by LinkedIn Learning
Who it's for: Salespeople
Price: $29.99
This virtual course teaches you how to navigate the current sales industry. You can learn how to sell like a modern salesperson with this short course on LinkedIn. You may be switching from selling to individuals to big companies and this course gives you tips and strategies. Lisa Earle McLeod and Elizabeth McLeod, sales consultants, teach you the right questions to ask your business clients, how to navigate bureaucracy and how to generate enthusiasm for your products.
Accelerate Your Sales by Jill Konrath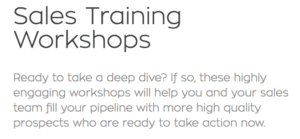 Do you have trouble making progress on your target accounts? Jill Konrath gives workshops that offer specific strategies that work for your sales industry. She focuses on your business, sales process and prospects to make sure that your sales team gets the results they want in the future. She covers the changing sales environment, how to use sales intelligence and psychology to get the results you want and how to make effective calls. After the workshop is over, she provides options to help reinforce the lessons through coaching, video lessons and virtual seminars.
Advanced B2B Sales Courses
These advanced B2B sales courses are designed for people with experience in sales. These courses are designed to help make long-term changes to your sales team.
Sales Prospecting Advanced Techniques by Sales Scripter
Who it's for: Sales managers, sales trainers, inside salespeople
Price: Free
One of the most important tools a salesperson has is his words. But many salespeople hurt their success rates by not preparing before they call, email or meet prospective clients.

Sales Prospecting Advanced Techniques teaches you strategies and allows you to streamline your process. Over the 13-hour course, salespeople will learn more about the methodology behind sales prospecting. The course covers how to ask the right questions, build value propositions and how to close. The course will also take you out of the office and shows you how to become a better networker and get even more returns on your investments.
Inside Sales Consulting by Sales Hacker
Who it's for: B2B Sales teams, AEs, directors, managers and SDRs
Price: Varies
Inside Sales Consulting is led by Richard Harris, who brings his years of sales experience to the classroom. He's held nearly every sales position possible, including inside sales rep, inside sales manager, director of sales, SDR and vice president of sales. He can speak on a variety of topics. You'll learn how to craft service level agreements, design your sales team, teach other sales reps the necessary skills to succeed and how to identify up-and-coming sales reps.
Sales Presentation Training by Sales Readiness Group
Who it's for: B2B Sales teams, AEs, directors, managers and SDRs
Salespeople must be able to make well-presented sales pitches to show prospective clients that your service or product has value. Sales Presentation Training shows you to read the reactions of the audience and tailor your sales pitch to close more sales. The Sales Readiness Group tailors each of its presentations to a particular company so the content is extremely relevant to your business and industry.
Rapidly-growing companies might want to take advantage of its licensing program. Purchase the license for the curriculum and your company can repurpose the material and reuse it as often as possible.
Get the Best B2B Sales Course for You
B2B sales is vastly different from other types of sales. Even if you have experience in other industries or sales positions, it can be helpful to take a B2B course to get a refresher and learn new techniques. A great sales training course or training program can help you convert more leads and reach your fullest potential. Take the strategies and techniques you learned in your courses and apply them to your everyday life as a B2B seller.
Frequently Asked Questions
What skills can you learn from a B2B sales course?
You should learn time management, negotiation, selling, listening and presentation skills.
Answer Link
What are some excellent B2B sales courses for beginners?
The best courses include Business-to-Business Sales by LinkedIn Learning, Sales Fired from Skillshare and Sales Mastery by Udemy.
Answer Link
Southern New Hampshire University Online
SNHU Online Offers:
Flexible schedules
Affordable tuition
Online tutoring
Access to electronic research materials
Specialized academic advising
Supportive online community