After Bitcoin's initial success, a private U.S. technology company called Ripple Labs, Inc. decided to create its own transaction protocol, currency exchange and cryptocurrency.
The name "Ripple" refers to three things: the Ripple network based on the Ripple Transaction Protocol, a cryptocurrency (XRP) and the company responsible for creation. Unlike Bitcoin, which consists of a decentralized cryptocurrency, the Ripple remittance network is a real-time centralized gross settlement system. Its blockchain ledger uses the XRP cryptocurrency for payment networks and banks to settle transactions.
Ripple (XRP) ranks second in market capitalization among digital currencies at roughly billion after Bitcoin, which currently has a market cap of .2 billion.

XRP
JOIN THE MOON OR BUST EMAIL LIST
Our team is diligently working to keep up with trends in the crypto markets. Keep up to date on the latest news and up-and-coming coins.
Overview: How to Buy Ripple in the U.K.
Like with other cryptocurrencies, buying XRP in the U.K. involves access to a source of cryptocurrencies, such as an exchange, broker or peer-to-peer network. Once you've made the decision to purchase XRP, you need a unique XRP-specific or multi-asset crypto wallet to store your currency.
On the other hand, if you prefer to speculate on XRP's price moves without taking possession of the currency, then you can open an account with a spread betting firm or an online broker that specializes in crypto contracts for difference (CFDs) such as XTB, for example. Taxes in the U.K. favor gambling and trading profits over investing in the long term, since investment profits are subject to capital gains tax.
Ripple's XRP also appeals to many people in the U.K. because of its low price compared to many of the other top coins. (XRP traded at just £0.244411 at the time of this writing.) Furthermore, the XRP cryptocurrency is readily available in many U.K. exchanges and peer-to-peer groups. You will need a wallet specifically designed to hold XRP or a multi-coin wallet to withdraw your currency from its source. Check out our step-by-step guide to buying XRP in the U.K.:
How to Buy Ripple in the UK
Get an Account at a Cryptocurrency Exchange

To buy Ripple XRP in the U.K., you should first find a source for cryptocurrencies. The most common way for you to purchase XRP consists of opening an account at a cryptocurrency exchange. The U.K. lags somewhat behind other more active crypto markets, but the number of available exchanges and peer-to-peer groups specializing in XRP continues to grow.

Get a Cryptocurrency (XRP) Wallet

In order to maintain full control over your XRP purchases and holdings, you'll want to withdraw the cryptocurrency you purchase from the exchange or other source to a unique personal crypto wallet. A cryptocurrency wallet comes in several different forms and notifies the network that you wish to send and receive transactions.

You can install a wallet on your home desktop and laptop, as well as on an Android or iOS smartphone or tablet. Otherwise, you can use a web-based wallet that does not require a download and allows you to access your cryptocurrencies anywhere with an internet connection. If you will be trading XRP, you must either get a multi-currency wallet or one specifically for Ripple.

Another type of wallet you can opt for is a hardware wallet, which consists of a peripheral device that plugs into a computer like a USB memory stick. This type of wallet offers increased security.

Withdraw XRP to Your Wallet

Once you've purchased XRP on an exchange or from another source, you may withdraw the currency to your personal XRP or multi-currency wallet with a QR code. If you leave your XRP on an exchange, you run the risk of theft since you do not have control of your private keys and exchanges can get hacked.

If you do not have your XRP in your personal possession, you could lose your entire investment if the exchange you left them on gets hacked. Withdrawing your XRP to a wallet usually makes the most sense.

Keep in mind that Ripple Labs charges a small reserve amount of 20 units of XRP to hold the currency in a personal wallet. Once you have withdrawn your XRP from the exchange or other source, you have successfully bought Ripple's XRP cryptocurrency and can now use it for purchases, as a tradable asset or as an investment.
Best Crypto Exchanges List
You can view a partial list of exchanges that support Ripple's XRP and are accessible to U.K. residents:
BC Bitcoin
BC Bitcoin has its base in the U.K. and focuses on fast deposits and withdrawals, in addition to providing excellent customer service. Supported currencies include: Bitcoin (BTC, also known as XBT), Ethereum (ETC), Ripple (XRP), Litecoin (LTC) and Monero (XRM). The exchange requires a minimum deposit of £500 made via SEPA credit or bank transfer. In addition, a deposit fee of $10, €10 or £10 is charged, depending on your deposit currency.
Changelly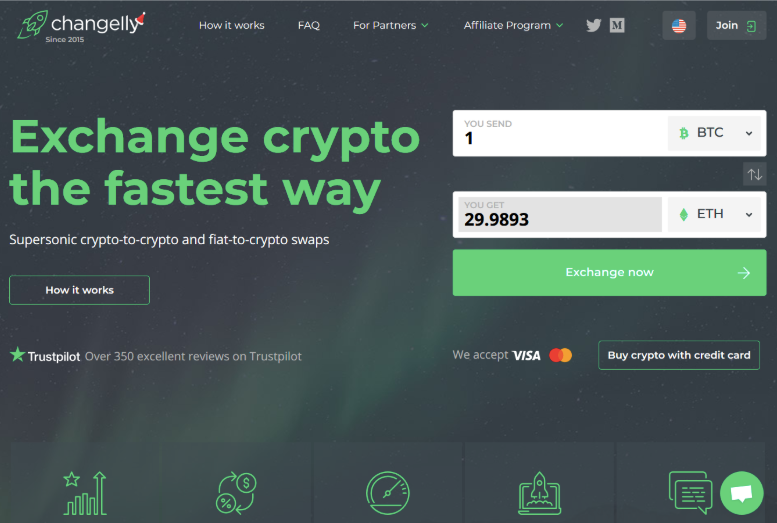 An "instant" international cryptocurrency exchange, Changelly allows its customers to buy Bitcoin (BTC aka XBT), Bitcoin Cash (BCH), Ripple (XRP) and Ethereum (ETH) with USD or EUR. According to their website, Changelly provides the best crypto-to-crypto exchange rates in the business. The company's trading algorithm integrates with the largest cryptocurrency exchange platforms including Bittrex, Binance and Poloniex, among others and publishes the best bids and offers on its site. Deposits get charged a 5% Simplex card processing fee with a $10 minimum and can be made with a Visa or Mastercard.
Coindirect
This exchange consists of a peer-to-peer marketplace similar to localbitcoins.com. Coindirect locates buyers and sellers in the proximity of your IP address or the location you select and publishes pertinent bids and offers in real time. Its website shows the amount of currency (XRP), the name of the buyer or seller, location and payment method, which will usually be bank transfers. Coindirect supports Bitcoin (BTC aka XBT), Ripple (XRP), Ethereum (ETH), EOS.io (EOS), Stellar Lumens (XLM) and Tether (USDT).
CEX.IO
Malta-based CEX.io allows customers to trade nine forex currency pairs, as well as Bitcoin (BTC aka XBT), Bitcoin Cash (BCH), Bitcoin Gold (BTG), Ethereum (ETH), Ripple (XRP), Dash (DASH), Stellar (XLM) and Zcash (ZEC). The company accepts Crypto Capital, Visa/Mastercard, SEPA credit transfers and bank transfers for funding cryptocurrency purchases. CEX.io charges an instant trade fee of 7% and a fee of 3.5% + $0.25 for credit card transactions.
Coinfloor
One of the more popular U.K. exchanges, Coinfloor lets its customers trade a number of cryptocurrencies against several national currencies, including XRP/GBP, LTC/GBP, ETC/GBP, XBT/GBP, XBT/EUR, XBT/USD, BCH/GBP and ETH/GBP. Coinfloor asks for a minimum deposit of £5,000. Deposits can be made with Bitcoin (BTC aka XBT) and Bitcoin Cash (BTH), as well as through bank transfers in EUR, USD or GBP.
Popular Crypto Wallets
Popular wallets commonly used to trade XRP in the U.K. are:
Ledger Nano S
This popular hardware wallet supports more than 40 cryptocurrencies, including Bitcoin (BTC aka XBT), Ethereum (ETH) and Ripple (XRP). The wallet's chip offers a high level of security and was designed to be similar to chips used in passports and credit cards. The Ledger Nano S wallet protects your assets through a PIN code.
Toast
This XRP-specific, cross platform wallet works on Windows, Mac and Linux desktops and laptops, and it has a mobile version for iOS and Android smartphones and tablets. The open-source software is freely distributed by New Zealand-based StarStone Limited.
Atomic
A universal multi-asset desktop wallet, Atomic allows you to buy XRP with EUR or USD, as well as your credit card. In addition to XRP, the wallet supports Bitcoin (BTC aka XBT), Ethereum (ETH), Litecoin (LTC) and more than 300 other coins and tokens using a single interface. Transactions carry a $20,000 limit per transaction.
Bitfi
A wireless hardware wallet, the Bitfi wallet comes in a smartphone-like device and supports an unlimited number of cryptocurrencies and crypto assets. The wallet allows you to manage all of your cryptocurrencies on one dashboard and provides complete security from online and offline security threats.
Coinomi
The Coinomi wallet offers a single platform that supports numerous different cryptocurrency wallets and tokens. The wallet provides native support for as many as 125 blockchains plus 382 tokens for a total of 507 digital assets. Coinomi has a mobile application for iOS and Android devices along with a desktop version. The main advantage of this wallet is its ability to exchange cryptocurrencies at no cost.
Coinpayments.net
This platform was designed for merchants who wish to accept cryptocurrencies as payment and for anyone doing business online. It currently accepts 65 altcoins and services more than 230,000 vendors in 182 countries. Also, Coinpayments.net supports popular shopping carts used by ecommerce stores, such as Opencart, Magento and WooCommerce.
Final Thoughts
Buying Ripple's XRP cryptocurrency in the U.K. is rather easy, but the exchange or broker you select matters the most. Knowing whether you plan to speculate in XRP or enter the market as an investor or spender will determine your best option.
The latter two will generally involve buying a wallet and opening an account at a crypto exchange, while gamblers can open an account with a spread betting firm like Money.co.uk. If your preference is to trade the price of Ripple's XRP actively using leverage, then you can open an account at one of the many online brokers that offer cryptocurrencies on trading platforms such as XTB, for example.