XRP
JOIN THE MOON OR BUST EMAIL LIST
Our team is diligently working to keep up with trends in the crypto markets. Keep up to date on the latest news and up-and-coming coins.
Cryptocurrencies have exploded in popularity all over the world, including in the Middle East. The blockchain payments system has revolutionized the concept of money, and many more people will inevitably begin to either invest in cryptocurrencies and/or actively trade them.
The United Arab Emirates (UAE) is one of the fastest-growing markets for cryptocurrencies in the Middle East. Plans to regulate cryptocurrencies and initial coin offerings (ICOs) by the Securities and Commodities Authority of UAE will begin in the first quarter of 2019. Many international and semi-international exchanges currently accept customers from the UAE.
Buying Ripple's XRP cryptocurrency in the UAE is easy, but what matters most is the broker or exchange you select. The first step consists of opening an account at an exchange that offers XRP. You must also have a crypto wallet specifically for XRP or multiple currencies including XRP to receive and store your cryptocurrency.
Bitcoin continues to rule the market as the best cryptocurrency due to its popularity, liquidity and fungible nature. Nevertheless, interest in the Ripple remittance network and XRP has made it the second largest cryptocurrency with a market capitalization of .7 billion compared to Bitcoin's current market cap of .3 billion. Also, Ripple recently opened a UAE office in Dubai, which will only increase interest in cryptocurrencies in the Emirates.
Overview: Buying Ripple in the UAE
Buying XRP in the UAE entails having access to a cryptocurrency exchange that allows citizens of the UAE to register and that offers the XRP currency. Several local cryptocurrency exchanges currently allow UAE traders to deal in a number of digital currencies.
A number of crypto exchanges and digital currencies currently base their operations in the Emirates due to the low taxation rate, supportive regulatory environment and political stability there. Emiratis dealing in XRP can use these exchanges or they can select among the many international exchanges that accept accounts from individuals based in the Emirates.
Buying Ripple's XRP also involves getting a wallet to withdraw your XRP and to store it in after acquiring the cryptocurrency from an exchange. In the steps for buying XRP listed below, you will find a partial list of exchanges, both local and international, where Emiratis may purchase XRP, as well as a selection of different types of crypto wallets used to store your XRP after purchase.
Another option for trading XRP involves speculating on the movements of the cryptocurrency by using contracts for difference (CFDs). This requires opening an account with an online broker, such as XTB for example, and requires no wallet or exchange account. Keep in mind that you never actually possess the cryptocurrency traded via an online broker and so you cannot use it to pay for goods or services.
How to Buy Ripple in the UAE
Open an Account at a Cryptocurrency Exchange

To purchase XRP in the Emirates, the first order of business consists of finding a suitable cryptocurrency exchange. As mentioned above, several cryptocurrency exchanges base their operations in the Emirates. Below you will find a partial list of cryptocurrency exchanges based in the UAE and internationally that offer XRP and accept accounts from Emiratis.

Get a Cryptocurrency Wallet (optional)

To trade XRP and have full control over your transactions, you must first withdraw your XRP from the exchange or another source to a personal crypto wallet. Wallets come in several forms that let you notify the crypto network that you want to send and receive transactions. You can install a wallet on your home desktop, laptop or tablet, as well as on an Android or iOS smartphone.

You can also use a web-based wallet that does not require a download and lets you access your cryptocurrencies anywhere with an internet connection. If you will be trading XRP, you must either get a multi-currency wallet or one specifically for Ripple.   In addition to the above-mentioned wallets, you can opt for a hardware wallet, which consists of a peripheral device that plugs into a computer like a USB memory stick.

This type of wallet offers increased security.

Withdraw your XRP to Your Wallet

Once you have purchased your XRP on an exchange, you may withdraw the currency to your XRP or multi-currency wallet. You may not want to leave your XRP currency on the exchange where it was purchased since you do not have control of your private keys when storing coins on an exchange. Most experts recommend storing your XRP in a wallet with your own private key.

After you have withdrawn your currency from the exchange to your wallet, you have successfully purchased XRP. Also, Ripple requires a 20-unit reserve fee to hold XRP in a personal wallet.
Best Crypto Exchanges Based in the UAE and Internationally
Below you will find a partial list of cryptocurrency exchanges based in the UAE and internationally that offer XRP and accept accounts from Emiratis.
XTB
Finally, if you want to avoid the expense of a wallet and simply trade CFDs on XRP without taking possession of the cryptocurrency, you can open an account with an online broker like XTB. You can trade cryptocurrency with XYB's xStation 5 platform, and even trade on the ever-popular MetaTrader4 platform.
BitOasis
Founded in 2015 and based in Dubai, BitOasis is one of the largest cryptocurrency exchanges in the Middle East. Supported currencies include Bitcoin (BTC), Ethereum (ETH), Bitcoin Cash (BCH), Bitcoin Cash SV (BSV), Ripple (XRP), Litecoin (LTC), ZCash (ZEC), Monero (XMR), Ethereum Classic (ETC) and Stellar (XLM). The company requires a minimum deposit of 300 AED that you can make via bank transfer:
Palmex
Established in 2018 and based in Dubai, Palmex is one of the Middle East's newest exchanges. It offers trading in a variety of altcoins against several other cryptocurrencies, including DubaiCoin (DBIX), Bitcoin (BTC), Ethereum (ETC) and Ripple (XRP). The platform boasts the highest security standards and minimal trading fees. The company does not accept fiat currency for deposit, so you must open an account with bitcoins or other accepted cryptocurrencies.
BC Bitcoin
A UK-based cryptocurrency exchange that accepts clients from the Emirates, BC Bitcoin focuses on fast deposits and withdrawals and provides excellent customer service. Supported currencies include Bitcoin (BTC), Ethereum (ETC), Ripple (XRP), Litecoin (LTC) and Monero (XRM), among others.
A minimum deposit of £500 is required and can be made via SEPA credit or a bank transfer. Prospective clients are charged a deposit fee of $10, €10 or £10, depending on your deposit currency.
Bitfinex
Taipei-based Bitfinex allows trading in a number of cryptocurrencies and supports a number of professional trading features, such as margin trading. Supported currencies include Bitcoin (BTC), Ethereum (ETC), Ripple (XRP), Litecoin (LTC) and Monero (XRM) to name only a few. Customers make deposits and withdrawals using bank transfers.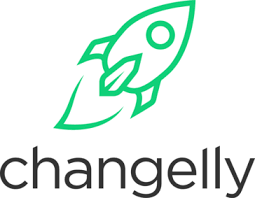 Best For
Instant exchanges
Changelly
A so-called "instant" international cryptocurrency exchange, Changelly allows its customers to buy Bitcoin (BTC), Bitcoin Cash (BCH), Ripple (XRP) and Ethereum (ETH) with USD or EUR. According to the website, it provides the best crypto-to-crypto exchange rates in the business.
The company's trading algorithm integrates with the largest cryptocurrency exchange platforms, including Bittrex, Binance and Poloniex, among others. Deposits get charged a 5% Simplex card processing fee with a $10 minimum and can be made with a Visa or Mastercard credit card. A screenshot of Changelly's home page appears below:
CEX.IO
CEX.io accepts customers from all over the world, including the Emirates. In addition to supporting cryptocurrency trading, this exchange allows customers to trade nine forex currency pairs as well. The company accepts Crypto Capital, Visa/Mastercard, SEPA credit transfers and bank transfers for funding cryptocurrency purchases. The company charges an instant trade fee of 7% and a fee of 3.5% + $0.25 for credit card transactions.
Best Crypto Wallets
Popular wallets commonly used to trade XRP in the UAE are:
Ledger Nano S
One of the most popular hardware wallets available, Ledger Nano S supports more than 40 cryptocurrencies, including Bitcoin (BTC), Ethereum (ETH) and Ripple (XRP). Built around a chip similar to those used in passports and credit cards, the Ledger Nano S wallet protects your assets through a PIN code.
Toast
This cross-platform open-source XRP-specific wallet works on Windows, Mac and Linux desktop computers and tablets. A mobile version is available for iOS and Android. Due to its open-source nature, New Zealand-based StarStone Limited distributes Toast free of charge.
Atomic
The universal multi-asset Atomic desktop wallet allows you to purchase XRP with USD or EUR using your credit card. In addition to XRP, the wallet supports Bitcoin (BTC), Ethereum (ETH), Litecoin (LTC) and more than 300 other coins and tokens using a single interface. Transactions carry a $20,000 limit per transaction.
Bitfi
A completely wireless hardware wallet, the Bitfi wallet comes in a smartphone-like device and supports an unlimited number of cryptocurrencies and crypto assets. The wallet provides total security from online and offline security threats and allows you to manage all of your cryptocurrencies on one dashboard.
Final Thoughts
Your selection of an exchange or broker can make a big difference when you deal in cryptocurrencies. Decide whether you'd like to trade XRP in an online brokerage account or if you want to take possession of the currency.
That will determine whether you should get a wallet and acquire the currency or open an online trading account with a broker.
Either way, make sure you have some knowledge of how to trade cryptocurrency before you begin. If you choose to go through an exchange, you can use one based in the Emirates that supports XRP or open an account at an international exchange. Emirate based cryptocurrency traders can take advantage of XTB's sophisticated xStation 5 platform and can also use the MetaTrader4 platform by Metaquotes for transactions and market analysis.
Related content: How To Buy Ripple in South Africa