Benzinga Money is a reader-supported publication. We may earn a commission when you click on links in this article.
Learn more.
The Philippines benefits from having an emerging nation status as a Southeast Asian country. It also has a growing number of people interested in trading currencies, so quite a few online brokers will now accept clients from the country.
If you're based in the Philippines and would like to trade forex, you should know that the Philippines' Securities and Exchange Commission (SEC) has taken a rather adversarial stance against forex trading due to reports of fraud and heavy losses by retail traders. In fact, the SEC has issued 2 advisories in recent years stating forex trading is illegal to discourage private individuals from trading currencies and local brokers from engaging in the forex business.
Forex trading may not be strictly legal in the Philippines, so you probably can't find a local broker that will let you trade currencies. Despite that, you might still find an international online broker based outside the Philippines to trade forex.
Get Started with Forex in the Philippines
Getting started trading currencies in the forex market is relatively easy, although adverse regulations in the Philippines make things a bit more complicated for residents of that country. Here's the basic set of steps you'll need to take to make an initial forex trade:
Step 1: Obtain an internet-connected device.
Step 2: Find an online forex broker that takes clients from the Philippines.
Step 3: Fund an account with an online payment service that the broker accepts.
Step 4: Open a margin account and deposit funds using that payment service.
Step 5: Download a forex trading platform you can use with that broker.
Step 6: Make your first trade.
The Philippines Forex Trading Strategies
Once you go through the 6 steps outlined in the previous section, you will have a funded margin account with a broker that allows you to trade forex from the Philippines. You'll probably want to develop a trading strategy to incorporate into your trading plan to increase your chances of success.
You can find 5 popular trading strategies listed below that can be suitable for retail traders no matter whether they are trading from the Philippines or elsewhere in the world.
Scalping: Trading at a high volume and very short-term that involves entering and exiting the market quickly to capture a few pips at a time.
Day trading: Entering and exiting transactions during a single trading session to avoid the extra risk involved in taking overnight positions. Trading decisions are often based on technical analysis.
News trading: Using strategies that take advantage of the extreme exchange rate volatility that occurs shortly after the release of important news or economic data.
Swing trading: Entering and exiting the market usually based on momentum technical indicators with the general objective of buying low and selling high. Swing traders can also take positions overnight.
Trend trading: Involving a longer-term strategy that looks for established directional movements called trends and then trading along with them until the trend concludes.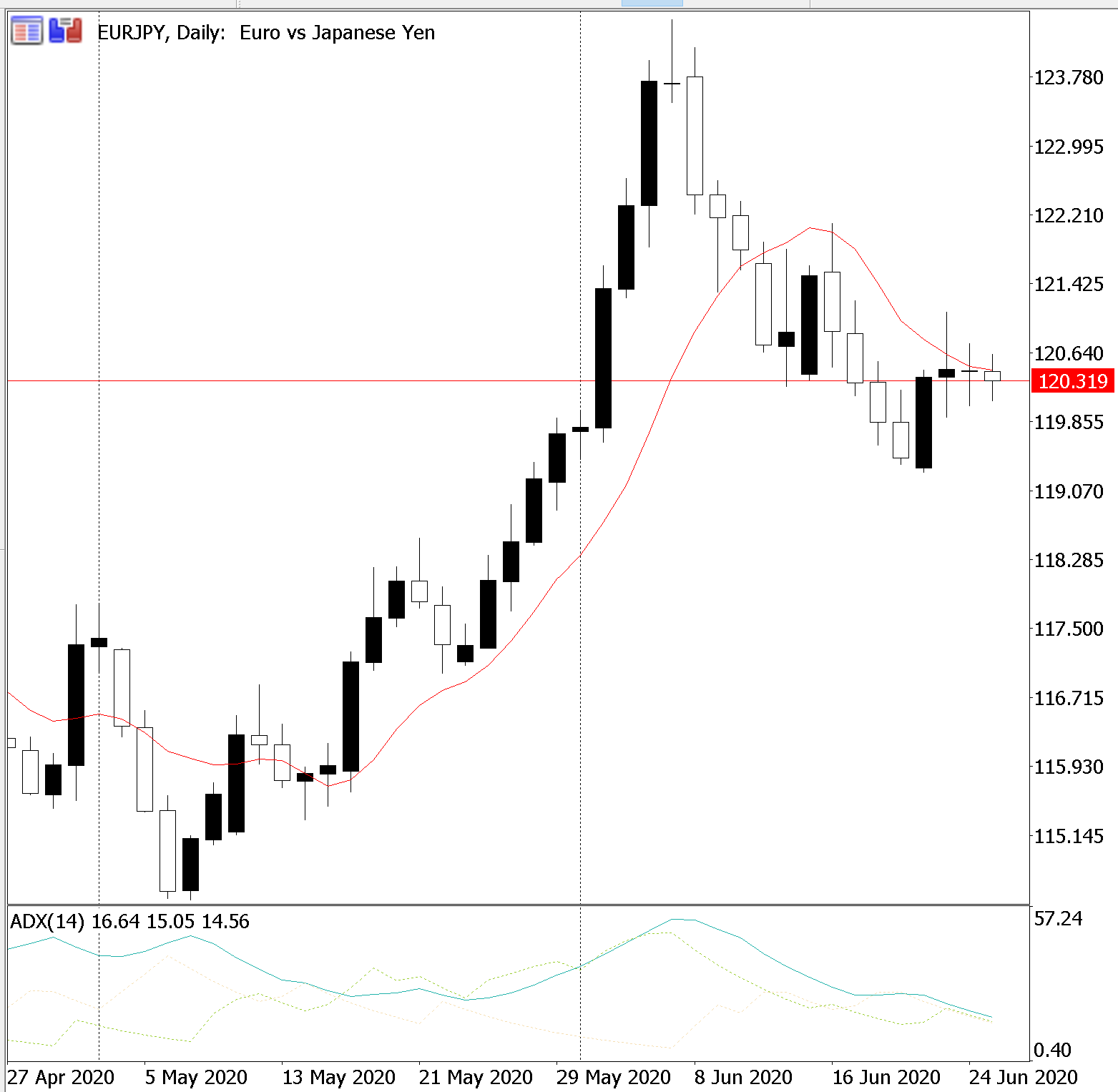 An upward trend in the EUR/JPY currency pair from 114.41 to 124.43 that a trend trader could have profited from. The daily candlestick chart also shows the 10-day moving average and 14-day ADX trend indicators. Source: MetaTrader.
Forex Trading Example in the Philippines
The national currency of the Philippines is the Philippine peso or piso (ISO: PHP). It has the symbol ₱ and ranks 30th in turnover within the forex market among the currencies of the world in April 2019, according to the Bank for International Settlements (BIS). A current quote for the USD/PHP exchange rate is 50 pesos to 1 U.S. dollar.
If you thought the USD/PHP rate was going to rise from its current level, then you might purchase $100,000 against the Philippine peso today at that exchange rate of 50.00. If the USD/PHP rate then subsequently rose to 51.00, you would use the following calculation to determine your trading gains:

100,000 USD x (51.00-50.00 PHP/USD) = 100,000 PHP
To convert that amount of Philippine pesos profit into U.S. dollars, you need to perform the following calculation:
100,000 PHP ÷ 51.00 PHP/USD = 1,960.78 USD
Alternatively, if the USD/PHP market had instead fallen to 49.00, your trading loss would be:
100,000 USD x (49.00-50.00 PHP/USD) = -100,000 PHP
Your loss converted into U.S. dollars at a USD/PHP exchange rate of 49.00 would be:
-100,000 PHP ÷ 49.00 PHP/USD = -2,040.82 USD
Making Money with Forex in the Philippines
If you can come up with a consistently profitable strategy to implement in your trading plan that you can stick to within the requirements, you should be able to make money trading forex in the Philippines.
The key element to your success consists of formulating a profitable trading strategy. Most successful trading plans include objective trading criteria, risk/reward analysis and sound money management principles. Also, keep in mind that many strategies do not make money regularly over time due to changing market conditions, even if they might work well for a while.
Best Online Forex Brokers in the Philippines
To trade currencies locally in the Philippines, you will need special authorization, a substantial sum of money and a bank to trade currencies with. That tends to rule out most retail traders, but various online forex brokers based outside the country still accept Philippines-based clients, so you can consider that alternative if you have a smaller sum to trade.
For example, international brokers like FOREX.com, IG and Interactive Brokers have been known to accept clients from the Philippines. If you meet a particular broker's requirements, you may be able to open an account and use PayPal or Skrill online payment services to fund your margin account.
Due to the questionable legality of forex trading in the Philippines, be aware that it could pose a risk to use credit cards or bank wire transfers as a margin deposit method from the Philippines. Your forex broker should advise you about that.
Forex Terminology
Like many professions that have evolved their own jargon, forex traders use unique terminology you will probably want to learn before starting to trade. These include the following terms:
Pip: Stands for point in percentage and represents the smallest amount that a currency pair's exchange rate quotation can change.
Lot size: Standard lot size is 100,000 base currency units.
Orders: Instructions given to your broker to execute transactions on your behalf. Various order types exist, such as limit, stop loss, take profit and market orders.
Margin calls: These happen when your trading account requires more funding for you to hold your existing positions.
Does Trading Forex in the Philippines Make Sense?
Given the unfavorable local regulatory environment imposed by the Philippines' SEC, you might want to think twice about trading forex from the Philippines. Although some retail forex traders have been able to make margin account deposits using online payment services, you really never know when that loophole might close.
You would therefore probably be taking an extra risk by opening a forex trading account with an international broker to trade in from the Philippines. Since trading any financial market requires you to take at least some risk, that might be an additional risk you feel ready to take in order to have the opportunity to trade currencies.
If so, all you need to do is contact an international forex broker that takes clients from the Philippines and follow the necessary steps outlined above to open and fund an account with the broker you select.
FAQs
Q: Can I lose more than I invest in forex?
Not usually. Your broker will not allow you to lose more than you have in your trading account. If you hold a losing position, it will simply close your account balance when it gets close to $0. In rare cases, a slippage or significant price gap may put the trader's balance into negative territory.
Q: What is margin?
Margin is money you need to have in the account with your broker to secure your open position. Different brokers require a different amount of margin to keep your positions open.
Get a Forex Pro on Your Side
Ready to tackle the global currency markets? IG's award-winning services and technology gives you access to forex trading with leverage at low spreads so you can access rising and falling markets. Tap into fast execution on a huge range of markets, flexible access to more than 80 global markets, with reliable execution and an award-winning trading app. If you're ready to achieve with a truly market-leading service, add IG to your team.
Looking for a Highly Rated Forex Signals Provider?
ForexSignals.com offers a highly rated platform with mentors who have 80 years of combined experience in the trading pits. They'll help you decode real-time daily live streams using market analysis, trade signals and more. ForexSignals.com doesn't stop there. You can access hundreds of educational videos and workshops and even individualized private sessions with mentors. Never trade alone! Join ForexSignals.com now.
Benzinga's #1 Breakout Stock Every Month
Looking for stocks that are about to breakout for gains of 10%, 15%, even 20% potentially or more? The only problem is finding these stocks takes hours per day. Fortunately, Benzinga's Breakout Opportunity Newsletter that could potentially break out each and every month. You can today with this special offer:
Hire a Pro: Compare Financial Advisors In Your Area
Finding the right financial advisor that fits your needs doesn't have to be hard. SmartAsset's free tool matches you with fiduciary financial advisors in your area in 5 minutes. Each advisor has been vetted by SmartAsset and is legally bound to act in your best interests. If you're ready to be matched with local advisors that will help you achieve your financial goals, get started now.