Benzinga Money is a reader-supported publication. We may earn a commission when you click on links in this article.
Learn more.
Kuwait is a tiny country in the Persian Gulf that unfortunately rose to global prominence in the early 1990s when Saddam Hussein and Iraq invaded and occupied the country. U.S. forces eventually ousted Saddam in 1991 and the tiny Arabian nation has had plenty of growth and economic stability ever since.
Kuwait is one of the wealthiest nations in the Middle East thanks to its deep oil reserves, valuable currency and strong financial sector. The Kuwait stock exchange is home to some successful firms like Yianco Medical and Al-Madar Finance and Investment Company. The Kuwaiti dinar is one of the most expensive currencies in the developed world, too, but it's difficult to find at most forex brokers. That doesn't mean currency trading isn't available for Kuwaiti citizens.
Despite its location in the heart of the Arabian territory, Kuwait has plenty of financial institutions and regulations that aren't beholden to Sharia law. Islamic accounts are available at most banks and brokerage houses, but regular trading accounts are also readily available.
Looking to get started with forex trading in Kuwait? Here's what you need to know.
Get Started with Forex in Kuwait
A forex trading career can get started as long as you have 3 key things — capital, access to the internet and a reliable broker. That's it! Thanks to online brokers, forex trading can be done 24 hours per day weekdays (Sunday afternoon through Friday afternoon EST) from anywhere in the world. To get started trading forex in Kuwait, follow these steps:
1. Get online
You don't need a high-tech trading operation to have success in the forex market. All you need is Wi-Fi and a device to connect to your broker of choice. Most forex brokers have a desktop, web browser and mobile app platforms for trading, so you can trade currencies from your laptop or iPhone, among other choices.
2. Choose a suitable online forex broker
Your next step is finding an online forex broker that fits your needs and trading style. And there's no shortage of options here. Online forex brokers like FOREX.com and OANDA have wide varieties of forex pairs to trade, while other brokers like eToro and Pepperstone have derivatives contracts and cryptocurrencies along with forex trading. Just make sure the broker is licensed with a reputable regulatory agency before attempting to create an account — and make sure they have a relationship with at least 1 financial regulatory agency.
3. Open an account
Once you select a broker, you'll need to choose an account type. Forex trading accounts are often split into commission and noncommission types. The commission accounts often come with the benefit of low spreads and faster trading. Pick the account type that works best for you.
4. Fund your account
Trading requires capital so before you can swap currencies, you'll need to put funds into your newly-opened account. One benefit of forex trading is the leverage allowed — sometimes as high as 500:1. But remember, with great leverage comes the potential for greater losses.
5. Download a trading platform
Forex brokers usually offer a few different platforms for trading, which is why a demo account is always a good starting point for testing out platforms. Most brokers offer the powerful MetaTrader platform, where you can create automated trading strategies.
6. Make your first trade
After you've got your account funded and platform set up, it's time to execute a trade. Consult your trading strategies and select a currency pair for trading. If you don't know any good forex trading strategies, you'll find some in the following section.
Kuwait Forex Trading Strategies
Forex trading is a different animal than trading stocks or bonds, but commonalities do exist. Despite the fact that major currency pairs typically exhibit lower volatility than blue chip stocks, currencies often follow some of the same patterns and trends that stocks do.
The following are successful forex trading strategies: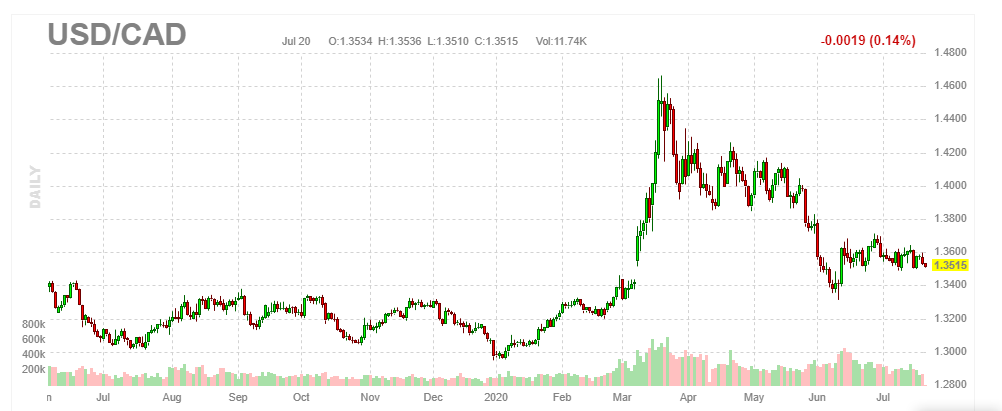 Source: FinViz
One of the cornerstones of technical trading is the idea of support and resistance. Thankfully, these concepts carry over into the world of forex trading as well. Currency traders often have success buying at support levels and selling at resistance levels.
Source: FinViz
When using the position trading strategy in forex markets, you'll need to practice patience. Position traders take large, long-term positions based on macroeconomic trends and data projections. While many traders like to take advantage of the 24-hour forex trading cycle, position traders are more like the buy-and-hold stock investors on the equity side.
Forex Trading Example in Kuwait
Despite its relative value, finding a forex broker that offers the Kuwaiti dinar is difficult. Even brokers like FOREX.com with 80 different currency pairs don't allow you to trade Kuwaiti dinars. However, just because dinars are unavailable doesn't mean Kuwaiti citizens can't trade forex. Here's a trading example:
Let's say you think the economic situation in Europe will improve before the United States does due to lingering coronavirus issues. You predict the euro will increase in value while the U.S. dollar declines. In this scenario, you'd want to buy euros and sell U.S. dollars, which means trading the currency pair EUR/USD.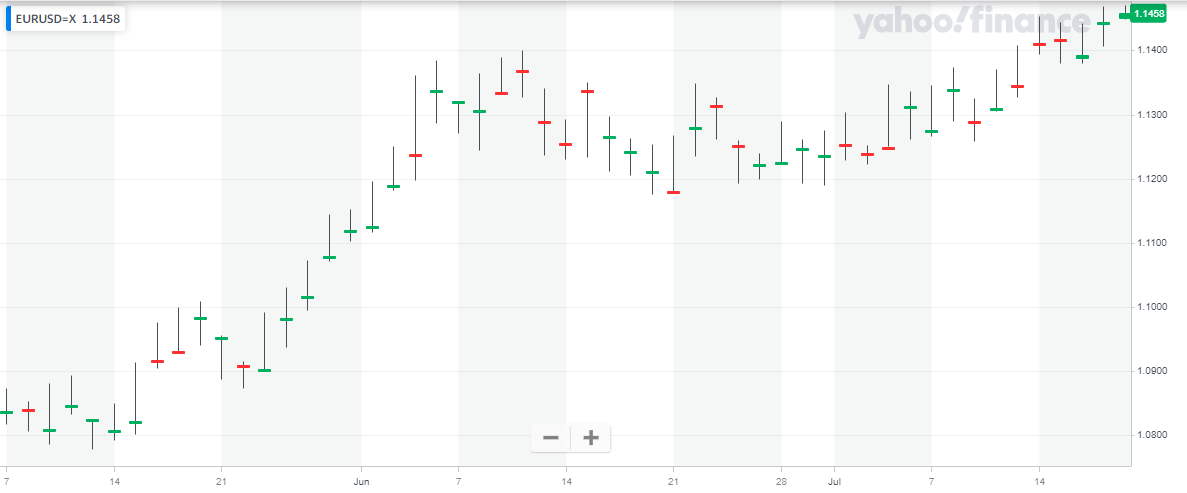 Source: Yahoo Finance
Currently, 1 euro is worth 1.17 U.S. dollars. If you purchase EUR/USD and the euro continues to advance, you'll be rewarded for every fraction of a cent thanks to the leverage used in forex trading. At 500:1 leverage, if the dollar declines a few pennies, you'll still receive amplified gains for your trade.
Making Money with Forex in Kuwait
Making money with forex trading is possible, but it's important to understand how it differs from other types of securities like stocks and bonds. Currency moves may look small compared to other asset classes, but don't get overconfident. High leverage is commonplace in forex trading, and with the markets' available hours, plenty of opportunities will present themselves. Just remember to be cautious with leverage and never trade recklessly. Using leverage can be a way to find yourself completely depleted of capital.
Best Online Forex Brokers in Kuwait
Here's a list of the best forex brokers currently available for residents of Kuwait.
Account Minimum
100 of your selected base currency
Account Minimum
100 of your selected base currency
1 Minute Review
FOREX.com is a one-stop-shop for forex traders. With a massive range of tradable currencies, low account minimums and an impressive trading platform, FOREX.com is an excellent choice for brokers searching for a home base for their currency trading. New traders and seasoned veterans alike will love FOREX.com's extensive education and research center that provides free, informative forex trading courses at multiple skill levels. While FOREX.com is impressive, remember that it isn't a standard broker. You can't invest in the stock or bond market through your FOREX.com and you cannot open an account with tax advantages. The confusing pricing and margin structures may also be overwhelming for new forex traders.
Best For
MetaTrader 4 users
Beginner forex traders
Active forex traders
Pros
Impressive, easy-to-navigate platform
Wide range of education and research tools
Access to over 80 currencies to buy and sell
Leverage available up to 50:1
Cons
Cannot buy and sell other securities (like stocks and bonds)
Confusing margin requirements that vary by currency
Limited customer support options
Cannot open an IRA or other retirement account
Account Minimum
$100 USD (or equivalent)
Account Minimum
$100 USD (or equivalent)
1 Minute Review
HYCM is 1 of the world's leading forex brokers, offering investors access to over 69 unique currency pairs. However, forex isn't the only thing the broker offers — HYCM also offers high rates of leverage, stock and ETF trading, commodity investing and much more. Getting started with HYCM is quick and easy, and most investors can open an account in as little as 10 minutes.
HYCM offers a varying fee structure, which allows investors to choose the spread option that's best for them. A wide range of educational and investing tools are available, which can be equally beneficial to both experienced and novice traders. Though HYCM isn't currently available in the United States, it can be a great choice for residents of the other 140 countries where it offers service. 
Best For
Investors who want a customizable fee schedule
Traders comfortable using the MetaTrader platform
Islamic traders who need swap-free accounts that don't build interest
Pros
Wide range of currency pairs available
Excellent selection of educational tools
$0 deposit and withdrawal fees
Cons
Not currently available to traders based in the U.S.
1 Minute Review
Though Australian and British traders might know eToro for its easy stock and mobile trading, the broker is now expanding into the United States with cryptocurrency trading. U.S. traders can begin buying and selling both major cryptocurrencies (like Bitcoin and Ethereum) as well as smaller names (like Tron Coin and Stellar Lumens).
eToro offers traders the opportunity to invest their assets into premade portfolios or cryptocurrencies, similar to services offered by robo-advisors through traditional brokers. Though eToro isn't a one-stop-shop for everything an investor needs, its easy-to-use platform and low spreads is a great way to enter the cryptocurrency market.
Best For
International Forex/CFD Traders
New cryptocurrency traders looking for an easy-to-use platform
Traders who want to buy and sell cryptocurrencies on-the-go
Pros
Simple platform that is easy to master
CopyTrader feature that allows new traders to copy the same strategies used by professionals
Virtual dummy account that gives you $100,000 to practice trades
Cons
U.S. traders currently limited to cryptocurrencies
Only 15 major coins available to trade
Forex Terminology
Forex trading has a lot of its own lingo that doesn't carry over to other assets. You'll see the following terms thrown around a lot in currency trading circles.
Pip: A pip is the most basic unit of measurement when evaluating changes in currency exchange rates. The size of a pip changes depending on the currency pair and is usually measured to the 4th decimal point (0.0001).
Lot size: Usually 100,000 base currency units, the lot size is the standardized amount of currency you buy when you make a forex trade. Since currency moves are so small, you need to buy a lot of currency units to make money. Sizes smaller than 100,000 are available at some brokers (like mini lots of 10,000 units).
Orders: Just like stocks, forex trading has different order types, including market and limit orders. A market order executes a trade immediately at the best available rate; a limit order holds until a specific rate is reached.
Calls: In some instances, currency trading can be done using options, like calls and puts. A call option is purchased if the buyer thinks the underlying currency pair's exchange rate will rise. A put option might be purchased if the buyer thinks the market will decline.
Kuwait and Currency Trading
Like most firms operating in Middle Eastern countries, brokers open to Kuwaiti residents offer a variety of currency trading vehicles, including products unavailable in the U.S., like contracts for differences. While trading Kuwaiti dinars can be difficult, forex trading in the country is legal. Kuwaiti citizens can access online forex brokers regulated by agencies like the Financial Conduct Authority (FCA). Forex trading comes with risk due to the outsized leverage, but the markets are usually stable and currencies offer opportunities that stocks and bonds can't supply.
Benzinga's #1 Breakout Stock Every Month
Looking for stocks that are about to breakout for gains of 10%, 15%, even 20% potentially or more? The only problem is finding these stocks takes hours per day. Fortunately, Benzinga's Breakout Opportunity Newsletter that could potentially break out each and every month. You can today with this special offer:
Hire a Pro: Compare Financial Advisors In Your Area
Finding the right financial advisor that fits your needs doesn't have to be hard. SmartAsset's free tool matches you with fiduciary financial advisors in your area in 5 minutes. Each advisor has been vetted by SmartAsset and is legally bound to act in your best interests. If you're ready to be matched with local advisors that will help you achieve your financial goals, get started now.