Benzinga Money is a reader-supported publication. We may earn a commission when you click on links in this article.
Learn more.
Bahrainis have been able to trade in the forex market since 2011 when Bahrain initially allowed online forex trading. As currency trading has grown in popularity in Bahrain, more forex brokers are now accepting clients from the country. Many also offer Islamic accounts and interest-free trading for Muslims who wish to comply with Sharia law.
If you've decided to trade forex from Bahrain, your first step would be to find a dependable online forex broker. Before you start trading with real money, ensure that you've either developed a viable trading strategy or are using a social trading platform so that you can copy a successful trader's transactions into your forex trading account.
Get Started with Forex in Bahrain
It's relatively easy to start trading forex in Bahrain. Just follow the steps listed below to open a trading account so you can trade forex online:
Get a modern device like a smartphone, computer or tablet that can connect to the internet.
Find out which online forex brokers accept clients from Bahrain.
Apply and open a margin account with your preferred broker.
Make an initial deposit in that account via a payment method accepted by the broker.
Download the broker's proprietary trading platform or a trading platform that the broker supports.
Place an order to make your first trade.
Once you've completed these initial steps, you'll have a funded trading account with an online forex broker so that you can begin trading in the forex market from Bahrain.
Bahrain Forex Trading Strategies
After completing the steps above, your next step would be to develop a profitable trading strategy that you can incorporate into an overall trading plan. The type of strategy you decide on will reflect your level of experience, your personality and the amount of time you have to devote to trading.
Forex traders use one or more of several time-proven strategies that have yielded positive results for many people. They tend to fall into the following 5 categories:
Trend trading: This strategy involves identifying a long-term direction in exchange rates and establishing a position to profit from the move. Following these extended directional movements means the trader often takes positions overnight that they ultimately liquidate at the end of the trend.
Day trading: Day traders limit all of their transactions to a single trading session, so they liquidate all positions at the end of the day. Since the forex market stays open 24 hours a day from Sunday evening to Friday evening EST, day traders need to select a particular trading session to operate in. Closing out positions before the session ends allows them to avoid the added risk of holding positions overnight.
Swing trading: Swing traders take advantage of exchange rate moves using momentum technical indicators to signal when to initiate positions. Since the strategy lacks time constraints, swing traders sometimes take overnight positions.
Scalping: The goal of using this short-term trading strategy is to profit from short-term market fluctuations. A scalper enters and exits the market repeatedly to capture profits a few pips at a time.
News trading: A news trader observes the economic calendar and geopolitical news for important events that stimulate volatility in the market they can take advantage of.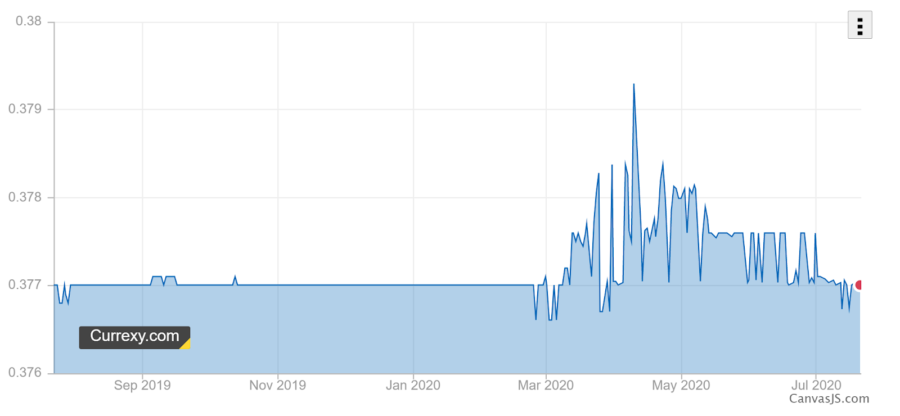 This 1-year chart displays a 0.376–0.379 trading range from August 2019 to July 2020 in the USD/BHD currency pair that a swing trader could have profited from. Source: Currexy.com.
Forex Trading Example in Bahrain
Bahrain's national currency is the Bahraini dinar (BHD) with the symbol BD and the Arabic symbol .د. The dinar is further divided into 1,000 fils and issued by the Central Bank of Bahrain (CBB). The Bahrain dinar has been pegged to the International Monetary Fund's (IMF) special drawing rights at a rate of 0.376 dinar to 1 U.S. dollar since 1980.
Since the Bahraini dinar has a firm peg against the U.S. dollar, the currency's turnover in the forex market was only $2 billion in April 2019, according to the Bank for International Settlements (BIS). To put that amount into perspective, the U.S. dollar had a turnover of over $1.37 trillion in the same period.
Since the Bahraini dinar is pegged to the dollar, a rather tight trading range of 0.376–0.379 was observed over the last year, as the chart in the previous section shows. A recent quote for the USD/BHD exchange rate was 0.377 Bahraini dinar to 1 U.S. dollar, which is closer to the bottom of that range.
To take advantage of this ranging market, you could purchase 100,000 U.S. dollars versus the Bahraini dinar at the current 0.377 exchange rate thinking the USD/BHD exchange rate will rise. If it then increased to 0.379, you could calculate your trading profits shown below:
100,000 USD x (0.379 – 0.377 BHD/USD) = 200 BHD
To subsequently convert that sum of Bahraini dinar profit to U.S. dollars, you could perform the following calculation:
200 BHD ÷ 0.379 BHD/USD = 527.70 USD
Alternatively, if the USD/BHD exchange rate instead declined to 0.376, then you could compute your trading loss as follows:
100,000 USD x (0.376-0.377 BHD/USD) = -100 BHD
You could then convert that loss into U.S. dollars at the USD/BHD exchange rate of 0.376 as follows:
-100 BHD ÷ 0.376 BHD/USD = -265.96 USD
Making Money with Forex in Bahrain
To make money trading forex over time from Bahrain — or from anywhere else for that matter — you will want to develop a viable trading plan. In general, your plan should include a profitable trading strategy, position sizing guidelines and a money management component to increase your chances of success.
Brokers that accept clients from Bahrain allow traders to leverage positions by as much as 500:1, so you can control large forex positions with a relatively small amount of money. Be aware that leverage can be a double-edged sword since losses are magnified as much as profits.
Even though developing a trading plan entails some work, the rewards of having a good plan you can stick to can make that effort very worthwhile. Alternatively, you could copy another successful trader's transactions via a social trading network. Keep in mind that whatever strategy you develop may yield diminishing results over time because of constantly changing market conditions.
Best Online Forex Brokers in Bahrain
Bahraini residents have a wide selection of brokers regulated in other jurisdictions that will accept them as clients. The CBB recommends that you choose a Tier 1 regulated broker that has oversight from a major regulating organization such as the UK Financial Conduct Authority (FCA), the Australian Securities and Investment Commission (ASIC) or an EU-based broker operating under the EU's Markets in Financial Directive II (MiFID II) regulations.
Many top brokers provide a broad range of educational resources that you can access online. The list of well-regulated forex brokers below can help you choose the best online broker available to Bahraini traders based on your individual needs.
1 Minute Review
A fully regulated broker with a presence in Europe, South Africa, the Middle East, British Virgin Islands, Australia and Japan, Avatrade deals with mainly forex and CFDs on stocks, commodities, indexes, forex, cryptocurrencies, etc. This brokerage is headquartered in Dublin, Ireland and began offering its services in 2006. It offers multiple trading platforms and earns mainly through spreads.
Best For
Beginners
Advanced traders
Traders looking for a well-diversified portfolio
Pros
Controlled by regulatory agencies of multiple countries
Choice offered in terms of trading platforms
Support available in 14 languages and trading platforms in 20 languages
Practice/demo account available for trying out
Breadth of trading assets
Cons
Does not accept customers from the U.S. as it isn't regulated in the U.S.
Transferring funds to the account may take up to five days; withdrawals could take up to 10 days
1 Minute Review
Though Australian and British traders might know eToro for its easy stock and mobile trading, the broker is now expanding into the United States with cryptocurrency trading. U.S. traders can begin buying and selling both major cryptocurrencies (like Bitcoin and Ethereum) as well as smaller names (like Tron Coin and Stellar Lumens).
eToro offers traders the opportunity to invest their assets into premade portfolios or cryptocurrencies, similar to services offered by robo-advisors through traditional brokers. Though eToro isn't a one-stop-shop for everything an investor needs, its easy-to-use platform and low spreads is a great way to enter the cryptocurrency market.
Best For
International Forex/CFD Traders
New cryptocurrency traders looking for an easy-to-use platform
Traders who want to buy and sell cryptocurrencies on-the-go
Pros
Simple platform that is easy to master
CopyTrader feature that allows new traders to copy the same strategies used by professionals
Virtual dummy account that gives you $100,000 to practice trades
Cons
U.S. traders currently limited to cryptocurrencies
Only 15 major coins available to trade
Account Minimum
100 of your selected base currency
Account Minimum
100 of your selected base currency
1 Minute Review
FOREX.com is a one-stop-shop for forex traders. With a massive range of tradable currencies, low account minimums and an impressive trading platform, FOREX.com is an excellent choice for brokers searching for a home base for their currency trading. New traders and seasoned veterans alike will love FOREX.com's extensive education and research center that provides free, informative forex trading courses at multiple skill levels. While FOREX.com is impressive, remember that it isn't a standard broker. You can't invest in the stock or bond market through your FOREX.com and you cannot open an account with tax advantages. The confusing pricing and margin structures may also be overwhelming for new forex traders.
Best For
MetaTrader 4 users
Beginner forex traders
Active forex traders
Pros
Impressive, easy-to-navigate platform
Wide range of education and research tools
Access to over 80 currencies to buy and sell
Leverage available up to 50:1
Cons
Cannot buy and sell other securities (like stocks and bonds)
Confusing margin requirements that vary by currency
Limited customer support options
Cannot open an IRA or other retirement account
Forex Terminology
As in any specialized industry, forex traders have developed their own terminology to describe some of the features of the market. You should familiarize yourself with these terms before you begin trading:
Orders: Instructions given to your broker to execute transactions on your behalf. The most common order types include limit, market, take profit and stop-loss orders.
Pip: Stands for "point in percentage" and represents the smallest exchange movement for a particular currency pair.
Lot size: A standardized trading amount. While a standard forex lot consists of 100,000 base currency units, forex brokers often allow you to trade in smaller increments known as mini lots (10,000 units) and micro lots (1,000 units).
Margin call: The action taken by a broker when the amount of funds in your account is insufficient to maintain your trading positions. When that situation occurs, the broker can issue a notice for you to deposit more funds to continue to hold the position. Some brokers will automatically liquidate positions in an account when insufficient margin remains to cover them.
Is Trading Forex from Bahrain for You?
To achieve success as a forex trader, you'll need knowledge of the market, a profitable trading plan with a viable strategy and the discipline to follow your plan. If you can meet all of these requirements, you have a much better chance of becoming a successful forex trader.
When selecting a broker, make sure that the broker has oversight from a major financial regulator like the agencies cited above. Start out by reviewing our recommended brokers to begin trading in the forex market from Bahrain today. 
Benzinga's #1 Breakout Stock Every Month
Looking for stocks that are about to breakout for gains of 10%, 15%, even 20% potentially or more? The only problem is finding these stocks takes hours per day. Fortunately, Benzinga's Breakout Opportunity Newsletter that could potentially break out each and every month. You can today with this special offer:
Hire a Pro: Compare Financial Advisors In Your Area
Finding the right financial advisor that fits your needs doesn't have to be hard. SmartAsset's free tool matches you with fiduciary financial advisors in your area in 5 minutes. Each advisor has been vetted by SmartAsset and is legally bound to act in your best interests. If you're ready to be matched with local advisors that will help you achieve your financial goals, get started now.