Want to jump straight to the answer? The best mortgage lender for most people is definitely Rocket Mortgage® and New American Funding.
Ready to buy your first home? Have you learned everything you can about how to save for a house?
Once you've determined the type and location of home you want to buy, you don't want to miss out on finding a reliable mortgage lender that can offer you preapproval. Here's how to take the next step and find the right lender for you.
Best Mortgage Lenders for First Time Homebuyers
You might be eager to start house shopping but it's important you take your time finding a lender. An FHA loan may be a better option for you, but some lenders only offer conventional loans. Here are the best mortgage lenders for first time homebuyers.
Avg. Days to Close Loan
31-40
Minimum Credit Score
680+
1. New American Funding
New American Funding offers conventional, proprietary and government-backed mortgages. Its variety of mortgage options make it worth checking out, especially if you have unique financial needs. It also offers options for refinancing and tapping into your home equity. Its products aren't available to New York or Hawaii residents.
New American Funding is a good choice for self-employed borrowers. It allows you to use bank statements to verify your income instead of trying to qualify with tax returns, W-2s or pay stubs, which you might not have with a fluctuating or lump-sum income.
New American Funding follows a standard closing process, meaning the time to close will depend on the client and loan type. You can choose to start with a prequalification or preapproval. Prequalification doesn't involve verifying your income. Preapproval means underwriters have reviewed your income and assets and are reasonably confident you will qualify for a home loan.
Best For
Military Personnel
2. North American Savings Bank
Founded in 1927, North American Savings Bank is headquartered in Kansas City, offering a wide range of banking options. You can easily scroll to the bottom of the homepage and read more about home loans or apply for a loan.
While you can refinance, NASB makes it easy for first-time home buyer to access the financing they require with an online application and underwriting process. You can watch video about home loans, learn about each and every loan officer, use the proprietary mortgage calculator, check mortgage rates or call the bank directly for more information.
You can apply for conventional, FHA, VA, jumbo and IRA residential loans. Plus, you might simplify your banking by opening a checking or savings account with the bank so that the majority of your finances are managed in one place.
Loans are available in all 50 states and the District of Columbia.
Avg. Days to Close Loan
30
3. Rocket Mortgage®
Rocket Mortgage® by Quicken Loans® offers you a quick and easy way to get preapproved.
When you're in the research phase, this can be a big help. However, as a first-time homebuyer, you may prefer an in-person application experience.
Still, it can't hurt to see what type of deal you can get from an online lender. Rocket Mortgage® offers conventional, FHA, USDA and VA loan options with rates that are lower than average.
Loans are available in all 50 states and the District of Columbia.
Avg. Days to Close Loan
28
4. SoFi Mortgage
When you use SoFi Mortgage, you start a process that is both simple and affordable. SoFi is a popular online bank that takes marketshare from conventional banks every day, and the mortgage division offers easier access to loans and refinancing.
SoFi Mortgage operates with a mandate to offer you more money and less headaches. You can borrow more money and save cash with down payments that are as low as 5%. Competitive rates, good terms and even flexible debt-to-income requirements make it easier to access a mortgage. There are no hidden fees, and you can take out a mortgage on an investment property if you like. As a first time homebuyer, the process is less stressful as you hope to get out a rental.
SoFi Mortgage products are available in: AL, AK, AR, AZ, CA, CO, CT, DE, DC, FL, GA, IA, ID, IL, IN, KS, KY, LA, MA, MD, ME, MI, MN, MS, MT, NE, NJ, NH, NV, NC, ND, OH, OK, OR, PA, RI, SC, SD, TN, TX, UT, VA, VT, WA, WI , WV and WY.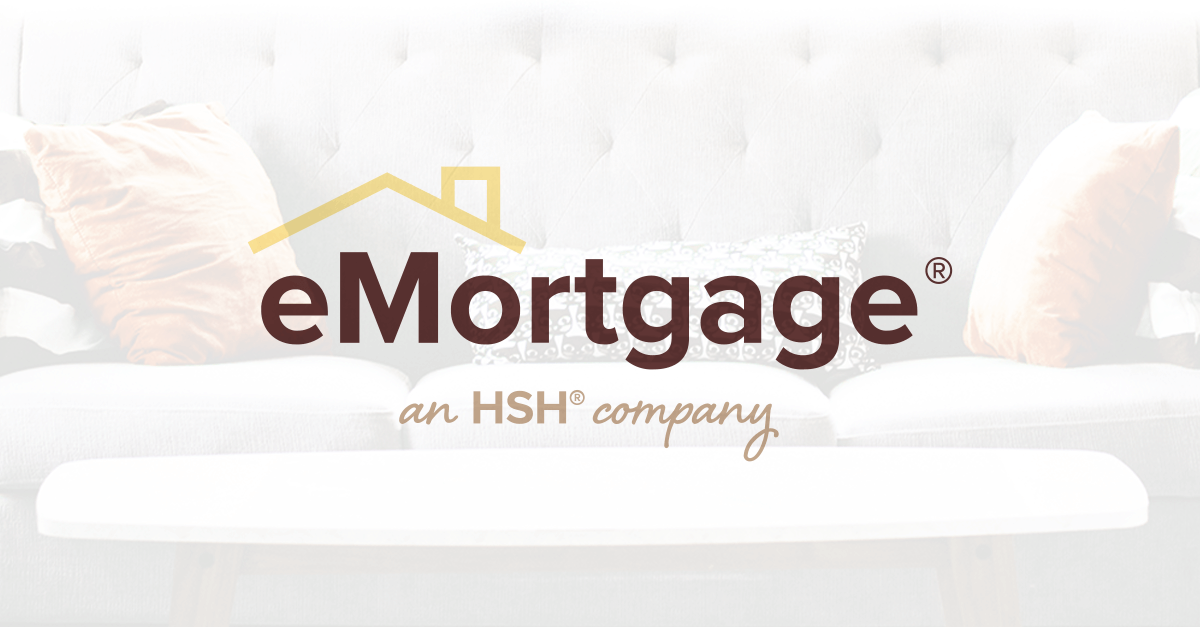 Avg. Days to Close Loan
Depends on Lender
5. eMortgage
eMortgage is a comparison shopping platform that offers up to 5 competing mortgage quotes in a few minutes.
Once you receive the top lenders in your network you'll be able to connect with the lender of your choice. There is no obligation for you to take any quote, and the online request form is free.
Only available in the following states: AK, CO, CT, DE, HI, ID, KS, NE, NH, NJ, NY, NC, OK, RI, SD, VT, WV, WY
Avg. Days to Close Loan
30 – 45
Disclosure
Please see Credible's State and License Disclosures.
6. Credible
Credible's user-friendly, online interface allows you to compare personalized loan offers from multiple trusted lenders. This includes mortgages and refinancing, but you can also compare private student loans, student loan refinancing, personal loans and even credit cards.
Credible's mortgage marketplace integrates lenders and credit bureaus, so you can compare actual prequalified mortgage rates — not estimates — and terms from multiple lenders in just 3 minutes.
Credible's licensed loan officers provide concierge service to borrowers all the way to closing — a great perk if you're a first-tie homebuyer.
Avg. Days to Close Loan
21
7. Morty
When you visit the Morty website, everything begins with the search and pre-approval process. Morty quickly verifies if it is live in your state, and you can apply for pre-approval online. There is no need to meet with a mortgage broker, and you can use the pre-approval letter to shop for homes.
During the pre-approval process, you can choose the sort of loan you prefer, Morty tells you which loans you can obtain and you get pre-approved. From there, submit additional documentation to Morty so that you can expedite the underwriting process.
Morty also expedites your closing, ensuring that you can close when you like instead of waiting for the mortgage to come through. Closing in as little as 3 weeks, no extra fees for credit checks and locking rates and a team of dedicated lending agents make this the simplest mortgage experience possible.
Morty works best for borrowers who've had bad experiences with traditional lenders in the past or need to obtain a loan for an out-of-state home.
Morty is available in: AL, AR, CA, CT, DE, DC, FL, GA, ID, IL, IN, IA, KS, KY, ME, MD, MI, MN, MS, NY, NC, OH, OK, OR, PA, SD, TN, VA, WA, WV and WI.

Avg. Days to Close Loan
30
8. Veterans United
If you've logged some time in the military, Veterans United's loans will likely be the best deal. Unlike other veteran-marketed loan programs, Veterans United only accepts active duty and veteran military members.
In addition to no-down-payment loans, you'll also eliminate the private mortgage insurance you'll have to pay with other mortgages.
Veterans United is also more forgiving of lower credit scores. Interest rates are lower than average.
Branches partners are available in AL, CA, CO, FL, GA, HI, ID, IL, KY, NE, NC, OK, SC, TN, TX, VA and WA.
Avg. Days to Close Loan
30 – 40
9. Luxury Mortgage
Luxury Mortgage makes it easy for all types of homebuyers to get approved for a mortgage. Their flexible requirements can help you get financing, with no employment or income verification and no minimum DTI. Luxury Mortgage offers traditional loan terms, as well as more flexible home payment plans with its 40-year loan program.
It's also easier to get approved if you're self-employed. Tax returns are not required and you'll only need one year of self-employment income history and a minimum credit score of 580. Luxury Mortgage can also help you get approved on assets alone, like your bank statements, stocks and bonds, or retirement accounts.
Luxury Mortgage is licensed to lend in the following states: CA, CO, CT, DC, FL, GA, IL, MD, MA, MI, NC, NH, NJ, NY, PA, SC, TN, TX, VA, WA.
What to Look for in a Mortgage Lender
Lenders must meet all licensing requirements to operate in your state before issuing you a loan. The NMLS Resource Center is a gateway to the Nationwide Multistate Licensing System and Registry (NMLS), which offers information on licensing requirements for each state.
From here, you can also find a link to your state's website, where you can look up licenses for authorized lenders. Here are some things to look for in a mortgage lender:
Virtual lender versus brick-and-mortar location. This is simply a matter of preference. Would you rather do everything online or do you like the idea of talking to someone one-on-one every step of the way?
Credit union versus other lenders. A credit union is a nonprofit institution with the goal of providing loans and banking services to members. This setup you may sometimes get better rates than with another type of institution.
Existing memberships. Take a look at your current memberships. Your bank may offer a special deal to account holders. If you qualify for a credit union membership through your employer, check into their rates, as well, and compare them to what other lenders are offering.
It's also important to try to save on interest rates and fees. Here are a few tips to help save you money as you're shopping for a loan.
Mortgage interest rates are calculated as an annual percentage rate or APR. An APR includes the fees the lender charges, while the interest rate is simply the percentage of the principal the lender plans to charge you for the loan, without those extra fees added. Even the smallest percentage you can save upfront can add up over the years you're paying on the loan.
Before you start shopping, research interest rates so that you'll know where an offer stands in comparison to the average. The Consumer Financial Protection Bureau provides a tool that lets you see averages for your state, loan type and credit score level.
When you close on your house, you'll see a list of fees, called closing costs. Closing costs are the fees charged by the lender and closing team to process your purchase. Check with each lender to ask what those fees will be.
There are also numerous programs that can help save you money, especially as a first time homebuyer. With this initial purchase, you'll have access to programs that can help with closing costs and more affordable rates. Look for a lender that works with these programs.
The government can also help you, not only with your 1st purchase but with subsequent purchases. The Federal Housing Authority backs loans to consumers to help keep the economy strong. Shop for a lender that offers FHA loans and price their rates in comparison to what you'd pay for a conventional loan.
If you're a veteran, you may also qualify for a VA loan, which can offer numerous benefits not available to non-veterans. Since not all lenders offer these options, though, you may have to broaden your search.
Here are a few other things to consider as you shop for a loan.
If you're working on a short timeline, you'll want to factor this into your decision. Many lenders will say to allow at least 30 days, but if you're moving to a new city or the seller wants to finalize things quickly, it could be to your advantage to work with a lender who can speed that process up.
Some lenders offer instant pre-approval online, while others require a more involved process. Although instant approval can be convenient, there are benefits to being able to drop documents off in person, including the ability to work with someone to answer the question, how much house can you afford?
One of the best ways to get a feel for a lender's customer service is to read reviews from existing customers. In addition to being available to borrowers, a lender should also have a reputation for delivering documents on a timely basis and communicating important information.
7 Tips for Finding the Best Mortgage Lenders
You can save money by tracking down the right lender, but it will require a little shopping around. Here are 5 fast tips to help you find the best lenders.
Before beginning your search, pull your credit report and know your own credit score. You can obtain 1 free credit report each year from each of the 3 credit bureaus. If your score is below 580, you'll need a 10% down payment to qualify for an FHA loan.
You can choose between a large, corporate lender or a small, local bank. There are also credit unions and online lenders. If you want a more personalized lending experience, go for a credit union or local lender, but make sure you compare their rates to those being offered by larger institutions.
Work with a lender that can assist you in raising your credit score or overcoming certain credit issues. Lenders can use simulators that demonstrate how your credit score will rise if you pay off certain debts or remove those debts from your report. Moreover, the simulator can tell the lender and borrower around how long it will take to reach the target score.
In addition to expert recommendations, make sure you check in with local friends and relatives. They'll be able to help you narrow down the list of lenders in your area.
Check the credit rating of any lender you're considering. Read consumer reviews or even call the customer service line to determine if the company handles its customers well.
This is the time to get the best deal on lots of things, including insurance. Research several lenders and narrow it down to the best offer or look at Money.com's Best Home Insurance.
The U.S. Department of Housing and Urban Development (USDA) lists mortgage assistance programs by state, which can help you narrow your lender search to those who participate.
Choose the Best Mortgage Lender for You
Even a small interest rate savings on the front end can make a difference in the amount you'll pay over the course of your loan. It's important to think about the money you'll save over the course of your time in the house as you shop around.
Compare each lender to make sure you lock in the best terms. As a first-time homebuyer, you'll qualify for savings that previous borrowers can't access, so try to take advantage of these programs where you can.
When it comes to borrowing money for a large purchase, you know better than anyone what you can afford and where your credit score and income stand. Pulling your credit report and knowing your creditworthiness will help you find a lender for your situation.
Start with our recommended mortgage lenders to find a loan for your 1st home today.
Find The Best Lenders for First Time Home Buyers in Your State
Related content: Who Offers a no Closing Cost Mortgage?
Get Ready for Take Off
Rocket Mortgage® is an online mortgage experience developed by Quicken Loans®, America's largest mortgage lender. Rocket Mortgage® makes it easy to get a mortgage — you just tell the company about yourself, your home, your finances and Rocket Mortgage® gives you real interest rates and numbers. You can use Rocket Mortgage® to get approved, ask questions about your mortgage, manage your payments and more.
You can work at your own pace and someone is always there to answer your questions — 24 hours a day, 7 days a week. Want a fast, convenient way to get a mortgage? Give Rocket Mortgage® a try.