10 Reasons To Give Marissa Mayer A Break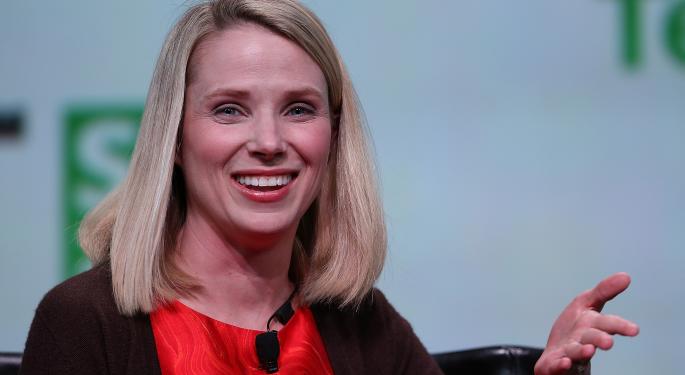 Okay, so Yahoo! (NASDAQ: YHOO) CEO Marissa Mayer overslept and was two hours late for a meeting.
An important meeting.
Still, she is likely not the first CEO of a major corporation to oversleep and miss part of a meeting.
She is however, Marissa Mayer, and as The Washington Post noted, everything she does attracts attention – from how long she took off to have a baby to the clothes she wears to whether she calls herself a feminist.
The Wall Street Journal reported on the "nap," which apparently came after Mayer had been awake 20 hours and just before she was to meet with officials of Interpublic Group (NYSE: IPG) and executives from major advertisers including Mondelez International (NASDAQ: MDLZ), MillerCoors and Chobani.
As The Wall Street Journal pointed out, the meeting's importance was underscored by the fact Yahoo has seen a decline in its share of U.S display advertising. Mayer's tardiness caused one top executive to say, "It is another instance where she demonstrated that she doesn't understand the value of clients, ad revenue, or agencies."
Related Link: How Yahoo Is Using Tumblr To Increase Revenue
Mayer, however, has not spent her entire tenure at Yahoo asleep at the switch. She has been very busy and while there may not be a good excuse for missing such an important meeting, here are 10 reasons to cut Mayer a break
Alibaba

It was no small accomplishment on Mayer and Yahoo's part to buy back almost half its 40 percent stake in the Chinese e-commerce group and the net result has been good for Yahoo's bottom line.

Image courtesy of Wikimedia Commons.

Mobile App Development

Yahoo is admittedly late to the party on this, but Mayer has made a strong effort resulting in a new Yahoo weather app for Apple's (NASDAQ: AAPL) iPhone, a redesigned email app and an app for its Flickr photo service on both the iPhone and iPad.

Image courtesy of Wikimedia Commons.

Mobile App Weight Loss

In February, Mayer decided Yahoo would fare better with 12 to 15 mobile apps as opposed to the 75 programs it had developed in recent years.

Image courtesy of Wikimedia Commons.

Redesigned Home Page

Also accomplished in February, this major overhaul was the first in four years for Yahoo.

As a result, people have been visiting Yahoo more frequently and staying longer.

Image courtesy of Wikimedia Commons.

Algorithms

Yahoo has spent time, money and resources developing more sophisticated programs for determining topics that appeal to consumers.

The net result has been a more fine-tuned and personal experience for individual visitors.

Image courtesy of Wikimedia Commons.

Ross Levinsohn

Levinsohn was in charge of media and advertising services for Yahoo.

He left last year and Mayer has, since then, served double duty immersing herself (except for one meeting, of course) more deeply in the advertising side of Yahoo operations.

Image courtesy of Wikimedia Commons.

Acquisitions

Yahoo has bought 17 companies since Mayer took hold of the reins.

Most have been small buys, except for Tumblr, which cost the company $1.1 billion.

All acquisitions were designed to bring more technology and engineering talent, especially in the area of mobile apps.

Image courtesy of Wikimedia Commons.

Native Ads

Tumblr has served as the launching pad for a type of advertising Yahoo hopes will hook more advertisers, especially on smartphones and tablets.

Digital Magazines

Mayer is a huge fan of slick magazines like Vogue and InStyle.

She has been working hard to bring that look and feel to Yahoo.

Image courtesy of Wikimedia Commons.

Motherhood

Not necessarily the strongest argument for cutting a CEO a break, but Mayer is the mother of a one and a half year old.

One and half year olds, all by themselves, can wear a person down to the point they need a nap.

Image courtesy of Wikimedia Commons.

More Stories You Can't Miss

The preceding slideshow was just the beginning. Check out these other hot stories right here on Benzinga.

Image courtesy of Wikimedia Commons.
Posted-In: Alibaba Apple ChobaniTopics Top Stories Tech Media General Best of Benzinga
View Comments and Join the Discussion!