Be Cautious When Buying A Flipped House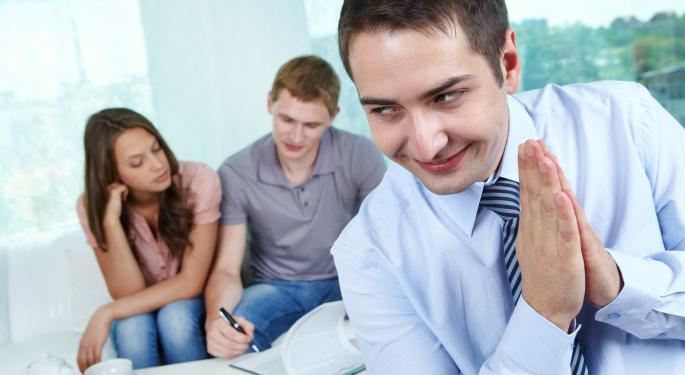 Despite reports like one from The Associated Press that the average rate for a fixed mortgage rose last week to its highest level in two years, home buyers, in July, scooped up previously owned homes at the fastest pace since 2009.
Related: Bankrate: Mortgage Rates Hit a 2-Year High
Many of those previously owned homes were "flipped" or bought and resold within six months. According to The Wall Street Journal sales of flipped homes are up 19 percent from a year ago and up 74 percent from the first half of 2011.
While home buyers should always perform due diligence when buying any house, buying a flipped home requires special care. Flipped homes, by definition, are not typically sold by an owner who has invested years in care and maintenance. They are sold by speculators who buy them, fix them up, and sell them quickly for a profit.
While this doesn't mean all flipped homes are the victim of shoddy renovation, it does mean you have to investigate before signing on the dotted line.
Check Out the Flipper
Find out who is flipping the house, and check them out. Find out how long they have been in the business and what kind of reputation they have.
This may require a little detective work, including going to the county assessor's office to find out who owned the last deed.
Get an Inspection
Experts agree that potential home buyers should get a home inspection before buying a house. For a flipped house, this step is especially critical. While a home inspection can't find everything, it can find the big things and is well worth the cost, which Zillow (NASDAQ: Z) said is generally $200 to $400, depending on the size of the house.
Structural Problems
The home inspection should point out any major issues with the foundation but your own visual inspection for cracks, uneven floors, or finish work that appears to be shoddy, can all be signs of major deficiencies.
Check Status of Permits
If you know – or even just suspect – that major structural work was done on the home, go to the local building permit department and find out if any permits were issued. If so, make sure inspections were done and permits signed off.
Media Patch offered some additional tips for home buyers looking at flipped houses.
Heating & AC
Determine the age and condition of heating and air conditioning units. These items are a major part of the function of a house and a major expense if either has to be replaced. Don't just check on heat in winter and air conditioning in summer. Make sure both units are functional.
Electrical Circuits and Wiring
Electrical systems are usually in good shape in flipped houses and constitute one of the first improvements flippers usually undertake. This, of course, is not a given and it pays to make sure the wiring and circuit boxes in the house you are looking at have been installed properly and inspected.
Plumbing
It seems simple, but running water (both hot and cold) at all faucets, flushing toilets, checking under bathroom and kitchen sinks are simple ways to make sure there are no leaks or clogged drains.
Roofs
If the roof was in poor repair when the flipper bought the house, he or she may have had it replaced. What is often neglected, however, is roof decking or the sheets of plywood under the shingles. If the roof was repaired or replaced, make sure bad decking was replaced as well.
Insulation
Flippers seldom add insulation to homes. Determine how much insulation exists and whether more will be needed. This is an expense you will need to take into account when making an offer on the home.
Windows
If windows were replaced – not necessarily a bad thing – make sure the wood trim and surrounding casings are in good repair. Often when windows are replaced, the structure surrounding the windows was not.
To Sum Up
Houses are bought, fixed up and sold (flipped) every day. Many of them represent excellent buys. Some do not.
The fact that a flipped house has been bought by someone who specializes in fixing up homes can be a good thing. On the other hand, if that person is willing to cut corners to turn a profit, it can be a bad thing.
If you are considering buying a flipped house, make sure you check it out completely to ensure what you end up with is the former and not the latter.
View Comments and Join the Discussion!
Posted-In: air conditioning county assessor electrical fixed mortgageTopics Media Personal Finance General Best of Benzinga