How Does The Price Of Apple's New HomePod Compare To Its Peers?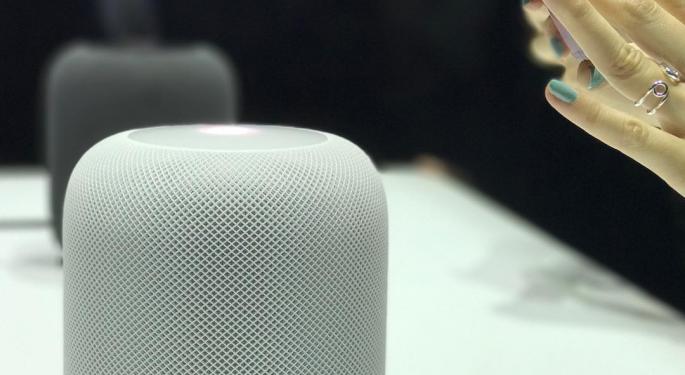 Apple Inc. (NASDAQ: AAPL) is looking to make major entrance into the "infotainment" space with its HomePod device, which is one part wireless speaker and one part virtual assistant.
CNBC's Jim Cramer thinks consumers who are in the market for a high end device will have no problem with paying the $349 price tag. He also suggested that other Apple consumers will think the product is "stupid" but will buy it eventually.
Nevertheless, the HomePod is significantly more expensive than its biggest competitors, Amazon.com, Inc. (NASDAQ: AMZN)'s Echo and Alphabet Inc (NASDAQ: GOOG) (NASDAQ: GOOGL)'s Home, Statista noted. The HomePod will also be priced above Sonos's entry-level multiroom speaker, the Play:1, as well as Bose's SoundTouch 10.
But the price could be justified under two conditions, Statista added. First, Apple's HomePod needs to produce sound quality that is superior to Alexa and Home. Second, the HomePod needs to at the very least match both competing devices in terms of voice integration.
If Apple fails to reach these two points, consumers are better off with a combination of Sonos speakers and Amazon's cheaper Echo Dot, which is expected to be able to integrate with Alexa.
Here is Statista's compilation of retail prices of selected voice enabled speakers and multi-room wireless speakers.
You will find more statistics at Statista
Related Link:
Smartphone Duopoly Isn't Going Anywhere: 'Pick One And Get Used To It'
Google Assistant Vs. Cortana Vs. Siri Vs. Alexa: Which Is The Smartest 'Smart' Assistant?
Image: Nobuyuki Hayashi, Flickr
Posted-In: Alexa Apple Echo Google Home HomePod StatistaTech Media Best of Benzinga
View Comments and Join the Discussion!