CNBC's Contessa Brewer Looks For 'The Story Of People' In Financial News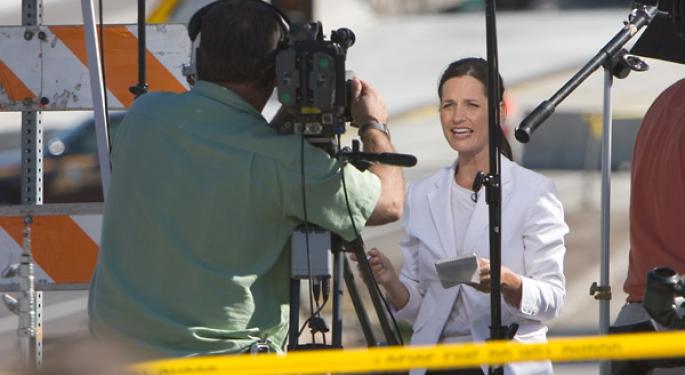 Contessa Brewer's days are "feast or famine."
Sometimes, the CNBC correspondent reclines comfortably at the Englewood Cliffs, New Jersey newsdesk, offering pre-market updates on "Worldwide Exchange." Other times, her boots are on the ground, wading through wreckage from natural disasters.
All the time, she's embracing a relatively new life as a CNBC correspondent.
Baptized By Flood
Brewer joined the network full-time in August 2017 after years as a breaking news anchor and political correspondent. Even for a seasoned journalist, the first few weeks proved demanding, she said.
Her hours were filled with stories of loss, destruction and grief from hurricane victims, and they came non-stop. Brewer's on-location coverage sometimes required 1:30 a.m. wake-up to prep for a 5 a.m. "Worldwide Exchange" set, and the day didn't end until 5 or 6 or 10 p.m. — whenever the military escorts stopped their water-wading trucks.
At the same time, Brewer was transitioning to a new financial audience.
"It changes the way that I'm delivering a story, but the story itself doesn't change," Brewer told Benzinga. "I covered hurricanes for MSNBC and I cover hurricanes for CNBC, and the humanitarian story, the story about people in crisis is always the first priority."
The Human Angle
That's Brewer's strategy: Tell "the story of people."
Back in September, she stood atop a shipping terminal in Puerto Rico overlooking a crowded yard of cargo. She turned to Jose "Pache" Ayala, Crowley Maritime Corporation's vice president of Puerto Rico services, and asked how he felt knowing the gridlocked containers carried widely needed supplies.
"He started crying, and the thing that I want always to remember is that no matter who's watching, they're human," Brewer said.
"They're people first. We picture these men and women on Wall Street and in corporate offices and across businesses nationwide, but all those people are sons and daughters, brothers and sisters, they're friends, they're fathers and mothers, they're people first. And I don't think that their attention wanes simply because it doesn't affect their immediate business."
To Brewer, the human angle is the business angle.
Being Authentic
Telling human stories comes with its challenges. Journalists are told to keep a cold distance from the story, but Brewer's subjects evoke feelings that she opts not to repress.
"The camera will show people who you really are," she said. "I think it's really hard to hide who you are day in and day out, so I just try to embrace that and be my authentic self anyway."
She's laughed with subjects, cried with subjects, kept stern and stolid with subjects.
"In those situations, I hope I'm not doing a disservice to journalism to show the way it's affecting me as a human being," Brewer said.
Oftentimes, she works through a lens of empathy. Her stories are informed and her reporting shaped by her experiences as a mother, as an employer and as someone who lost her home to Hurricane Sandy.
"I can never go back and tell stories the way that I did before I was a hurricane victim or before I was a mom," Brewer said. "It's just not possible. And it was impossible for me to keep my emotion out of it."
Pondering The Positives
Brewer's job is demanding, sometimes distressing. But it's not entirely thankless.
"I felt that the job that I was doing was important and I did not feel like my work was taken for granted by the people who were consuming the news I was bringing to them," Brewer said of her Puerto Rico reportage. " ... Bringing that attention to people who could do something about it, people who could effect change — I think was gratifying."
Check out Benzinga's other "day in the life" profiles:
Keeping Up With Fast Money: A Day In The Life Of CNBC's Melissa Lee
A Chat With CNBC's Ever-Active Polymath Michelle Caruso-Cabrera
The Secret Life Of 'Downtown' Josh Brown
Photo by Mordac/Wikimedia.
Spencer White contributed to this report.
View Comments and Join the Discussion!
Posted-In: broadcast CNBC Contessa BrewerTop Stories Exclusives Media Interview General Best of Benzinga